Are all iPhones compatible with Tello?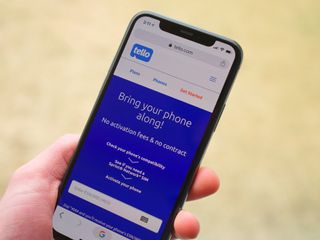 (Image credit: Joe Maring / iMore)
Are all iPhones compatible with Tello?
Best answer: Tello works with any unlocked iPhones from the iPhone 5S and above, meaning you should be just fine to bring yours over to the carrier. Just make sure it isn't locked to your current wireless provider and is fully paid off.The iPhone for everyone: iPhone 11 (opens in new tab) ($699 at Amazon)Affordable wireless: Tello (opens in new tab) (From $5/month at Tello)
If you have an iPhone 5S or newer, it'll work on Tello
Tello is compatible with basically any modern phone that works with Sprint, which is good news if you have an iPhone. If you have an unlocked iPhone 5S or newer, it'll work without any problems on Tello. As such, that includes all of the following devices:
iPhone 5S
iPhone 6/6 Plus
iPhone 6S/6S Plus
iPhone SE
iPhone 7/7 Plus
iPhone 8/8 Plus
iPhone X
iPhone XS/XS Max
iPhone XR
iPhone 11
iPhone 11 Pro/11 Pro Max
In other words, if you bought an iPhone within the last few years, chances are it'll work on Tello. If you're still using an iPhone 5 or older for whatever reason, it's time you look into upgrading it.
The phone needs to be unlocked and paid off
On the note of compatibility, there are a couple of extra pointers you'll want to keep in mind when bringing your iPhone over to Tello. The phone needs to be unlocked, meaning it isn't locked down to your current carrier. If you're unsure whether it is unlocked or not, contact your carrier and find out. If it isn't unlocked, your carrier should be able to unlock it for you.
Similarly, you need to own your iPhone — that means it's paid off, and you aren't paying for it month-to-month on an installment or financing plan. If you want to be extra sure that your phone will work, you can enter your IMEI number (opens in new tab) on Tello's website and verify it that way.
We think you'll be happy with Tello's plans
If you're new to Tello and still getting familiar with the service, there's a lot to it that we think you'll like.
For those of you that aren't always on your phone, Tello's Build Your Own Plan tool is fantastic. It allows you to choose how many minutes and how much data you want each month (unlimited texting is included for free) for a low monthly rate. For example, you could get 2GB of data and unlimited minutes for $14/month or 6GB of data and 300 minutes for $22/month.
Tello's unlimited plan is also worth a look, as it gives you unlimited talk, text, and LTE data for only $39/month. Speeds are downgraded to 2G once you hit 25GB in a single month, but unless you're constantly using your wireless data, this shouldn't bee that big of an issue.
All Tello plans come with free hotspot access, free calling to Canada, Mexico, China, and Romania, and affordable rates for other international countries. There aren't any contracts or hidden fees, and you can reconfigure your plan whenever you'd like.
The iPhone for everyone
(opens in new tab)
You don't have to go Pro

The iPhone 11 Pro may be the best iPhone Apple has to offer right now, but the regular iPhone 11 is the one we'd recommend most people buy. It has outstanding performance, incredible cameras, long-lasting battery, and gives you all of this at a very competitive price.
Affordable wireless
(opens in new tab)
Your iPhone deserves a better plan

Tello is a great choice for iPhone users, as it's compatible with basically every modern iPhone that's out there. Plans start as little as $5/month, and even the unlimited plan keeps things affordable with a $39/month rate. We also love that hotspot access is free, and there are zero contracts.
Get the best of iMore in in your inbox, every day!
When Joe isn't acting as the News Editor for Android Central, he can be found helping out with articles here and there at iMore. He was last spotted at Starbucks surrounded by peppermint mochas. Have a tip? Send an email to joe.maring@mobilenations.com!
Thank you for signing up to iMore. You will receive a verification email shortly.
There was a problem. Please refresh the page and try again.