Armor your iPhone for the future with TAKTIK premium protection system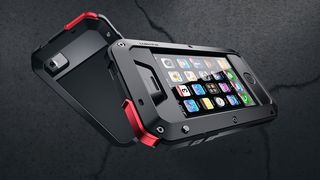 TAKTIK is an iPhone case that looks like it's built to withstand a full on Cylon invasion. From the makers of the LUNATIK iPod nano watch strap that helped kickstart Kickstarter onto our radar, it shares the same premium design and materials -- just at much bigger scale.
They didn't stop there either. TAKTIK also has the option for a Gorilla Glass screen protector, so your iPhone doesn't look trapped behind a cheap piece of plastic. Add to that GORE acoustic ports for a "hydrophobic barrier" for the 3.5mm headset and mic, easy access gaskets, and a ringer switch pass through and this case is a serious contender for anyone needing protection -- or planning planetary invasion.
And they're even preparing for the iPhone 5 with a future-proof pack.
If you're interested, check out the videos and then head on over to kickstarter and get with the backing.
Source: Kickstarter
Senior Editor at iMore and a practicing therapist specializing in stress and anxiety. She speaks everywhere from conferences to corporations, co-host of Vector and Isometric podcasts, follow her on Twitter @Georgia_Dow and check out her series at anxiety-videos.com.
I NEED THIS THING ASAP lol
What a nice looking and functioning case.........WIN

oh no you don't your not influencing me..., this is another ilife blunder bulky case ill pass....
I had it for 3 days b4 taking it back , i regretted it instantly...

While I'm very careful with my iPhone 4s, I'm always looking for better protection. But at a minimal expense to size. This thing is just way too huge!!

it does appear quite large.

I would need to review & test it before giving my verdict, maybe you guys could send me one to check out.

kickstarter seems a strange approach. It's June. Hell by the time they actually got this made it be iphone 5 time (not that i'm likely to upgrade). Regardless that from someone that got a case for 4.99 from Ross Dress For Less cause i'm unwilling to pay ridiculous prices for a piece of hard plastic.

Griffin's Survivor is available now (been using for months now). As well, there are several other options in the same area of layering protection for the iPhone that are also shipping now, OtterBox Defender and Tank from Case-Mate.

I'm not a fan of the sharp edges. I think this case will be better suited to a Windows Phone.

Yes, this will cost $100+.

I don't know about you guys but I'm tired of the same old sloppy box, it's time to use protection. They've injected their design DNA all up in it so you know it'll be a tight fit. I can't wait to slide mine in one, screw it, then toss and bang it to see how it holds up.

Need to make this for the Ipad

Need to make this for the Ipad This is bad ass I want one for my iPhone 5

I need this case RIGHT NOW. I was looking at the other Ballistic Case in the iMore store until I saw this one. I NEED IT!!!!

I haven't seen a more unique case for the iphone. Already placed my order (pledge) and I'm looking forward to possible shipment around mid July. You'll have to pledge between $75-$250+ for the pleasure of wrapping your iphone in this behemoth!

This is the best looking protective case I have ever seen! WIN and WIN!!!

this is like the spartan suit for master chief

After watching the kickstarter video, unclear if this thing is waterproof or just "rain-proof".
Bought iPhone 4s on day one, and my Lifeproof case the week before. Sealed it up within the first hour and haven't taken if off since. It's been in both oceans, in waterfalls, fishtanks. Snow, been dropped 6+ times, and never had a single issue.
While the risk of loosing the headphone stopper is there, and that nothing but the iPhone charging cable fits, I've thankfully never had to deal with either issue. Though with the headache it's already saved me and the amazing pictures and video it's allowed me to get, I think it's already more than justified it's initial $80 price tag. Never mind not having to have bought applecare.
Unless this thing can claim waterproof status, there's already a quality product on the market that is way less bulky and more refined.
Not a spokesperson here, just giving you all that say you want quality protection my two cents.

+1
I've spent enough money on so many cases already. I bought the Lifeproof case for me and my wife and I've put them through the rigor and the iphones are still good. if the case being advertised here is actually waterproof then let us know otherwise I'm not even looking at it.

This is like an Otter Box except looks better.

The post was useful to come across thanks

Awesome issues here. I am very glad to peer your article. Thank you a lot and I'm looking ahead to contact you. Will you kindly drop me a e-mail?
Thank you for signing up to iMore. You will receive a verification email shortly.
There was a problem. Please refresh the page and try again.