AT&T's Hearing-Impared Plan Costs more on the iPhone 3G too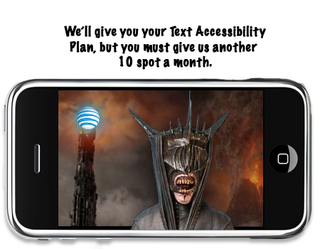 AT&T has a plan developed specifically for the hearing impaired who'd like to own an iPhone: Unlimited SMS, Unlimited Data, Visual Voicemail, and 40 cents a minute for calls. A good deal all around for $40 bucks a month. Scratch that -- it's $50 now for iPhone 3G users, but like the standard plans, iPhone 2G users can still get the plan for ten bucks less. All you need to do to apply is fill out the requisite forms from AT&T. Also notable: corporate plans of the same clock in at $65, but hey, at least the company is paying that bill.
Electonista via TUAW
Over 23,000 signatures have been collected for Mexico's very own iPhone petition. Telcel's 3 plans include a mere 100-200 MB of Data, and if you go over they charge you around $4 dollars per megabyte. The so called Unlimited Plan switches to the slower 128Kbps network when you reach 3 GB; not such a great deal at $140 dollars per month.
We need to get the international media's attention. See for yourself at http://www.nelpastel.com/
Please help us spread the word.

I never knew that they had hearing impaired plans...?
http://blabtech.blogspot.com

Yup I signed up for this thinking awesome deal. When I saw my statement I went right to the ATT store and ripped them a new one while holding my signed copy stating $40 a month. The kept saying nope its $50 a month. I contact the Itap people and sure enough they said its because of the 3G its now $10 more a month.
Get the best of iMore in in your inbox, every day!
Thank you for signing up to iMore. You will receive a verification email shortly.
There was a problem. Please refresh the page and try again.