Back in Black: Remembering the high-end MacBook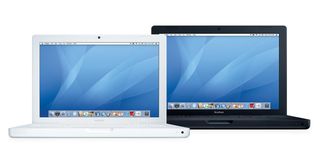 In May 2006, during the Intel transition, Apple announced the MacBook, a replacement for the aging, PowerPC-based iBook G4.
The new machine sported a 13.3-inch screen, the same MagSafe charger and iSight as the MacBook Pro, and was thinner than the outgoing iBook. It ushered in the "island" keyboard design featured on all Macs today; I remember it being controversial at the time, but it's now weird to use a keyboard where the keys touch each other.
Like its predecessor, the MacBook's case was plastic: The two lower-end models used an outer shell that was glossy like the iBook; the screen bezel, trackpad and keyboard were in a nice, matte white.
But the most expensive MacBook model, which cost $200 more at launch, came in black.
Inside, the machines were more or less the same. At launch, the $1099 model came with a 1.83 GHz Intel Core Duo processor, but both the middle-rung white model and the black one both came with a 2.0 Ghz chip, a SuperDrive, and the same 512 MB of RAM.
The only thing the extra $200 got you was an 80 GB hard drive (up from 60) and that black plastic. As $200 for 20 GB of space seemed bananas, the term "black tax" surfaced as a way to complain about Apple's strategy.
This original plastic MacBook family wasn't without issues. Some models discolored, there were hard drive issues, a problem with shutting down (opens in new tab) that was kind of fixed with a firmware update, and — of course — chipping plastic around the palm rest and bezel.
The cracking plastic problem lasted for years. Even though Apple tweaked the display stops a little over the years, most Geniuses (including me) at the time could replace a MacBook top case with our eyes closed.
This particular problem was more pronounced on the white models. The black plastic Apple used had a softer, more rubber-like texture, and seemed to hold up better — as long as you didn't mind oily fingerprints. While almost every white MacBook developed top case cracking, many black MacBooks did not.
Even with its issues, the MacBook was an incredibly popular computer. It sold well across a variety of users, including students and professionals. It helped Apple expand in the consumer space faster than it had previously, and brought software like iLife and iWork to the masses in a way the iBook never did.
The black version was the envy of many users who ended up with cheaper options. To my eye, the black MacBook still looks like a modern design, whereas the white one has aged — and not so gracefully. To be fair, I don't think Apple did enough to warrant the cost increase based on the black MacBook's tech specs, but the company was starting to explore the idea of fashion as a feature.
While it's not unusual for Apple to price things based partially on color or material now (just look at the Apple Watch or the Jet Black iPhone 7), it was unusual at the time. I worked at my local Apple Store when these machines were on sale, and people would often complain about the black tax.
But I think it was worth it for those who could swing it. I love it.
Get the best of iMore in your inbox, every day!
Stephen Hackett is the co-founder of the Relay FM podcast network. He's written about Apple for seven years at 512 Pixels, and has more vintage Macs than family members living in his Memphis, TN home.
I loved this computer back in the day, and was surprised that Gazelle still gave me money for mine a few months ago. I guess there's still people out there who want one (or someone who will buy the parts from Gazelle?).

I loved my black MacBook. I used it for several years, then sold it for a fair amount. My wife had the white one and it didn't last nearly as long and looked pretty rough when we retired it.

I'm reading this article on the Core2 Duo model. It's my main computer and it's still going strong!

My white MacBook (2009) has been a reliable workhorse over the years. It has since been given to my oldest son, who still uses it when he travels.

I'm currently using the white Mid 2009 Macbook. It still runs pretty well, even under El Capitan, and it even runs MacOS Sierra with a patching utility. And it's got the broken plastic slivers along the front edges of both palmrests. As far as the first black laptops from Apple, the Powerbook 100 came close, though most of the later models in the 1xx/2xx/5xx/etc. series were dark gray, with a few nearly-black versions. But Apple's first jet-black laptops were the Powerbook G3.

I really like this series of articles about retro models. I never had the black Macbook, but wanted one. In part, because decades ago, when I was using Apple ][+ computers, there was also a black model of that, made by Bell & Howell. I always wished I had one of those "black Apples" back in the day too! Maybe someday I will eventually own a black Mac of some kind.