BBM 2.1 bringing stickers for, images in multi-person chat, and more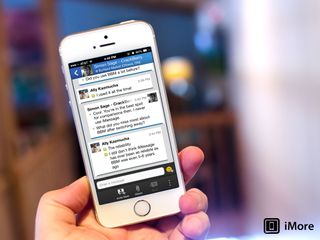 As expected, the latest version of BBM will begin rolling out today across BlackBerry, iPhone and Android devices. BBM 2.1 for iPhone (opens in new tab) is slated to bring with it BBM Stickers as well as some new features like pictures in multi-person chats and larger file transfers of up to 16MB.
The stickers will be available in both free and paid packs through the integrated BBM Shop. Packs will contain between 20-25 stickers and will be for brands like Shaun the Sheep and WWE.
Download Now — Free

(opens in new tab)
Press Release
BBM Chats Just Got More Fun with the Introduction of Stickers
Multi-Person Photo Sharing and Larger File Transfers Round Out New Features
Waterloo, ON - BlackBerry Limited (NASDAQ: BBRY; TSX: BB), a global leader in mobile communications, today announced an update of BBM™, a leading mobile messaging platform for private and secure communications, that allows customers to further personalize and enhance their chat experiences.
Available for download later today from the respective app stores for the Android™, BlackBerry® and iOS® platforms, BBM will now offer stickers – larger, bolder and more expressive images than emoticons – that BBM users can add to their BBM chats. Customers will be able to purchase and download sticker packs from the new BBM Shop found in BBM.
"Stickers are another great example of how we're making the BBM experience more engaging and fun for our customers," said David Proulx, Senior Director, BBM at BlackBerry. "Stickers let you personalize your chats and strike the right chord with people around the world who rely on stickers in chats when they connect with colleagues, family, friends, peers and partners."
BBM customers will be able to download a variety of sticker packs right inside BBM from the BBM Shop. Each sticker pack contains between 20 and 25 stickers and features content developed by talented artists or relating to a theme or a character like CosCat, Gilbert's Tales or Bubble Bot, as well as sticker packs featuring content from popular brands including Shaun the Sheep and WWE. To start, sticker packs will either be offered for free, or cost US $1.99, or an approximate equivalent amount in the local currency, and will be billed through the device's app store.
With WrestleMania 30 just around the corner, WWE is planning to give away a free sticker pack to its fans through BBM. In addition, a free sticker pack created by BlackBerry featuring favorite BBM emoticons will be available to all BBM customers that download the new update. BlackBerry plans to add new sticker packs on a regular basis.
In addition to stickers, BBM customers can now easily share photos in multi-person chats*. Photos will be delivered in the chat as a thumbnail that can be opened to reveal the image in full size. BBM customers can also now send higher quality photos, videos and presentations thanks to larger in-chat file transfers. Files up to 16MB can now be shared in a chat, an increase of 10MB.**
By day, Adam is a writer for multiple Future Publishing brands with over fifteen years of experience. He's expertly researched and written hundreds of articles ranging from mobile phones to mobile homes to baby mobiles. By night, he's a gadget geek, avid disc golfer, 80s nerd, cord cutter, cook, husband, dad, and memory collector.
I still don't know to send video on it, does anyone know how? Sent from the iMore App

No way till now, unless you got that video on your DropBox account. Sent from the iMore App

Are you saying it has to be in my dropbox to use it? Sent from the iMore App

I still can't find anyone on blackberry or that use this app for me to use this service. Sent from the iMore App

Anyone notice if they added a way to control notifications for group chats for iOS? I want to get back in the Trusted Members group but can't have my phone blowing up every 5 seconds! Sent from the iMore App
Get the best of iMore in in your inbox, every day!
Thank you for signing up to iMore. You will receive a verification email shortly.
There was a problem. Please refresh the page and try again.