BeejiveIM (JiveTalk) coming to the iPhone? Sounds Good, Looks Better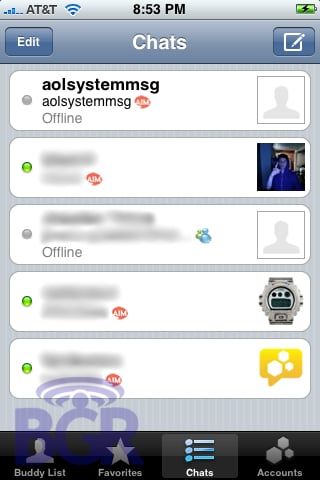 If you've never played around with BeeJive's JiveTalk, boy, you don't know what you're missing! Even though third party apps such as AIM and Palringo are available, I still prefer the look and feel of the JiveTalk WEB APP. I'm sure Crackberry Addicts can attest to JiveTalk's IM supremacy. And you know what? BeejiveIM (formerly JiveTalk) is coming to the iPhone and from the looks of it, seems to better than ever.
It's planned for Beta Release in September 2008 but the Boy Genius got his hands on it early and gave away a few details. It supports most IM programs, we're talking about: AIM, Google Talk, ICQ, Jabber, Windows Live Messenger, MySpace IM, and Yahoo! Messenger. Plus, it looks like the clean look of JiveTalk extended over to BeejiveIM and it's rock solid.
An added bonus, BeejiveIM is ready for Apple's push notification, which will be a godsend for IM programs. Though there isn't a current release date or price, BeejiveIM can't come soon enough...AIM blows big time. Click on the Read Link for more pictures.
Photo Credit: Boy Genius Report
Get the best of iMore in in your inbox, every day!
I need this in my life, using beejive web app doesnt push the IMs
Thank you for signing up to iMore. You will receive a verification email shortly.
There was a problem. Please refresh the page and try again.