Daily tip: How to invite someone to a Calendar event [Beginner]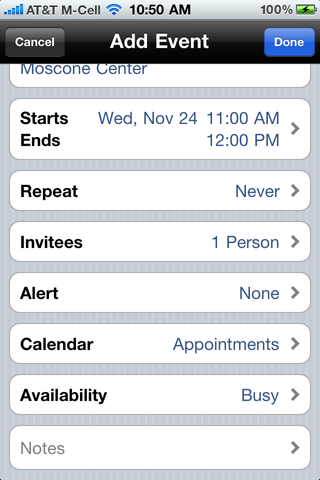 Ever wonder how to invite someone else to an iPhone or iPad Calendar event? Whether you're setting up a meeting for work or a gathering for family or friends, if you have a MobileMe or Exchange account (including Gmail set up as Exchange), you can send an invitation that pretty much anyone can accept. We'll show you how after the break!
Here's how to invite someone to a meeting or event via MobileMe or Exchange:
Tap the Calendar app
Tap the + button at the top right
Enter a title and the other information you'd typically add for a meeting or event
Scroll down and tap Invitees (if you don't see Invitees, make sure you're setting the meeting up for a MobileMe or Exchange Calendar)
Either start typing an email address (it will autocomplete for you) or tap the + button to the right to open you Contacts list
When you've added all the invitees, tap Done
Tap Done on the Add Event page to finish
That's it! Now your Invitees will be alerted to your event, even if they're not MobileMe or Exchange users themselves.
(opens in new tab)
<
A common misconception is that invites can only be accepted by MobileMe or Exchange users -- anyone can accept events to their Calendar and even get email update if the creator of the event changes the time or cancels the event. This is a neat feature for those who need to keep a group of people automatically updated.
If you have any questions or any great Calendar tips of you own, let us know in comments!
Tips of the day will range from beginner-level 101 to advanced-level ninjary. If you already know this tip, keep the link handy as a quick way to help a friend. If you have a tip of your own you'd like to suggest, add them to the comments or send them in to dailytips@tipb.com. (If it's especially awesome and previously unknown to us, we'll even give ya a reward…)
Get the best of iMore in in your inbox, every day!
iMore senior editor from 2011 to 2015.
Here is the big rub on all of this... free/busy information. I don't know where you guys work, but here its considered rude to just blast out a meeting without checking availability first. Yea, if you are working with a lot of external people thats not possible - but internal to a company you really need to check first, then invite. This is a feature I hope Apple will someday add - I think that Exchange 2010 at least provides this information and I believe Win7 phones will be able to do it. If Apple really wanted to get into the enterprise a few small features like this would be a huge help. This especially goes for iPads, where creating content might be a bit more likely, depending.
Apple... ADD FREE BUSY!!!!

We previously used bb and as the business owner I purchased an iPhone. Had it a year now and still don't care for it as a business phone. We do like the windows phone. Started switching employees over and they work great. Apple needs to step it up in this area before they become the next bb.

P.S. we also add conference rooms to our meetings, you will flat out be rejected if you try set up a meeting with a conference room resource and its already booked. Then you have to annoy everyone by re-booking.

@JD....so basically you need to ask twice? "Hey Tom, are you free for a meeting on the third?" "Sure JD. Can you send a meeting request?"
And shouldn't you check to see if the conference room is available prior to sending out the meeting reqest?

I use MobileMe, but I don't get the"Invitees" button when I create an event. Am I missing something?

Andrew, you have to be using the new MobileMe calendar for this to work. I used it for a week, but didn't like the fact that MobileMe replaced my default calendar in Outlook, so I went back to the old calendar.

When accepting a meeting request, why isn't the event automatically added to my calendar (MobileMe or Exchange)? Or am I missing something?

The option to invite anyone is not showing up on my phone. This is an exchange calendar and I'm at a loss as to why the whole "invitees" tab is not even showing up. My software is up to date...
Thanks for any help.

Ditto on the invitee tab not showing. Is there for my default calendar (a gmail exchange calendar) but does not appear for 3 other calendars on that gmail account.

My son is not getting any type of alert even tho I mark him as an invitee??? Please help 

I have the invitee field, but when I follow the exact instructions "how to invite" my invitees are NOT receiving the invitation??? Help...please. Thank you!!!

@David: dude, have you ever used Outlook? You start setting up a meeting, add your invitees... and it shows you their free/busy times. You set the meeting time to when everyone's free. No multiple rounds of request required.
What he's saying is that iPhone meeting requests need to work the same way... which would be a very useful feature.

Same issue here - invitees does not show up when I go to create an appointment. I am on an exchange server. Has anyone figured out how to fix this?

Pretty Simple!!! Thanks!!!

I am in an Exchange environment. I switched from GSM to CDMA.
CDMA version does not appear to have the 'invitees' or 'availability' options.
How can this not be advertised?

My problem is apparently a contact has invited me to their meeting and it automatically puts the event on my calendar in a different color than other events and with a perforated line around it. I did not respond to accept or decline the event. When I tried to decline invite hoping it would remove from my calendar, it would not allow me to respond. It is not on my Google calendar however the event shows up on my iPhone calendar that syncs to my Google calendar via exchange setup. Help?

I use Google Calendar to sync to my iPhone Calendar.
When I create new appointments in my calendar they all sync perfectly. HOWEVER, when I go to the + to create a new contact, I don't have the "Invitees" listed at all, so I can't invite them!
Eek! Help?

I am experiencing this same problem (see my comment/complaint above).

I noticed the same problem with the missing invitee field, but after I chose my MobileMe calendar for my event the invitee field showed up. I haven't converted to iCloud yet
My gmail calendar wont give me the invitee option
I have a 4gs

Same issue here. This is SUCH a pain. Google calendar also.

Ulchie - having the same problem. Invite option isn't available on my iPhone 5.01 OS model 4; i have seen the option on other friends phones of the same build just not on mine. was hoping the new ios upgrade would fix it but it didn't

iPHONE CALENDAR EVENT CREATION BOX MISSING INVITATION FIELD
I used to be able to invite attendees when creating an event in my iPhone calendar. Now the "Invitee" field is not even available in the event creation window. Can you tell me how to fix this?

I'm having the same problem with the new 4s, have you figured it out?

It does not work. I have tried several times and it is not sending invites

I am experiencing the same thing. Anyone figure it out or found a solution to this problem?

I am missing the invitation field in calendar also. So is a friend of mine. Has anyone solved this mystery?

Also with the same issue. I have work though exchange and can invite people but gmail calendaring cannot... This is just ridiculous. can anyone out there help out?

I have multiple email accounts on my iPhone. When I send a calendar invite, can I select which account it's coming from? I just sent an invite and I noticed the "accept" came to a different account than I had intended. I was worried about this before I sent the invite, but I couldn't see a field to select which account.
Thanks in advance!

I think I might have found a workaround for the "invitees" option not showing up. Below it, there's the option to switch calendars. My work uses Gmail and that's my default calendar, and I don't see the invitees option there. When I switch my calendar to the iCloud one, the invitees option appears and then I can send to my contacts or enter an email address. I hope this helps!

Yes it worked. After i merged my iCloud calender with my existing calendar, i can see the Invitee tab again. How to turn on iCloud calendar, go to Settings > Mail, Contact, Calendar > Account iCloud. Thanks

i have been looking everywhere on how to solve this issue - thx, very helpful!

That's fine if you want to use iCloud. I prefer to have only 1 calendar. And that I'd on Google.

Yay this so worked for me! Thanks!

Yes. The merge with the iCloud solved the issue

We can get the invites to work but now everytime the organizer wants to add a note to the event for their own purposes everyone invited gets an update email.

I've already created the event via my iPhone calendar and now want to go back and invite someone; am I now gong to have to redo the entire event?

I do not recieve the alert whenI am invited to an event, I only get the email. I have the New Invitation Alerts set to "ON"
Am I missing something?

Best way to answer that is to research your area (or those areas you frequent often). AT&T is great where I'm at, but others claim Verizon to be better where they're at.

Can anyone help me?? Somehow all of my calendar events, past and present, have a message appear at the bottom of the event that says, "Invitation from Unknown". Any idea how it got there and how I get rid of it??

I can create a new calendar event, but cannot invite anyone, don't see a feature to add people. May be Iphone is missing this feature..
does anyone else has this problem?

I can't invite members either. Wondering if it doesn't work with yahoo as my default email?

sending the invitation from Iphone to a Black Berry ..... when the Event is accepted an email is recevied but the Event on the Calendra as a reply it is still showing --- No reply
Thank you for signing up to iMore. You will receive a verification email shortly.
There was a problem. Please refresh the page and try again.