Best Alternatives to Apple Watch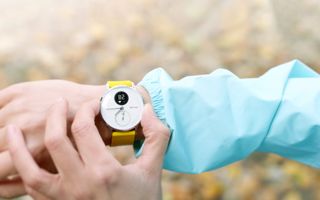 As much as I enjoy my Apple Watch, I know it's not the be-all, end-all wrist-mounted wearable. If the Apple Watch just isn't for you, there are plenty of other options out there. We've compiled a list of some of the best Apple Watch alternatives available. You might make Mickey Mouse sad, but hey, you've gotta do what's right for you!
For the fashionable: Withings Steel HR
Why you can trust iMore Our expert reviewers spend hours testing and comparing products and services so you can choose the best for you. Find out more about how we test.
The Withings Steel HR is a stunning timepiece. Its beautiful steel exterior and classical look is perfect for anyone who wants to upgrade their wristwear without standing out. At first, second, and even third glance you wouldn't know it was a smart watch, yet it's packed with loads of great smart watch features.
Withings says you'll be able to get a bonkers-impressive 25 days of battery life out of the Steel HR. Oh, did we mention it continuously tracks your heart rate? Yeah, 25 days of battery and you don't have to trade off heart rate monitoring for it — pretty incredible.
Along with tracking your heart rate, the Steel HR automatically tracks your activity and your sleep. It'll even adjust its tracking based on what you're up to — it'll recognize more than 10 individual activities (volleyball, dancing, running, etc.).
The Steel HR features a tiny notification screen on its face that displays data and notifications — from heart rate and steps to text notifications and alarms, this screen is the most "smart watch" thing about the Steel HR.
If you're looking for an elegant, fashionable watch with loads of smarts, you should definitely check out the Withings Steel HR.
See at Amazon (opens in new tab)
For the pragmatic: Fitbit Alta
Fitbit is arguably the most recognizable name in the fitness wearable market. In fact, it's gotten to a point where Fitbit is gaining proprietary eponym status (i.e. any fitness wearable is referred to as a Fitbit, a la Kleenex or Chapstick).
If you're in the market for a no frills, reliable, simple-looking wearable, the Fitbit Alta is a good choice. It's the #1 best-selling activity tracker on Amazon, and with over 7,000 customer reviews, it's maintained a four-star rating.
The Fitbit Alta tracks your steps, your sleep, your calories burned, and your activities. It'll also notify you with calls, texts, and calendar alerts. If you like your accessories to match your wardrobe, you'll be happy to know the Alta has swappable bands that come in several colors.
With five days of battery and a vibrant Fitbit community accessible via the free app, it's easy to see why many people choose Fitbit for their first (and often only) wearable.
See at Amazon (opens in new tab)
For the understated: Misfit Ray
The Misfit Ray is one of the most unassuming wearables I've ever seen, and I'm not ashamed to say I'm sort of in love with it. A true wearable should be just that: something you're able to wear for long periods of time without having to think about it. Every time you remove a wearable, you run the risk of forgetting to put it back on again — gaps in activity and sleep tracking run counter to the purpose of tracking your activity and sleep.
With its four-month battery life and water resistance, you won't be taking Ray off very often — and that means uninterrupted tracking of all your various metrics. The Ray tracks steps, calories burned, distance traveled, specific activities (cycling, basketball, etc.), and sleep. It also offers vibration alerts for notifications and a customizable button you can use to trigger your camera, play and pause music, etc.
The Ray comes in several different finishes, including a beautiful forest green and a striking stainless steel gold. Misfit also offers up several accessories for the Ray, including paracord bracelets and necklaces, leather bands, and rubberized sport bands — you can customize this ever-wearable to your heart's content.
The Misfit Ray is an Apple Watch alternative for those who want an understated wearable without the rigmarole of nightly charges.
See at Amazon (opens in new tab)
For the active: Garmin vívosmart HR+
The Garmin vívosmart (check out that fancy í!) isn't for the weak of heart … or will. This is a fitness-forward wearable for the fitness-forward wearer.
In fact, The Sweethome says the Garmin Vívosmart HR+ is the best fitness tracker available:
The vívosmart tracks the usual distance, steps, activities, and heart rate. It also features built-in GPS, so you can accurately track your walks, runs, and cycling across large distances. If you need a little motivation to get moving, the Garmin wearable will hit you with a little vibration reminder when you've sat still for too long. It sports a five-day rechargeable battery, but that number drops to a paltry eight hours of battery on GPS.
You can get it in black, purple, or blue — the texturized band is water resistant up to 50 meters, so you can rest easy knowing it'll be OK during a swim, a shower, or snorkeling!
See at Amazon (opens in new tab)
For the Googler: Motorola Moto 360
If you use a lot of Google services and you're familiar with Google's Material design, you might like the Motorola Moto 360.
Not only is it one of the only round-screened smart watches available, but it features a classic design that could give any regular ol' timepiece a run for its money. You can choose between three finishes for its aircraft-grade stainless steel case: rose gold, black, or silver. The Moto 360 is IP67 dust and water resistant and has a hardened-glass LCD display. It also offers quick-release bands, so you'll be able to swap in bands of your choice whenever you'd like (similar to Apple's own swappable bands).
You'll get about a day of battery life out of the Moto 360, so you'll have to wirelessly charge it each night (a la Apple Watch). During the day, you'll be able to stay up to date with notifications, track your activities, and monitor your heart rate. Plus, it sports a unique feature you won't find with Apple Watch: Its Ambient display mode keeps the screen on a lot longer — that way you can almost always have the time readily available on the screen when you go to check it.
The Moto 360 is compatible with iOS devices via the Android Wear app. You can check if your iOS device is compatible with Android Wear by visiting g.co/WearCheck. You can download the Android Wear app (opens in new tab) for free in the App Store.
See at Amazon (opens in new tab)
What's on your wrist?
Are you rockin' an Apple Watch or reppin' an alternative to Apple's wrist-mounted wearable? Gimme a shout on Twitter or in the comments below! Bonus points if you snap a photo.
Mikah Sargent is Senior Editor at Mobile Nations. When he's not bothering his chihuahuas, Mikah spends entirely too much time and money on HomeKit products. You can follow him on Twitter at @mikahsargent if you're so inclined.
I have Fitbit 2 on my wrist.

Yesterday this site ran an article calling the Fitbit Alta ugly, today its a recommended alternative to the Apple Watch.
The Withings Steel HR is gorgeous, but, as someone with several of their products, I'd wait a while to see if they have improved their quality control.

I have my original Apple Watch sport 42mm and I'd never consider anything else. None of these integrate with my iPhone as well, none can unlock my MacBook Air...

Technically another smartwatch could unlock your MacBook Air, through the use of an app downloaded to it and an app downloaded to your Mac

Garmin Forerunner 735 is awesome for top end fitness functionality.

Why isn't the Samsung Gear S3 on the list when it's probably the best alternative by far and is compatible with either OS? Sent from the iMore App

Because it is someones "opinion"?

The Alta is awful. I work out but also have down time for video games. It literally tracked 300+ steps while I was playing Overwatch, sitting down yesterday. Painfully inaccurate. Sent from the iMore App

I have the Charge 2 and letme say well put, painfully inaccurate, I´m thinking of returning it and going back to Garmin.

I have the original Apple Watch...don't really need anything else. Might upgrade later on this year. Sent from the iMore App

I have two Apple Watches paired with iPhones, and a SmartWatch 3 paired with a Galaxy S6. To me (matter of opinion!) there is no sense in "cross-pairing", and therefore no alternative to the Apple Watch when using an iPhone. Nor to an Android Wear watch when using an Android phone. (No, Android Wear isn't the only operating system for wearables, but I haven't yet heard of anything candidate for "killer app" for Tizen or whatever.)

I have a Fitbit Charge, but it's coming apart, which I just noticed two days ago. I just ordered a Charge 2. I'm definitely a huge fan of Fitbit, so I'm really excited to get this new one!

Last year I bought the Charge HR for my wife and it worked flawlessly for about a month. After that syncing became a pain in the **** with her phone or PC.

Any one try the fossil q watches? They look so nice but also want it to function well with my iphone Sent from the iMore App

Wow, so, you have a multi hundred dollar watch and give half the price alternatives? You are missing when many consider to be the ultimate fitness watch, that also does smart watch things pretty good too. the Garmin Fenix 3 HR and the soon to be released Fenix 5s, 5 and 5x

 Apple Watch Nike+ Series 2. So amazing. Best integration with iOS and from what I've seen of the market, the best App Store offerings. As is the case with smartphones, the apps (and what they make possible for you to accomplish on these smart devices) make it or break it for me. This is a great smart watch. Sent from the iMore App

Apple Watch all the way... I had generation zero now upgraded to series 2... Sent from the iMore App

Gear 2 works with my 7 plus. It was the deal breaker for me to leave Samsung. I have an Apple Watch ordered too. Will use both Sent from the iMore App
Thank you for signing up to iMore. You will receive a verification email shortly.
There was a problem. Please refresh the page and try again.