Best alternatives to iPhone X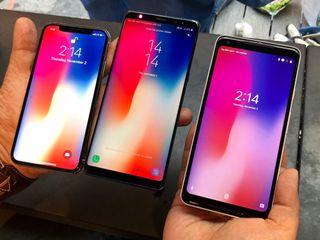 Some would argue that the iPhone X is not just the best iPhone Apple's ever made, but the best smartphone period. And that may be true for many, but it certainly isn't true for everyone.
For one, the $1000 price tag may be hard for most folks to swallow or even afford. For another, it has features you can get in iPhone 8 and other Android options.
If you're not sold on the iPhone X, here are the best alternatives to consider instead.
The best of the best
You can always trust iMore. Our team of Apple experts have years of experience testing all kinds of tech and gadgets, so you can be sure our recommendations and criticisms are accurate and helpful. Find out more about how we test.
These are the best alternatives to iPhone X, regardless of price. If you want a high-quality smartphone experience with all the bells and whistles, these should get your motor running.
If you want this year's iPhone, but just don't want to drop a grand on the iPhone X or can't justify getting rid of the beloved Home button, then the iPhone 8 Plus is the best option for you. It still has the awesome dual camera system that was improved this year to offer even more Portrait Mode options with Portrait Lighting, and it's now wireless charging-compatible, thanks to the new glass-back design.
Its 5.5-inch screen is gorgeous despite remaining an LCD panel (how Apple gets LCD panels to look so good still is a mystery to me), and its starting price tag of $799 for a 64GB unlocked model is certainly a savings compared to iPhone X.
The iPhone 8 Plus boasts the same A11 Bionic chipset that the iPhone X has under the hood, a six-core GPU, and the M11 motion coprocessor. It even has the same 3GB of RAM for that extra kick and boost in performance. Chances are you may not need more than what the iPhone 8 Plus offers and you wouldn't be able to tell much of a difference if you did anyway.
Diving into Android territory, the behemoth Galaxy Note 8 is easily one of the best Android phones on the market. It boasts an enormous 6.3-inch display, that wonderful, magical S Pen, and a 2960x1440 AMOLED display that just might be the best display on a phone today.
If you're looking for a BIG phone to watch videos, play games, and do all the phone things on, then this is the one to beat. It is, however, one of (if not the) most expensive Android phones on the market, retailing for around $950 unlocked.
But what you get at that price point is a powerhouse of a phone with 6GB of RAM (my first MacBook Pro has less), 64GB of expandable storage that can take a microSD card of up to 256GB, an IP68 water resistance rating, and a marvelous dual camera system that features optical image stabilization and two 12-megapixel shooters. The 8MP front shooter is no slouch either, with its ƒ/1.7 aperture (though it probably still doesn't beat the iPhone X's front-facing camera).
You also have four gorgeous color options to choose from: black, gray, blue, and gold. The Note 8 has one of the best fingeprint scanners on a phone today and employs the same iris scanning technology featured in the Galaxy S8 and S8+. This is truly an "all the bells and whistles" phone and one of the best experiences you can have on Android, but it does come at a price. If want the best and the biggest, this is a fabulous phone.
I have the Galaxy S8 and absolutely love it. First off, it's absolutely beautiful. Its sleek glass design, front and back, is like a panther (if you go with the black option), elegant and functional. And thanks to its 18.5:9 aspect ratio, it packs more screen into a smaller form factor, so it has a comfortable in-hand feel (texting on it is a dream).
But a pretty face does not a great phone make, so it has the internals to back up that alluring facade: 4GB of RAM, 64GB of expandable storage (up to 256GB), IP68 water resistance, a Qualcomm Snapdragon 835 processor (or a Samsung Exynos 8895 depending on your region), and more. Plus, its 2960x1440 AMOLED display is mind-blowing. I went from using an iPhone 7 as my daily driver to the Galaxy S8 and was floored.
Samsung also tosses in some handy software features, like the Device Maintenance app, which lets you put battery-draining apps to sleep and clear out unnecessary data that may be gumming up the works.
At a starting price of around $720 unlocked, it's less expensive than the iPhone 8 Plus, smaller, and still rocks a 5.8-inch screen. Yes, there's Samsung bloatware, but it's not all terrible (just a bit tedious, perhaps); just hide it all in the app drawer and forget about it. (There's also the 6.2-inch S8+ for folks who want BIG.)
There is so much beauty and room to breathe in stock Android, which is what makes Google's Pixel phones an absolute delight. This year's Pixel 2 is Android Central's best Android phone of 2017, and for very good reason.
It features sleek, solid hardware, superb specs, and it's now IP67 water-resistant — something it's predecessor sadly lacked. If you're looking for the best camera experience in an Android phone, then this is your buy. Google's "HDR+" processing coupled with new camera hardware has set the new standard for Android cameras.
Another great part of going with one of Google phones is the updates. You get Android Oreo right out of the box, and this is really Google putting its best foot forward. Notifications have been updated and are more intuitive and customizable than ever, and the software is nimble, allowing you to get things done faster than on just about any other Android device.
Sure, it's just a 5-inch panel, and yeah, it's only 1080p (an odd duck in today's Android sphere), but it's a gorgeous screen and the form factor is perfect who still prefer a smaller phone for easier one-handed use and lighter pocket carry.
The Pixel 2 is still missing that microSD slot, but you have 64GB and 128GB options to choose from, and the starting price of $649 is excellent in terms of bang for your buck. If you're looking for the best Android experience around in terms of software and camera, then the Google Pixel 2 is certainly for you.
Read: Android Central's review
Budget-friendly options
The best part of Android is all the (relatively) inexpensive options that still offer excellent experiences and impressive specs. If you're don't need flagship-level features but still want something you can brag about, check these out.
For $230, the Moto G5 Plus is the best budget-friendly phone available. It houses a Snapdragon 625, 2GB of RAM (as much as my first MacBook Pro), 32GB and 64GB storage options, a microSD slot (up to 128GB), a 1080p LCD display made of Gorilla Glass 3, and 3000mAh battery that last thanks to the efficient processing power of the 625. (You can also jump up to a $290 version with 4GB of RAM.)
The G5 Plus sees a considerable upgrade to the G4's camera, with a faster focus and solid depth-of-field photos. If you still want a great camera in your budget phone, this is the way to go. The G5 Plus' software is about as close to stock Android as you'll get at this price point, and it runs Android 7.0 Nougat right out of the box, so you're still on a level playing field (in terms of updates) with a few of the flagship options.
The Moto G5 Plus has a great 5.2-inch screen, solid battery life, nimble software, a good fingerprint sensor, and expandable storage. It does not get better at this price. Definitely check it out if you're looking to stay under $400.
Read: Android Central's review
We hmmed and hawed about this one for ages before it was finally released. Could a random start-up come out with a top-notch Android phone and compete in today's market? Yup! And guess what: Essential did the infamous "notch" first! 😱
That's right, the Essential Phone has a notch in an otherwise all-screen front, though it's just for the camera and nothing else, so it's much less intrusive when watching a video or just plain using the phone. It boasts excellent specs, including a Snapdragon 834 processor, 128GB of onboard storage, 4GB of RAM, a dual 13MP camera, a sizeable 3040mAh battery, and a great-looking 2560x1312 LCD display.
The crazy thing is that it has all that and it's only $499. Like the Pixel, this phone runs basically stock Android, so it's a smooth and clutter-free experience. The camera app is quite barebones and a little annoying, but the camera itself takes great photos. If you're looking for that great stock Android experience in a cool phone and want to spend even less than the base model Pixel for WAY more storage than the base model Pixel, then definitely consider the Essential Phone.
CrackBerry Kevin would be remiss if we didn't include BlackBerry's return to form.
The BlackBerry KEYone won't be for everyone, but it is for folks who want a physical keyboard and a phone and phone manufacturer that's focused on security. At about $550 unlocked (depending on the model you choose), you get a 4.5-inch display, 32GB of storage (expandable up to 2TB if they ever make microSD cards that big), 3GB of RAM, a Qualcomm Snapdragon 625 processor, and a decent 12MP rear camera coupled with an 8MP front-facing shooter.
The best feature of the KEYone is its battery life. The 3505mAh cell is a workhorse. Sure, the battery is huge, but it's the power-sipping Snapdragon 625 that really makes this one last. And it lasts days, not hours. This is definitely the phone for power users, and if you're a BlackBerry fan, it's a wonderful nostalgia trip — a homecoming if you will.
That keyboard isn't just for typing either, allowing you to navigate thanks to touch-sensitive keys, using gestures. If you've ever been a BB fan or just miss physical keyboards, the KEYone seamlessly blends the touchscreen with physical typing to give you a seamless experience that, after a learning period, feels like home. The software also does most things right, allowing BlackBerry fans to choose notification badges, as well as giving Android fans the tinkering abilities we so love.
Definitely check the KEYone out if you want a reliable and secure work phone, are a power user, love physical keyboards, or are simply looking for something completely different than what's out there today.
Read: CrackBerry Kevin's review
What's your favorite non-iPhone X phone?
Let us know in the comments below! And let us know why you're not buying the iPhone X.
Master your iPhone in minutes
iMore offers spot-on advice and guidance from our team of experts, with decades of Apple device experience to lean on. Learn more with iMore!
Mick is a staff writer who's as frugal as they come, so he always does extensive research (much to the exhaustion of his wife) before making a purchase. If it's not worth the price, Mick ain't buying.