Best app to keep track of receipts on your iPhone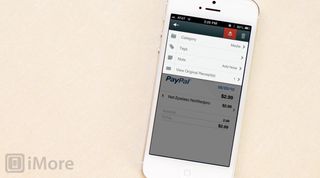 Your iPhone is a great place to store receipts and there are lots of apps in the App Store that offer this feature. Whether you need to keep track of business expenses to turn in to your employer, want to keep track of receipts as a self employed individual, or just want to know where your money is going, OneReceipt is a great option.
Not only can OneReceipt import receipts in many different ways, but let you categorize them in ways that makes it easiest for you to manage them.
OneReceipt allows you to import receipts in a few ways. As you'd expect, you can take pictures of receipts and categorize them accordingly by tag and grouping. You'll basically take a photo of the receipt and OneReceipt will process it. The clearer and more close up the photo of the receipt is, the better the results.
The second way is by email import. You can link either a Gmail or Yahoo email account and OneReceipt will automatically import all of your receipts from your inboxes without the need for you to do anything. You can then tap into any of the invoices OneReceipt has imported and view the items on them and the grand total. You can also view the original receipt whether it be an iTunes receipt, Paypal receipt, or any other online merchant. OneReceipt pulls in great copies of the receipts automatically so if you've ever had it emailed to you, no need to keep a paper copy filed away.
The main menu of OneReceipt gives you a brief overview of all the receipts you currently have stored within the app. You can also add receipts from here as well as search for existing ones. If you don't have a physical receipt anymore and didn't have one emailed to you, you can also add it manually by adding the merchant name, amount, and tagging it accordingly.
No one likes to keep receipts laying around forever or digging through their email to find a receipt when they need it. This is what makes OneReceipt so great. It pretty much does all the heavy lifting for you and when you need to access a specific receipt, you can launch one app and find it with a simple search. Whether you're trying to track receipts for expense and tax purposes or just want to make sure nothing important gets lost in your inbox, OneReceipt is a great solution.
iMore senior editor from 2011 to 2015.
Not available in the UK unfortunately as I liked the look of this app

Will you please stop titling your posts "Best App for...this or that?" Call them "My Favorite App for..." or something similar, but "best" is wrong. You don't even bother to compare 3-4 of the "top" apps to arrive at your "best". This is annoying and misleading.

The app write-ups are helpful and appreciated. But yes, almost always the choice is not a slam dunk, but a reasoned personal preference.

Can someone tell me why this cant be bought in NZ ???

I'm sure a lot of personal finance apps already have the receipts feature built in.

I kind of like this. Well first its FREE which kind of freaks me out a bit due to my privacy paranoia. Other than that this type of app could be useful because I know that receipts have fading ink so you can't take something back later than you should even though all you want is store credit. Sorry I was on my soap box there...I stepped down now. I still think that for anything that stores your personal information....should be very secure and private. I am sure most of you are laughing now thinking well these days there is virtually no privacy everyone knows what you buy and what you like...

So far I was using iqBoxy (www.iqboxy.com) app to track all my personal and biz expenses, that my friend recommended to me. It has OCR and does a pretty good job in parsing my receipts. Also they give a personal email address that I can use to collect all emailed receipts. Seems that currently they only have iOS app, but one of their tweets says that they are working on the Android version.
Get the best of iMore in in your inbox, every day!
Thank you for signing up to iMore. You will receive a verification email shortly.
There was a problem. Please refresh the page and try again.