Best App.net apps for iPhone: Riposte, Netbot, and Felix!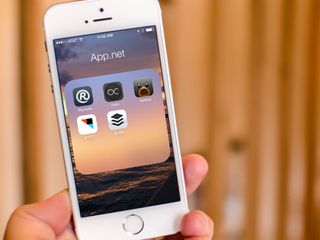 Looking for the absolute best iPhone apps in the App Store? You've come to the right place! App.net provides a ton of different services, including the Alpha micro-blogging platform that works just like Twitter but with a larger character limit and a business model that's far more friendly to developers and people in general. All of that has combined to make App.net a nerd-oasis on the internet and on the iPhone. There are lots of different App.net apps on the App Store each with their own unique strengths and weaknesses. But which ones are the very best?
Riposte
Why you can trust iMore Our expert reviewers spend hours testing and comparing products and services so you can choose the best for you. Find out more about how we test.
Riposte is one of the best designed App.net apps for iPhone, with a dedicated full screen mode and great gesture support that lets you swipe in and out of any menu or browser. There's a lot to like including conversation views, push notifications, cross posting to Twitter, and more. It also supports markdown links when composing a post. You can buy the pro version of Riposte for $2.99 as an in-app purchase to get even more features such as fonts, drafts, quick view for private messages, and more.
If you want a beautiful experience that's lightning fast, you want Riposte.
Netbot
Netbot is by the developers of Tweetbot and while it hasn't been updated for iOS 7, it's still a great app that's just as feature rich as its Twitter sibling. That includes mute filters, conversation view, push notifications, and much more.
If you use Tweetbot for Twitter or prefer the older textured style interface of iOS, you'll be right at home with Netbot.
Felix
Felix has a beautiful iOS 7-style interface. From well designed conversation views to native message support, Felix is one of the most full-featured clients around. Twitter cross posting is supported as well as push notifications, and Felix also ties into apps such as 1Password and Passport.
If you're a power user and fancy third party app support, Felix is the best choice.
Your picks?
What do you consider the best App.net app for iPhone? If you're using one of the App.net apps above, what made you choose it? If I missed your favorite App.net app, what is it and why do you love it?
iMore senior editor from 2011 to 2015.
I keep going back and forth between Felix and Riposte. Felix has a lot more features like multiple image uploads ability to customise and move the puck and many more. Riposte is also a beauty it has landscape mode and a lot more font and size options. I also believe that hAppy should've been here. Netbot is not near as useful for app.net as tweetbot is for twitter.

Yeah, at this point Netbot is a ways down the list when it comes to good clients on app.net. hAppy, Chimp, and #pan are actually be actively developed and are quite a bit more feature complete. I find that hAppy has the best combination of features and usability while chimp and #pan are great for media. I use #pan and app.net for creating, syndicating, and hosting my podcasts. Can't think of any other clients that have that kind of flexabity with media.

I've used Felix in the past, but I've pretty much settled on Riposte for my main app.net client. I never got the "puck" thing in Felix, and Riposte does all I really need it to.

Great review! I've only tried netbot. The Felix app appears to be a nice app. Sent from the iMore App
Thank you for signing up to iMore. You will receive a verification email shortly.
There was a problem. Please refresh the page and try again.