Best apps for accountants and CPAs: Scanner Pro, 1Password, Dropbox, and more!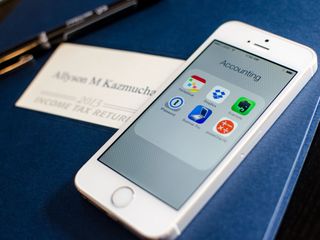 Looking for the best iPhone apps or best iPad apps for accounts or CPAs? Maybe you need help getting through a barrage of client meetings, or a better system scanning signed copies of documents and storing and retrieving files when on the go. Maybe you need help managing all the passwords for all the different systems and people you cover? Well, the App Store has a ton of apps to help your mobile improve efficiency and overall workflow. But which apps are the absolute best for accountants and CPAs?
powerOne Finance Pro Calculator
Why you can trust iMore Our expert reviewers spend hours testing and comparing products and services so you can choose the best for you. Find out more about how we test.
powerOne is a financial calculator that is designed to be used on both the iPhone and iPad. The financial edition of powerOne features many commonly used calculations such as 401k calculations, auto loans and leases, bonds, breakevens, currency conversion, cash flows — NPR, NFV, IRR, and more. If you're calculating an amortization or a loan, powerOne can even show graphs to help visualize information, which is always helpful when explaining something to a client. powerOne also offers many other calculators for professionals including a general business calculator.
If you want a powerful and easy to use financial calculator wherever you go, get powerOne.
See also:
1Password
Accountants typically have a lot of passwords to remember. Everything from client Quickbooks logins to document storage portals to internal systems, it's enough to make anyone's head spin. 1Password is a safe and secure place to store them all without worrying about whether or not they're going to fall in the wrong hands. You only need to remember one master password. 1Password can also help you generate strong passwords so you can rest easy knowing your sensitive information is as secure as possible.
If you need a better way to efficiently manage passwords and keep files secure with strong ones, you need 1Password.
See also:
Fantastical 2
When it comes to scheduling appointments and entering events into your calendar, there is no better calendar app for iOS than Fantastical 2. Not only is the interface and layout worlds better than the built-in Calendar app, it combines all your reminders into one app. From natural language support to a personalized keyboard that makes event creation a snap, Fantastical really is worth its weight in gold. Since it pulls everything from your existing calendar, it supports every account type the built-in app supports. Fantastical will even keep built-in apps in case you ever need to use them.
When it comes to managing your appointments, tasks, and events, look no further than Fantastical 2.
Evernote
Every accountant and CPA needs a way to quickly take and manage notes when in client meetings. Evernote is available for virtually every platform imaginable, including iPhone and iPad, and can seamlessly sync notes between them. Create multiple notebooks to manage different projects or clients effortlessly. Add tags to quickly search for specific notes and more. You can also create checklists for yourself within Evernote as well as add photos, voice notes, and more as attachments.
For meeting notes and organizing your thoughts, check out Evernote.
Dropbox
The barrage of paperwork that comes your way may seem endless but there can be a method to the madness, with Dropbox. Create folders for clients, sort your files within it, and then access them from virtually anywhere, including right on your iPhone or iPad. Almost every App Store app that deals with documents supports saving to Dropbox. You can open documents in external apps on your iPhone or iPad right inside Dropbox too. This makes for an almost seamless file management system. Until Apple gives us a better way to manage files, apps like Dropbox will have to do.
To help you manage the endless stream of documents and paperwork, there is Dropbox.
See also:
Scanner Pro
A lot of paperwork requires client signatures and other handwritten information to be filled in. Scanner Pro lets you easily take photos of signed documents on your iPhone or iPad. You can then upload them to Dropbox, email them, or share them any other way you could think possible. If you have a newer iPhone or iPad, the images Scanner Pro creates aren't just readable, they're higher quality than most desktop scanners are.
If you need the ability to scan and send documents from virtually anywhere, get Scanner Pro.
Are you an accountant or CPA? What are your must have iPhone and iPad apps?
If you are an accountant, CPA, or any other kind of finance professional, what iPhone and iPad apps can you not live without? Do you use any of the ones listed above? Be sure to let me know in the comments!
Get the best of iMore in your inbox, every day!
iMore senior editor from 2011 to 2015.
Those are also some of the best apps for "normal users" like me (minus the financial calculator). :-D

I think BUDGT should be added to this list, although I am not an accountant, It helps me to manage my expenses.

It's in my best budget and expense tracking apps roundup, this was geared more towards accountants, not end users. It's not an app an accountant would use to deal with clients. http://www.imore.com/best-income-and-expense-tracking-apps-iphone-spendee-mint-budgt-and-more

"Best Apps for Accounts:"
...and not a single accounting or bookkeeping app¿ Sent from the iMore App

There are dozens and dozens of those and none of them are the "best apps" to help an accountant be better at their job. They are a means to an end to access client data. Those are a given and a must have. That's not at all what this roundup was about. What bookkeeping and accounting apps you use will be completely dependent upon what your client is using 99.9% of the time.

No offense, but I don't understand the purpose of the roundup. If its not going to be specifically about what accountants need, then what is it for? It seems like a bunch of apps that a wide variety of users would find useful, not just CPAs.

I just explained it to you. Sent from the iMore App

Yea, I read your explanation, and its still not clear to me, hence why I wrote the comment. You can substitute "accountant" in the title for almost any white collar profession and it'd all still apply.

Ah, i see what you're saying. Well, you see - I write for what people search for. Sure some of these apps will suit many professions, I use a few of them on a regular basis myself. But I aimed for apps that make doing your job easier - not ones that are obvious. Same thing for realtors (mortgage calculators paired with fantastical, evernote for client notes) - a better way to manage a workflow. We have done these for many professionals and yes there is overlap. But we want those types of professionals to find the articles. I can't tell you how many emails I get from different kinds of professionals asking about calendar apps, better task management, etc.. that's where they need help. They know how to search for Quickbooks in the App Store, that's a given. But an accountant would not look at a realtor roundup for app suggestions, they'd type in google accountant or CPA. Does that help?

BookKeeping Pro by Warby. Best accounting program out there for IOS.

First article catering to my profession! I love it!

I use "digits" all the time, the best calculator (with tape) I've seen. Has anyone used "Bookkeeper Pro" in a nonprofit environment? I would love to hear how it works in practice. Sent from the iMore App

Excel. I've tried using Numbers but I can't get used to it. Excel is so ingrained in my work. So glad MS Office has come to IOS.

Ally, I would suggest Salesforce be added to the mix. Salesforce is one of the best CRM solutions on the market and they have a few apps for iOS. Salesforce1 is their new app for managing things.

Hi Allyson! Thanks for mentioning 1Password, though the regular price is $17.99. Would you mind fixing that? Thanks!