Best apps for iOS 8: Keyboards, widgets, photo extensions, and more!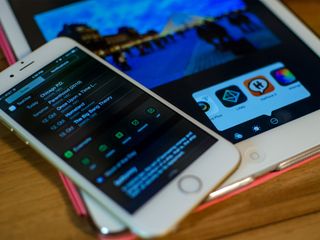 So you've upgraded your iPhone or iPad to iOS 8 and are looking for the best iPhone apps and best iPad apps that take full advantage of all the new features. From custom third party keyboards to widgets and photo extensions, lots of App Store apps are updating to take full advantage of everything iOS 8 has to offer. However, if you're only interested in the best apps, these are the ones we think are worth some attention!
Best apps with Notification Center widgets in iOS 8
Why you can trust iMore Our expert reviewers spend hours testing and comparing products and services so you can choose the best for you. Find out more about how we test.
iOS 8 now allows developers to include widgets with their apps that let you receive information at just a glance by pulling down Notification Center. For some of us this can be television show times while for others, it can be sports scores and detailed weather information. No matter what kind of widgets you're looking for, we've got a list of some great ones you definitely don't want to overlook.
Best custom keyboard apps for iOS 8
Android users have enjoyed the ability to use custom keyboards for years. Now, thanks to iOS 8, iPhone and iPad users can too. From swiping instead of tapping to completely changing the look and feel of the keyboard, there are lots of different ways to type on your iPhone and iPad now. Check out our list of the most efficient and well thought out keyboards currently available!
Best Touch ID compatible apps for iOS 8
Prior to iOS 8, Touch ID could only be used to unlock your iPhone and to complete App Store purchases. Now you have the option to use Touch ID as a way to make unlocking other apps even more convenient. This is particularly useful for apps that contain sensitive financial data or authorize purchases.
Best apps that support sharing extensions in iOS 8
Sharing extensions in iOS 8 let you share content easier than ever. For example, if you find something you'd like to send to Pinterest while in mobile Safari, no longer do you have to copy the URL, launch the Pinterest app, and save it from there. Instead, you can send it right to Pinterest, or many other apps, right from the system wide share sheet. So as expected, we've put together some of our favorite apps that already take advantage of sharing extensions.
Best manual control camera apps for iOS 8
Mobile photography is one area that iOS 8 is tremendously benefiting. One of these ways is through manual camera controls. In plain english that means that developers that offer third party camera apps now have more control over manipulating the camera than they've ever had before. That means manual controls for shutter speed, ISO, exposure, white balance, and much more. And for many people, that means better photos!
Best apps with photo extensions for iOS 8
After you take photos, the next think you typically do is edit them, if needed. Prior to iOS 8, you could either use the limited editing tools the Photos app offered or hop into a third party app from the App Store to perform more advanced edits. The only problem was that if you wanted to use a combination of editing apps, you have to use the Photos app as an intermediary. Now thanks to iOS 8, you can pull some of the best photo editing tools from some of the best editing apps right into the Photos app, and perform your edits without ever leaving the Photos app!
Your favorite iOS 8 compatible apps?
If you've found any awesome apps that take full advantage of some of the new features iOS 8 has to offer, be sure to let me know in the comments!
Get the best of iMore in in your inbox, every day!
iMore senior editor from 2011 to 2015.
Swiftkey's insistence on presenting me with one, and only one, word choice when using swipe mode is an absolute deal breaker for me. If it isn't the word I want, and a good chunk of the time it isn't, I have to try again or tap it in. Which defeats the purpose of having a swipe mode to begin with.

I haven't had to many issues with the predictive side of Swiftkey... but have an issue with the fact that you can't stack numerals on top of the letters like you can in their Android version. Its a huge hassle switching from the letters to numbers and back again... way to time consuming when you use a lot of numbers in your emails or responses. They have to fix this for it to be really useful in my opinion. Hope it comes soon.

Agree, that's my main issue.

Yeah. You have to train it. I get multiple choices after finishing the word. I also typed this faster than you read it. Sent from the iMore App

Give WeatherUnderground a shot. Great Notification Center widget and excellent information

Thanks Ally! You're articles are amazing. And I also love the podcast with Rene and Georgia. This is a great post that I will refer many people to.

Check the Weather and DataMan have great widgets now. Sent from the iMore App

Swiftkey is a non-starter for me as swipe mode doesn't work on iPads. Instead I've been using Swype, which works on both devices but is seriously buggy, so much so I'm thinking of going back to the default keyboard until they can fix it up somewhat. iOS 8 so far has been a bumpy ride. Bugs everywhere. Not great.

This.
I'm really disappointed in how buggy the third-party keyboards have been for iOS8.

C'mon Instagram update share menu extension. Sent from the iMore App

Emoji++ should be the default Emoji keyboard!

TapToShare is one nice app with widget especially for those Twitter/Facebook addict who loves to updates their status quickly without opening an app. TapToShare widgets bring back iOS6 notification's quick share feature back again in iOS8. Sent from the iMore App

Thanks for the article. iOS third-party keyboard app has been a bit buggy for me too. But not too bad that I can't use it.
As of my favorite app on my new iPhone 6 plus with iOS 8, I've been addicted to Cameo app. and VSCOcam.

these keyboard and widget installation guide is quite helpful http://goo.gl/N1sHkg
Thank you for signing up to iMore. You will receive a verification email shortly.
There was a problem. Please refresh the page and try again.