Best apps for iPhone photographers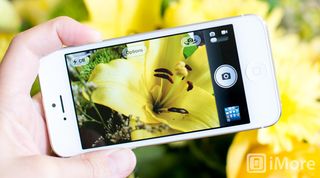 It's been said time and time again that the camera on the iPhone is an excellent camera. In fact, it's become such a popular camera that there's a whole genre of photography known as 'iPhoneography'. iPhone photographers not only use the camera and lens built into their iPhone, but also an assortment of apps to edit, enhance, and show off their work. There are so many great apps out there, so we've narrowed it down to a few of our favorites.
KitCam
Why you can trust iMore Our expert reviewers spend hours testing and comparing products and services so you can choose the best for you. Find out more about how we test.
The first app we're going to take a look at is a fantastic tool for taking your photos. With it, you can adjust exposure, white balance, lenses, and film before you even take the photo. It also features convenient shooting modes like a timer, multi-exposure, time-lapse, and more. You can also view each photo's histogram and make adjustments to levels, brightness, contrast, and saturation. If you're looking to take more control over your iPhone's camera, definitely grab KitCam.
See also:
Camera+ - $0.99 - [Download now](https://itunes.apple.com/us/app/camera?at=10l3Vy&ct=UUimUdUnU18479 /id329670577?mt=8&at=10l3Vy&ct=d_im)
Photoforge2
KitCam does offer some nice editing options, but if you want even more, Photoforge2 is an excellent choice that's bursting with advanced controls. The most notable is the ability to use multiple layers and masks and make advanced adjustments including curves, levels, color balance, channel mixer, white balance, noise reduction, and more. You can also add over 25 different filters and FX and combine different films lenses, filters, and textures.
See also:
VSCO CAM
Complex and advanced controls are great, but sometimes you want something quick and easy, yet awesome -- like VSCO CAM. This gem features a sleek design with minimal processing options, but the options are good. There's a nice variety and all the basics are covered. VSCO CAM is a great app to have in your grab bag of editing tools.
Facetune
If you're shooting portraits with your iPhone camera, then Facetune should be your go-to app for touching up blemishes, smoothing out skin, enhancing eyes, and even reshaping. Seriously, Facetune is amazing. Check out the review for a full rundown.
Fuzel Pro
Collages (or "storyboards") are an excellent way to show off multiple photos at once. They are a great way to tell a story. The App Store is also flooded with apps that help you build collages, but the one I keep coming back to is Fuzel Pro. It has an artistic design, makes it quick and easy to add photos, and gives you control over the layouts of your collages.
See also:
Photolettering
After editing your photo to perfection, you may realize that it would make a great poster, sign, or inspirational message. With Photolettering, you can do just that using fonts from world-renowned type foundry House Industries. It's free with a few fonts and additional fonts are available via in-app purchase. If you're looking to mix photography with typography, Photolettering is the way to go.
See also:
Instagram
You didn't think I'd get through an article about photography apps without mentioning Instagram, did you? Although there are a lot of things I would love to see changed about Instagram (especially forced square crops), there's no denying it's usefulness as a way to share photos. Yes, there's a lot of snapshots of pets and kids (my own included) and plates of food, but there is also a lot of amazing photography being shared on Instagram, as well.
See also:
Your favorite apps for iPhone photography?
So there you have it! iMore's best apps for iPhone photographers. Did we miss any of your favorites? What apps do you use to shoot, edit, enhance, and show off your photos taking with your iPhone?
Get the best of iMore in in your inbox, every day!
Former app and photography editor at iMore, Leanna has since moved on to other endeavors. Mother, wife, mathamagician, even though she no longer writes for iMore you can still follow her on Twitter @llofte.
Snapseed is #1 for me! ALWAYS using it.

I second that. Snapseed is my go to editing app.

My go to Camera app is Camera Awesome by SmugMug. I have several others, but it is my #1.

Camera + and KitCam for me..

Well, I must say I've tried many a camera app and right now the one that populates my main screen is KitCam. As a photographer it has some really cool features that I like, such as the ability to adjust exposure compensation. Just an amazing app.

I'll use Wood Camera until Analog by Realmac Software comes out

I'm using PureShot. I found it on iPhoneography.com.

I second KitCam, Photoforge and Instagram. I also like Camera Awesome for taking pics but also filters and especially frames. For retro film effects and light leaks I like Camerabag2, Photo Toaster, XnView FX, Picfx, Lo-mob, Cameramatic and Snapster. I also like kitsch bokeh apps like Real Bokeh and Bokehful and for editing DSLR photos on iPad I like Photogene because it allows me to select photos by scrolling through my albums, rather than having to import them one by one. Saves a lot of time. The denoise feature is pretty powerful too.

Vintique, snapseed, eyeem, instagram, retouch, instagram:)

I'm not familiar with Photoforge 2 so I'll definitely try that one out. Other than that, Camera Awesome is my absolute favorite!

One called camera 360 is pretty good.

ClearCam. It's the best Camera replacement app out there.

Im surprised no one said camera+. This is my go to app if I need to change exposure to take a pic or do some low level editing

My favorite that I use everyday is Afterlight... It does a great job of doing non-destructive editing.

KitCam for me. The ability to modify photos *before* taking them is awesome.

Loving KitCam. I also have Plastic Bullet, for simulating a really grungy old film camera with outdated film, etc. It gives many heavy filtering effects with vignetting, color shifting, scratched black & white, etc.

KitCam would be number 1 if they would change that stupid app icon... VSCO is pretty legit

Agree. Top third of the icon is a mess.

No love for Photoshop Express? It's free and has plenty of basic editing tools.

Camera+, Snapseed and Simply HDR are my top apps. Have to say I much prefer Streamzoo to Instagram as well :-D

i love ProCamera and PicStitch. oh, and istagram too. I use snapseed and jump to PS Express for more detailed editing.

I love Facetune for selfies!

One note: Over is $1.99, not free. I've always loved Phonto for text over photos—it lets you import your own fonts, too!

This is a great list, thanks for sharing! I always used the Camera + app, but the filters aren't really doing it for me anymore. I'll definitely have to download KitCam. One of my new favorites lately is PostUno. You can use it to edit your photos, and to add fun effects like frames or comment boxes, and then post them to FB or Twitter. I fell in love when I figured out that it has a built in meme generator!

Great list! But it does not have my go-to app. I use Camera Plus Pro app for shooting photos and videos. It has some wonderful filters and editing tools. Definitely recommend it!

I use Blux most of the time

I would add Hipstamtic, Afterlight, AutoStich, and Pureshot
Thank you for signing up to iMore. You will receive a verification email shortly.
There was a problem. Please refresh the page and try again.