Best apps for making cinemagraphs on your iPhone or iPad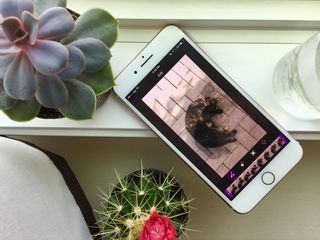 If you're someone who's a big fan of cinemagraphs but has no idea how to make them, never fear – it's totally not as complicated as you think it is!
There are a couple of apps out there that do a really good, efficient job of making cinemagraph composition easy and straightforward. Here are a couple that you should definitely check out and play around with!
MaskArt
Why you can trust iMore Our expert reviewers spend hours testing and comparing products and services so you can choose the best for you. Find out more about how we test.
MaskArt is one of the easiest apps to use to create and edit your cinemagraphs! All you need is an awesome video with something to isolate (I'd recommend a Boomerang to practice with), a little bit of patience (and outlining and erasing), and voilá – you have the perfect cinemagraph!
The app is really straightforward to use, and after you have your video uploaded, MaskArt traces the path of the most movement in the video, so you can make out which shapes are best to isolate and which shapes are best to keep in motion.
If you accidentally outline or select something you didn't mean to, you can effortlessly go back and erase your mistakes so that your final image is sharp and clean-looking. Once you're done, you can choose to save it as a video, a GIF, or a Live Photo. How cool is that?!
The best part about MaskArt? The price! It's totally free, and you don't have to worry about a dozen pesky ads bugging the heck out of you as you create your cinemagraph masterpieces.
PICOO Camera
If you're looking to shoot and filter stylish cinemagraphs on the go at a party, at work, or just hanging out with the family, then take a peek at PICOO Camera for all your iPhone cinemagraph needs!
Set up to act like a social media hub of sorts for cinemagraphs, PICOO Camera is a super creative, relatively straight-forward way of capturing cinemagraphs – and notice how I said "capturing" (and earlier, "filter") and not the word "editing", because you cannot pull videos from your camera roll into PICOO Camera to edit; you have to capture them all in the moment.
After you open the PICOO Camera camera, you're given the option of a rectangular, circular, or custom-shaped cinemagraph frame. Once you tweak and move the shape around on screen, you capture your subject for as long as possible, making sure you try your best to stay within the cinemagraph parameters.
Once you're happy with your cinemagraph, you can add on a stylish filter like you would in Instagram and save the final product to your phone. You can even post it to the explore page if you want other people to see it!
Another great thing about PICOO Camera is the price – it's totally free, and if you're not shooting, you can spend quite a bit of time scrolling through all the super cool, creative cinemagraphs other people have put together with the app.
Cinemagraph Pro By Flixel Photos Inc.
If you're looking for a relatively straightforward cinemagraph app that many would call the pioneer of cinamgraphatography (is that even a word? Moving on...) then downloading and experimenting with Cinemagraph Pro By Flixel Photos Inc. might be well worth your time.
This nifty little app allows you to not only create your own cinemagraph masterpieces, but also provides tutorials for beginners, people at an intermediate cinamagaph-making level or those who are professionals. There's even a gallery available in the Cinemagraph Pro By Flixel Photos Inc. app that allows you to take a peek at cinemagraphs other people have created in order to get inspired!
When you make your cinemagraph with Cinemagraph Pro By Flixel Photos Inc., it's quite easy to get started – simply shoot or upload the video you would like to transform into a cinemagraph, select the portion of the video you would like to animate and which sections you'd like to have frozen, and save.
There are a number of big, big downsides when it comes to Cinemagraph Pro, though: if you want to get rid of the giant, ugly Flixel logo, you're going to have to actually buy the app... and it's not a buck or two like most apps. No, in order to buy the app, you're going to have to pay for the Flixel Cloud Web + Apps, which comes out to around $200 for a one year subscription.
With the purchase, you get:
Cinemagraph Pro for Mac
Cinemagraph Pro for iOS
Persecond for Mac
All product updates
High quality HD embeds
Customize watermarks and links
100,000 web embed views/month
It's up to you to decide whether that large price tag is worth it to make mostly cinemagraphs, but in the end, it's a highly-rated program and the people who use it love it.
How do you cinemagraph?
Is there an app or a program that you use to make flawless cinemagraphs? Let us know what it is in the comments down below and we'll be sure to check it out!
Get the best of iMore in in your inbox, every day!
Cella writes for iMore on social and photography. She's a true crime enthusiast, bestselling horror author, lipstick collector, buzzkill, and Sicilian. Follow her on Twitter and Instagram: @hellorousseau
Thank you for signing up to iMore. You will receive a verification email shortly.
There was a problem. Please refresh the page and try again.