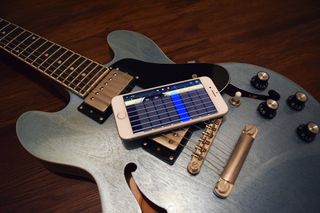 Your iPhone or iPad aren't just there to satisfy your musical tastes via Apple Music. Sure,you could listen all day, but if you play an instrument, there are some awesome apps that can help make your music life easier and more interesting.
Here are my favorites!
GarageBand
You can always trust iMore. Our team of Apple experts have years of experience testing all kinds of tech and gadgets, so you can be sure our recommendations and criticisms are accurate and helpful. Find out more about how we test.
Let's just get this out of the way to start, because it's kind of obvious. GarageBand comes standard on new iPhones and iPads, and if you have a device that was activated or purchased after September 1, 2014, it's free to download from the App Store.
GarageBand is where you can lay down your tracks, using real instruments or the built-in multitouch instruments, like piano, guitar, drums, and more. You can then use taps to trigger loops, edit cells, add effects, and much, MUCH more. When you're finished, you can share your creations via Facebook, email, and other platforms, or you can AirDrop the project to a Mac to keep working!
If you're at all into amateur recording, the GarageBand is a must-have.
Yousician
Ever wanted to play guitar, bass, piano, or ukulele, but felt that lessons were too costly? Or, are you self-taught and now want some more formal training? Yousician is "your personal music teacher", and it features over 1,500 missions and exercises for complete beginners or advanced musicians wanting to brush up on their skills.
Using your iPhone or iPad's microphone, Yousician listens to you while you play and gives you instant feedback on your performance, helping you progress and get better every step of the way.
No matter what stage of musicianship you're at, there's something Yousician can help you with. The app is free to download, but to get the full effect, you'll have to subscribe for as low as $19.99 a month. When you think about what you'd spend per lesson, that's pretty damn good!
forScore
If you're constantly printing sheet music off the internet, chances are you have a piano bench filled with papers or a music stand that's bending under the weight and sobbing gently. Sheet music is readily available online and often free, so it's easy to go overboard. So stop the presses.
forScore is a digital sheet music reader for iPad that can import PDF files and act as your digital sheet music library. It can also connect to cloud storage services like Dropbox to make importing and exporting even easier.
forScore will also turn pages for you, organize your library, and let you edit your music — it's all under your control.
Tempo
No matter how good your internal clock is, we could all benefit from using a metronome now and then (as a fantastic drummer, I can freely admit this). There are many free metronomes out there, but many aren't consistent in terms of time-keeping or bpm, while Tempo is just about perfect. It doesn't only help you keep time either; you can create setlists that are stored for later so you don't have to go back and program everything again, and you can track the number of bars played how time your practice. There are 35 time signatures to choose from, including compound and complex meters, and you can customize accents and play with a bunch of other features at tempos from 10 to 800 bpm.
There is a lite version, but you definitely don't get all the sweet features.
GuitarToolkit
If you're a guitar player looking for an awesome all-in-one app, then check out GuitarToolkit, since it has a tuner, metronome, chords, and scales.
The best part is that the app doesn't just support 6-string guitars; it'll also work with 7- and 12-string guitars, 4-, 5-, and 6-string basses, banjo, mandolin, and ukulele.
Using GuitarToolkit's chord sheets, you can create and save chord progressions, and you can even create drum patterns to play along with - it's a songwriter's dream! There are some in-app purchases that'll let you unlock everything in the app, but the basic $2.99 will suffice if you don't want to spend much more.
DM1
If you're not a drummer (or are one) and want to make some sweet, digital beats on your iPad, then check out DM1, hailed by Lifewire as one of the best drum machines around for iOS. You can tap out beats and figure out rhythms without worrying about being an amazing drummer (like me) — the app automatically quantizes things for you just in case you're a little off.
The step sequencer is probably the coolest feature, since you can tap to turn off certain parts of the beat you've created, potentially resulting in a different, unexpected beat altogether! You can also mix your drum kits on the fly, add effects, and compose songs from your beats by laying them on a timeline. When you're done, export to Dropbox, Soundcloud, and other cloud storage services, as well as Facebook, email, and your iTunes Shared folder.
Animoog
If the digital drums of DM1 aren't your thing or if you're looking for a great partner app, then you should definitely check out the synth app, Animoog. This is the ultimate digital synth for iPad, and the price tag reflects it ($29.99), so you'll probably want to be pretty serious about it before diving in.
Animoog takes its sounds from Moog Synthesizer's massive library of synth sounds so that you can create and mold sounds as you would on a real synth. This is a feature-heavy app, and you'll want to know what you doing going in, since it's not just simple sample playback. You'll be able to control polyphonic modulation, pitch shifting, delay, timbre, delay, and much more, adding effects and really sculpting sounds like the Art Vandelay of synth.
You can also record and play live over your recordings, editing and overdubbing all the way. If you're into piano and synth and creating your own sounds, in a very involved setting, then give Animoog a try.
Guitar Tuna
Because the iPhone is the perfect size to be a tuner, why would you ever bring one with you? Guitar Tuna is one of the best free tuners around and works very well (it's made by Yousician and they know their stuff). It'll work with just about any string instrument, including bass, cello, ukulele, balalaika, sitar, fiddle, and many, many more.
There are over 100 tunings available, as well as awesome features, like background noise cancellation (for tuning in noisy areas), a metronome, chord learning games, and more. My favorite part is that the chord library is all free and has just about every chord you can think of. You just select the chord name and then drag a slider to make it major, minor, suspended, whatever. It's awesome.
Capo touch
Learning music by ear is an innate talent, but even the most talented folks need some help now and then. And if you have trouble playing by ear, this is the app that'll help you change all that. Capo scans your music and extracts the chords so you can start to recognize chords by ear, and it also helps get those that you miss or just aren't quite sounding right.
Capo can also slow down and speed up your tunes, so if you're having trouble getting a particularly tricky solo, you can play it over and over again at the speed that works for you. There are so many more features — too many to name here, in fact, like a metronome, the ability to add a virtual capo and change the key, and perhaps the most useful feature, instrument isolation, allowing you to hear just the vocals or just a particular instrument.
If you're trying to learn any tune at all, then your iPhone or iPad is at a loss without Capo touch. It's like magic!
Striking a chord
Are you a musician? What's your favorite app and how does it help you make sweet, sweet music? Let us know in the comments below!
Master your iPhone in minutes
iMore offers spot-on advice and guidance from our team of experts, with decades of Apple device experience to lean on. Learn more with iMore!
Mick is a staff writer who's as frugal as they come, so he always does extensive research (much to the exhaustion of his wife) before making a purchase. If it's not worth the price, Mick ain't buying.