Best apps new iPhone 5s and iPhone 5c owners should download right now!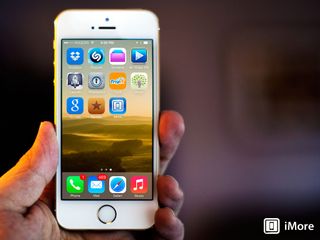 Just get a brand new iPhone 5s or iPhone 5c, or a new iPhone or iPod touch of any kind? iOS 7 comes with a ton of fantastic built-in apps, from iMessage to Camera, Mail to Safari, and prompts you to download not only a bunch of Apple apps, like iBooks and Podcasts, but integrated apps like Twitter and Facebook as well. It's enough to get anyone off to a great start, but only a start. Among the almost million App Store apps are a bunch of other really good apps that even casual users can get a ton of benefit from. Here are some of our favorites!
Note: We're not duplicating any of the built-in or suggested-by-Apple apps in this list; we'll do separate articles on best replacement apps! This is for different and additional stuff. The extras! We'll also be updating and adding to this list often, whenever new or just plain better apps come along. So, bookmark and share it, and come back often!
Dropbox online storage
Why you can trust iMore Our expert reviewers spend hours testing and comparing products and services so you can choose the best for you. Find out more about how we test.
Dropbox is a cloud storage and sync service that, on the Mac, can make sure anything in its special folder is kept safe online and mirrored on any other Mac you install it on. On iOS, the Dropbox app gives you near-line access to all the same files. What's more, Dropbox provides a powerful integration for developers that allow many other apps to tie into their service and use them for cloud storage and sync as well. The apps are free, as is a small amount of storage. More storage is available via promotions and, of course, for a price.
Shazam music identification
If you've ever been walking through a store, or watching a TV show, or enjoying a tasty beverage when a great song started to play, you've likely had the urge to identify the song and maybe even buy it immediately. Well, with Shazam you can! Simply launch Shazam, tap the screen, and a long as the music is loud and clear enough, and well known enough to be identifiable, Shazam will find it. You'll get not only the name, but the ability to share your discovery, and even find it in the iTunes Music store if you so wish. It really is like magic!
Air Video HD streaming
There are a ton of options to watch video on your iPhone, including buying or streaming directly on your device. But what about all those old, legacy format videos on your Mac or Windows PC hard drives? All those home movies you've made or DVDs you've - legally in your jurisdiction - ripped and stored for safe keeping? Air Video HD is for those. Run the small Air Video Server app on your desktop, and then not only can you stream any video, in any format, transcoded on-the-fly to your iPhone, but you can re-stream it to your Apple TV via AirPlay as well. Air Video is a video junkies best friend.
Launch Center Pro quick actions
iOS is great at launching apps, not so good at launching actions. That's where Launch Center Pro comes in. Drop it on your Home screen or Dock, and every time you tap it it presents you with an array of quick actions, from going to websites, performing searches, contacting specific people, tweet out a message, create a todo, and much, much more. If you like how easy iOS is to use, but wish you could do more with it, Launch Center Pro is for you.
Screens 3 VNC
Screens lets you use your iPhone to remotely view and interact with your Mac or Windows PC. Using such a tiny screen to control such a big screen might seem difficult if not impossible, and indeed it does work better on the iPad, but Screens does a great job making it as usable as possible even on the iPhone. It's long been the dream of every IT professional to run their server room from poolside, and every home technologist to run their desktop from the sofa. Screens makes that a reality.
1Password login management
While Apple teased iCloud keychain for iOS 7, they haven't yet deployed it. Luckily the folks at 1Password have a much more robust app you can use for that, and even more. It can't access Safari the way Apple can, but it does have a built in browser and support for all your logins, credit cards, licenses, accounts, and more. And 1Password can sync them across devices and platforms. Plus, with its own master password, you can unlock your phone without worrying about unlocking everything else.
Kahn Academy educational archive
Kahn Academy is one of the best products of education and the internet, and with the Khan Academy app for the iPhone, you have free access videos on topics ranging from kindergarten, advanced science, humanities, history, and more. You can even download the videos to watch offline. If you're in school or you have kids in school, get Kahn Academy.
Tripit travel planner
Pair Tripit for iPhone with a Tripit account and the iPhone becomes your virtual travel assistant. Simply email any flight or hotel confirmations to TripIt and they'll automagically get logged and displayed on your iPhone, along with helpful maps and additional information to make your travel safer and easier. Basic accounts are free, but if you're a frequent traveler and faster, more meaningful alerts would be beneficial to you, a paid account is more than worthwhile.
Reeder 2 RSS reader
Reeder lets you save and organize RSS feeds from all your favorite websites - like iMore! in one convenient app. Since Apple dropped RSS support from Safari, and Google dropped Google Reader, it's been a challenging year for news junkies. Luckily Reeder has rebooted with support for a ton of new sync services, and has once again regained its spot at the top or feed mountain.
Google Search (with Google Now predictive results)
Google Search not only provides text and voice-based search, as the name implies, but also incorporates Google Now technology. That means it uses your location, calendar, and the information Google knows about you and your contacts to provide predictive information for you, presented on easy to use, easy to dismiss cards. Weather, travel, and more shuffle up, and can be shuffled away. It's not the same, native experience you get on Google's own Android, and it's not the same as Apple's Siri, but if you're willing to trust it with your data, it's a useful feature to have around.
iMore for all your Apple info
Yes, we're working hard on the iMore for iOS 7 app, but you can get the classic iMore app right now. With it, all the latest iPhone, iPad, iPod, and Mac news, app and accessory reviews, how-tos, podcasts, editorials, and more are available right on your iPhone, whenever and wherever you want them.
Your must-haves?
These may be our favorites but if you think we overlooked something or missed an especially awesome app, Let us know in the comments! This is your community, we want tho sot be your guide!
Get the best of iMore in your inbox, every day!
Rene Ritchie is one of the most respected Apple analysts in the business, reaching a combined audience of over 40 million readers a month. His YouTube channel, Vector, has over 90 thousand subscribers and 14 million views and his podcasts, including Debug, have been downloaded over 20 million times. He also regularly co-hosts MacBreak Weekly for the TWiT network and co-hosted CES Live! and Talk Mobile. Based in Montreal, Rene is a former director of product marketing, web developer, and graphic designer. He's authored several books and appeared on numerous television and radio segments to discuss Apple and the technology industry. When not working, he likes to cook, grapple, and spend time with his friends and family.
how about you guys update IMORE app as soon as possible because it is really look awful now with IOS7

Did you read the article? Big old tease link right in there :)

That link takes me right back to this post :/

D'oh! Fixed. And here: https://twitter.com/madolfsson/status/382498356590673923

It should be Khan Academy, right ?

Hey update iMore for iOS7 and keep offline reading as an option too. Make it really cool and slick and fast too! Please please include some offline reading or "pocket" mode options. Thanks

Did you read the article? Big old tease link right in there :)

Hello can u suggest a good phone to buy at rupees above 30000 plz

I don't know why more people aren't using Chrome as their browser. Safari is awful in iOS7 and having Chrome negates the need for Google Search. Sent from the iMore App

Hey Rene, love the iMore app and can't wait for the iOS 7 update! However, the tease link in this article leads right back to this story as of now. Just wanted to give a heads up! Thanks for all the great work y'all do on iMore!

You guys....lol. Of course the link takes you back to the article: The iMore for iOS7 is a work in progress :)

I know it may be a while, but I hope sometime you'll be able to compile a list of apps made for the iPhone 5s -- that is to say, fitness and travel apps making use of motion data from the M7 chip. I can't wait to see what third party developers will be able to do with that.

Once again people push reeder 2. Developed by a guy who couldn't care less about his users, gouges regularly and develops a program which doesn't fetch truncated feed content and has a now disconnected ui. You can do better. Mr reeder on the ipad
And others on the iPhone. Please stop following the shepherd leading the sheep not his program...not only is it not that good. The author is a jerk. The one password guys are grat. The product is mediocre on the ios devices now and awful on osx.
Launching issues, blown login info. Bad generation While it's ugly, lastpass is a better solution right now. I hope they get it together at agile it's, but their implementation on OS X really blows he whole enchilada. Again. The team are great. I wish them all the best, but they really need some focus and feature freeze. OS X plugins don't even detect password changes properly.

I use Newsblur for my RSS needs (great website and great app) and LastPass for my password needs (I use a PC at work so cross platform is critical).

I would add, Office 365 if you subscribe it is free, and skydrive. I think that skydrive will increase in usage as it is fully baked into Windows 8.1. Another App is runtastic, and myfitnesspal :)

I honestly couldn't live without Dropbox! :D

Hope you will add a new way of sending SMS or MMS in this..unlike the old ways of tapping when you send SMS or MMS..you just only Swipe it to send your messages. for it to be more cool.

Plex app should be in this list :)
I love its media management capabilities. The library function and being able to stream to your phone when you're not at home is awesome. It's offline mode however is not free. And an app I could not live without: Day One. Writing down what I experience in life makes me so much more alive and focussed.

Wanna really squeeze the hell out of your new 5S, get snap2fx. THAT is the future... hehe. (no, its not spam!)

I love how frequently Dune shows up here at iMore.

".. and it's not the same as Apple's Siri.." Indeed it ain't. It works for people who do not speak English. Imagine that! Apple = US-centric; Google = global, catering for different peoples and cultures. A very different offering indeed. And a reason I nowadays advice people to just not buy Apple stuff unless they live in North America.

No idea about others, but I absolutely need a good calculator and conversion tool. In other words... PCalc should be on this list.

It's Khan academy, not Kahn academy

Why are there so many trolls searching <a href="http://www.bestiphoneappsinc.com/best-iphone-apps-the-breath-of-life/">best iphone apps</a>? Get a life and appreciate the effort someone is putting in to running the site!

https://itunes.apple.com/us/app/flipsquare/id658605797?mt=8&at=10l3Vy How'd you forget FlipSquare???! I really like it, its super easy and really a great game to pass the time in almost any situation

Wow,,this is the best andriod phone i ever see,all apps are amazing..i like this one but i cant afford to buy it..IPHONE 5S your the best,

If your into poetry here's the app for you! :)
https://www.imore.com/e?link=https2F2Flinks%2F1...