Best apps to show off your new iPhone 6 and 6 Plus!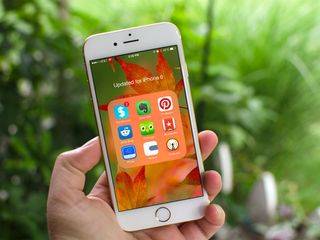 Now that you've got your iPhone 6 or iPhone 6 Plus in your hand, you'll probably want to load up on the best apps that take advantage of the larger screen real estate. While all App Store apps work on the 6 and 6 Plus thanks to scaling, we all know that the ones that are optimized look loads better. That's why we've done the dirty work for you in order to find the ones we think look amazing on the new iPhone 6 and 6 Plus!
Storehouse
Why you can trust iMore Our expert reviewers spend hours testing and comparing products and services so you can choose the best for you. Find out more about how we test.
Storehouse is a stunning social media app that lets you turn your photos and videos into beautiful stories. Originally for the iPad, Storehouse is now available for the iPhone, and even better than that, have already been optimized for the iPhone 6 and 6 Plus so your content looks even more amazing.
Pinterest
Pinterest not only has awesome new sharing features that make it easier than ever to get your ideas to other apps, thanks to iOS 8 sharing extensions, it's also been optimized to take advantage of the larger screens on the iPhone 6 and iPhone 6 Plus. Images look better and more content is displayed at a time.
Duolingo
Duolingo is easily one of the most fun and engaging ways of learning a new foreign language. Not only has Duolingo updated for the larger displays of the iPhone 6 and iPhone 6 Plus, you can also add widgets to the Today View of Notification Center. And for even easier typing, check out landscape view on the larger screen of the iPhone 6!
Wunderlist
Wunderlist is one of our favorite task apps for iPhone and it already has support for the iPhone 6 and 6 Plus. From creating lists you can collaborate on to choosing gorgeous backgrounds that make keeping track of tasks more enjoyable, Wunderlist is currently one of the best ways to stay on task in a big way.
Evernote
If you take a lot of notes, you'll definitely appreciate Evernote's latest update which brings full resolution support for the iPhone 6 and 6 Plus. Text looks sharper and clearer than ever and the keyboard is scaled down to match. That means more text on the screen at once and no scaled keyboard to worry about.
Vesper
Vesper is also a note taking app available for iPhone but sticks to a much simpler interface than computers such as Evernote. Launch Vesper, start typing, add some tags, and done. It's already optimized for use on the iPhone 6 and 6 Plus so you can see even more on the screen. And as always, your text is front and center while the rest of the app just melts away.
Alien Blue
If you're a Reddit junkie, there's no better way to get your fix than with the Alien Blue app. It's long been one of our favorite Reddit apps and it already offers full resolution support for both new iPhone 6 models.
PCalc
When it comes to calculators on the App Store, very few of them can come close to matching the feature set and usability that PCalc offers. Aside from adding a widget for quick calculator access in Notification Center for anyone running iOS 8, PCalc is also ready to take on the iPhone 6 and 6 Plus.
Screens
Screens lets you remotely access your desktop computer, or multiple computers, from anywhere right on your iPhone and iPad. It's one of our [favorite remote desktop apps](and using it on the iPhone 6 and 6 Plus is a more enjoyable experience than ever before, thanks to the increase in screen real estate.
See also:
Overcast
Overcast is a beautiful and intuitive podcast app by Marco Arment, the creator of Instapaper. It may not have a lot of the same bells and whistles as some of the other podcast apps, but the user experience is unmatched, and that includes on the iPhone 6 and 6 Plus. If visually appealing is what you want, you definitely want to take Overcast for a test drive.
Clear
Clear is a gesture based task app that lets you tap, swish, and flick your way to being more productive than ever. I've always liked Clear's gesture based interface but found it somewhat cramped for my liking on the iPhone 5s. The iPhone 6 and 6 Plus on the other hand have brought a new appreciation to gesture based tasks. Not only does Clear look great, it's super simple to use and much more powerful than the stock Reminders app.
See also:
What iPhone 6 and 6 Plus optimized apps are you using?
If you've found any App Store apps that look beyond amazing on the iPhone 6 and 6 Plus display, be sure to let me know in the comments!
Get the best of iMore in in your inbox, every day!
iMore senior editor from 2011 to 2015.
send anywhere......works best for me.. and now it as arrived on WP 8.1 yipee

The 3 I've noticed so far you've already mentioned. Use Evernote, Wunderlist and Alien Blue on a daily basis and all look great. Can't wait for more developers to get updates out that are optimized for the larger screens. I'm not a developer and I also got rid of my 5s as soon as I received the 6. How do these optimized apps look on the 5s or the 6 Plus for that matter? The apps that aren't updated for the larger screens show the top bar bigger. Is that top bar smaller on apps optimized for the larger screens or I assume developers can make it look different based on screen size?

I love Vesper. The three first apps I install on all my new devices are: 1Password, Dropbox and Vesper. After that I can already do almost everything I may need.

What about the iMore app :D

Ally, if you were impressed by PCalc, give Archimedes a try. You'll have a new favourite. Specially when you have a math intensive job or career that requires solving equations.

wow... think of the possibilities(?) we would have had in our calculus class back in '88

I know, right?! Kids today have it easy (a little bit).

From helping my kids with homework I can honestly say that while they do have it easy in some aspects, I cannot help but feel sorry for them having to use things like turnitin.com, Dropbox, grade speed, etc.
gone are the days of the oops, my floppy was too close to a magnet or oops my word file got corrupted. No more BSing their way out of a boring paper or getting together with classmates to write different versions of one paper. Sigh.
Good 'ol memories.

Yup, and Google Drive! Teachers can see when you edited and shared, and they can see the revision history of your assignment... The horror!

Yahoo! Weather! rules.
For example: the Bali background shows animated haze over the photo.

AMA app ( related to Reddit AMA sessions ) is also iP6 and iP6+ optimized Sent from the iMore App

Overcast is great, but what makes it better/different on the new iPhones? Sent from the iMore App

Instagrams selfie app has made it to the 6/6Plus list, but I don't understand why they didn't just update Instagram... That thing is hideous to look at in its current state. Another one I don't get it Facebook, their are a number of things wrong with that app for the 6's. When you take a pic in landscape and try to upload it, it asks you to crop it. Also when selecting pic to share, the photo picker is to big for the screen. #Facebook, hurry up man...

Focus Ideas (https://itunes.apple.com/app/focus-ideas/id917803938?l=en&mt=8&at=10l3Vy...) is a great App with iPhone 6 (plus) support.

Some of my favorite optimized (not just compatible) apps for iPhone 6 Plus are Alien Blue, Clear, Dark Sky, Dispatch, Dropbox, Evernote, Facebook, Fantastical 2, Flickr, IMDb, Instapaper, Kindle, Launch Center Pro, PCalc, Photowerks, Pinterest, Sleep Cycle Alarm Clock, SwiftKey, Terminology 3, Tweetbot 3, Uber, Yelp, 1Password. 2 Bonus ones (not optimized for iPhone 6 Plus) I would add are Avira Internet Security (AntiVirus for iOS) and Battery Doctor (which is surprisingly more accurate that other battery managers actually optimized for the iPhone 6 Plus).

Property Data Book is optimized for iPhone6, iPhone6+, iPad and also iPhone5 and iPhone5s. It is tested on all physical devices. Download from http://getPDB.mobi

I've had to return numerous apps because they weren't optimized for the iPhone 6 Plus screen. like 3-4 of these were $5-10. Had to get refunds. Too much money (especially when you factor in, it wasn't just ONE) to have lying in limbo, and the blown up look of apps that aren't properly designed for the device is unsightly to me. It almost look like Android FroYo/GB on a 5.5" WVGA screen, Lol.

thanks for this
kolayyap.net
Thank you for signing up to iMore. You will receive a verification email shortly.
There was a problem. Please refresh the page and try again.