Best apps for traveling with kids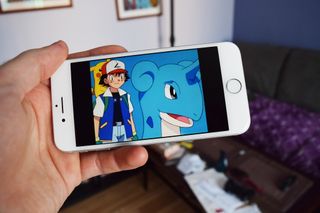 Sure, it's nice to see family and friends over the holidays, but traveling in the winter to see them sucks. Winter driving is the worst, and having screaming rugrats in the back seat somehow extends beyond that in terms of head-vein-popping stress.
Download some great apps for traveling with kids so that you can keep them busy in the back seat and, most importantly, quiet. OTHERWISE, I WILL TURN THIS DAMN CAR AROUND!
Peapod Labs LLC
Why you can trust iMore Our expert reviewers spend hours testing and comparing products and services so you can choose the best for you. Find out more about how we test.
Peapod Labs makes excellent educational apps, and if you have a kid between the ages of 2 and 10, there's a Peapod Labs app for them. Apps like ABC ZooBorns (opens in new tab) and ABC Wildlife (opens in new tab) teach kids about the animal kingdom, while apps like ABC Go (opens in new tab) and ABC Music (opens in new tab) team them about the world and the arts.
There are dozens of Peapod Labs apps to choose from, and they're excellent, deep apps that have tons for your kids to do and are sure to keep them busy for the whole car ride.
Netflix
Need I say more? I guess so, eh?
Netflix is your kids' portal to all sorts of awesome shows, and better yet, you can set restrictions on your account, so that they're not watching the "good stuff". For $7.99 a month, you get access to thousands of shows and movies.
Chances are, you're already subscribed, so just download the iOS app and keep your kids glued to some cartoons for a while.
Pokémon TV
Pokémon is all the rage again, and rightfully so. Download the Pokémon TV app, and your kids can watch tons of episodes from every era of the popular show. Best part? It's free!
They'll even have special events in the app and stream the Pokémon movies, which are awesome for those longer road trips. There's also an Apple TV app for when you get home so everyone can enjoy on the big screen!
Also, come on — it's Pokémon!
Scribblenauts Remix
Warner Bros. knows kids' entertainment and the Scribblenauts franchise that started on Nintendo DS is as accessible as ever on iOS.
Your kids get to play as Maxwell in this side-scroller, which has the main character solving puzzles by summoning various things, like animals, weapons, and more, even using adjectives. But the words aren't there for you; you must use your imagination to get through each level.
This one should make for hours of entertainment for the wee ones, and you might even want to take a crack at it yourself.
Space by Tinybop
Spaaaaaaaace. Get your kids interested in our solar system by download Space and letting them explore it with the easy-to-use and engaging app.
Kids can head to each planet in our solar system to see what each one is like, up-close, based on what we know. They can move asteroids through space, orbit the Sun while zooming in on its surface, experience cosmic storms, and more.
Tinybop makes excellent exploration apps for kids that will certainly take your brood out of the car and out into the world and beyond.
Jumbline 2 Free
For the preteen crowd, Jumbline 2 is a great word game in which players must create words from a line of jumbled letters.
Educational and an excellent time-waster, Jumbline 2 will rack your kids' brains while you sack out in the front seat. The animations are engaging and gameplay is fun — they might even forget they're learning!
This app is free, though there is a $1.99 version (opens in new tab) with Cloud Pop and Star Tower, which are variations on regular gameplay.
Caspar Babypants Music Time!
"Lump". "Peaches". The superior version of "Video Killed the Radio Star". Chris Ballew of The Presidents of the United States of America has made some killer music throughout his career and now he makes simple acoustic music for parents and kids alike.
The app features two instruments (a xylophone and a guitar), which change their notes with each song, so that they can develop their ear and learn how to play rhythmically, while remaining in key. There are also a bunch of percussion instruments to mess around with.
If you're looking to develop a love of music in your kids, check out Music Time and check out Caspar Babypants' music.
Fun on the Farm
Got a couple kids who hate it when "Susie's hogging the iPaaaaad!"? Fun on the Farm offers a series of board games that can be played by two players at a time, so this app is definitely more suitable for an iPad.
Your kids get to play five games: air hockey, dominoes, color tiles, pass and play (a dice game), and lotto.
Spread the fun, stop the fights, enjoy the silence.
Your picks?
Which apps keep your kids quiet and entertained on road trips or plane rides? Let us know in the comments below!
For ways on regulating your kids' use of your iPhone or iPad, check out our ultimate guide below for help!
Parental Controls: Ultimate Guide
Get the best of iMore in your inbox, every day!
Mick is a staff writer who's as frugal as they come, so he always does extensive research (much to the exhaustion of his wife) before making a purchase. If it's not worth the price, Mick ain't buying.