Best ARKit apps and games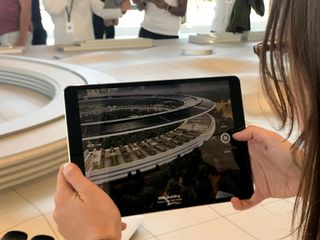 (Image credit: Rene Ritchie/iMore)
Note: Some of these apps aren't available in the App Store yet, but links will be added as soon possible. This article will also be updated continuously as more ARKit apps are released, so check back frequently!
Creativity
You can always trust iMore. Our team of Apple experts have years of experience testing all kinds of tech and gadgets, so you can be sure our recommendations and criticisms are accurate and helpful. Find out more about how we test.
Orb is a super fun-looking kid-friendly art app that lets you create and then place whimsical, brightly colored geometric objects in the world around you, turning your environment into an "infinite canvas."
Have you ever wanted to do impromptu street art without the possible consequence of vandalism charges? World Brush is all over that. This AR painting app allows you to create virtual works of art in the real world and then leave them for others with the app to find.
GIPHY World is an app that allows you to place moving stickers on anything you point your iPhone camera at and then capture it in a photo or video. As shown in this demo, it's a pretty fun way to leave notes around the house.
Stik AR allows you to inundate the world around you with exceedingly cute stickers and then take a photo or a video to share with friends.
Bemo is marketed as "a different way to connect and create" and features hyper-bright and silly moving stickers accented with retro pixelated text. As with the other sticker apps listed here, you can go sticker crazy on your surroundings and then record a video or snap a photo to share.
Education
With Fifth Star Labs' Sky Guide, you can find out what exactly is in the sky in real time just by pointing your phone at it. The app shows the constellations, planets and stars that are currently visible in your area - even if you can't see them due to cloud cover or other obstacles. If you tap on a celestial body, Sky Guide opens a page that tells you all about it.
Possibly the most practical ARKit app thusfar, 3D4Medical's Complete Anatomy allows you to view and study anatomical structures in physical space. This is an especially beneficial app for medical students and professors.
My Very Hungry Caterpillar
This app is essentially an AR version of Eric Carle's treasured classic "The Very Hungry Caterpillar." Children (or adults, because everyone is allowed to enjoy books) can watch the story unfold in their environment in real time.
JigSpace is essentially a growing AR encyclopedia. Users can create and interact with different informational 3D graphics, called "jigs," in order to better learn or impart wisdom to their scholarly hearts' content.
Games
I am completely obsessed with Stack, so the fact that Ketchapp has brought it into the AR universe brings me great joy. If you've never played the game before, the object is simple: stack the beautiful color gradient blocks as precisely as you can as high as you can.
Warhammer 40,000: Freeblade
Warhammer 40,000: Freeblade is a sci-fi fighting game in which you play as a freelance Imperial Knight (hence "Freeblade") protecting your world from monstrous invaders with crazy tap-to-shoot weaponry. Though this title isn't new, it is getting an AR upgrade — it was showcased during the Apple event, and we saw a Freeblade taking on a foe on a basketball court. You can customize your Knight and play through the game's story arc without AR, or you can switch to photo mode and bring the battles into your environment.
Climax's ARise is a 3D puzzle game that allows users to project a scalable, tabletop-sized landscape into their environment and guide their character through it. You can walk 360° around the tiny world to navigate it, and there are no controls at all, meaning you really have to move around to complete each level. You can also take photos along the way.
I'm pretty sure we all know Pokémon GO, but just in case some of you out there have been living under a rock really far away from a PokéStop: Pokémon GO is a location-based AR addition to the beloved Nintendo franchise Pokémon. In the game, you walk around in your environment and catch and befriend creatures called Pokémon, then use them in battle against other players. Certain locations in your neighborhood or city are Gyms, where you go to battle, and others are PokéStops, where you go to replenish your items. Pokémon GO isn't a new game, but it will function even more effectively now than ever before thanks to the combo of iOS 11, the iPhone 8 Plus and iPhone X dual-camera system, and the new A11 processors in all the new iPhone models.
Splitter Critters is another landscape puzzle platformer that's getting an AR update. You guide the little critters to their ships by splitting the environment to create new routes for them to traverse. In the AR version, the game appears in a little diorama box on whatever surface you point your camera toward, and the landforms have real depth. They also shift when you move around and change your camera angle.
ARZombi is an 80s-tastic ARKit game in which you defend your home against an attacking hoard of zombies. The undead will try to squeeze their way in through whatever door or windows you point your phone toward, and your job is to board up all the openings and waste the shambling horrors that are able to make their way in. Also, you up your health by eating slices of pizza. If that isn't the dream, I don't know what is. Right now you can only play the game in survival mode, but according to developers there's also a multiplayer mode and story mode in the works.
Heath and Wellness
Standland is an activity tracker/pet collector hybrid that encourages you to stand up at least once an hour. Your device keeps track of the time you spend standing from inside your pocket, and the more you stand, the more adorable creatures you collect. If you take more than 80 steps per hour, that also equals one "stand." Thanks to ARKit, you can see your collected creatures frolic in meatspace.
One Drop Diabetes Management
One Drop works in along with a special glucose tester to monitor all your diabetes related data. Now, you can visualize that data in 3D. One Drop's AR feature allows you to track and analyze glucose, medications, food intake and physical activity and then view it in an easy and accessible way.
https://twitter.com/Ericbobmyers/status/910197633490317318
Fitness AR works in tandem with the Strava fitness app to make your biking, running or walking routes into gorgeous 3D tabletop maps. To be honest, I love the doors this opens regarding exercise bragging: "I went on a super hardcore hike this weekend — hold on, we live in the future now. Let me just show you the terrain."
Social
If you have trouble finding your friends at crowded social events, this app is going to be super handy for you. With Neon, you can create and view location-based messages, signs and markers. At a bar and your friend can't find you? Display a virtual arrow above your location. Having a party? Create a sign that will appear in front of your residence if a friend aims their phone at it so they won't get confused about which house it is.
If you've ever taken a trip somewhere and wondered about all of the cool, non-touristy stuff you were missing out on, Urban Bird may be helpful to you. It's an app that combines AR and Instagram-esque social sharing to generate a photo map of any given area, tipping you off to interesting places you may not have even known existed. You can also follow your friends and see where their local haunts are.
Utility
IKEA's Place feature allows you to digitally place any IKEA furniture in your space to see how it would look. The app automatically scales furniture based on room dimensions with 98% accuracy, and even shows you the product's texture and displays realistically how light would fall across it. After virtually placing the item, you can capture images to send to friends or post to social media for opinions. Then finally, if you like what you see, you can purchase the item directly from IKEA's website.
MeasureKit is an incredibly advanced virtual measuring app that features seven different measuring tools to choose from (and is promising more to come in future updates). You can measure with a virtual ruler, by drawing in space, or with marker pins. Doesn't have to be a straight line, either — MeasureKit measures angles, curvy paths, and even three-dimensional shapes like cubes.
Everyone's favorite resentful weather robot CARROT is now able to sass you twice as hard with full AR capabilities. Not only is it fun to listen to and watch scoot around, but it actually gives you detailed weather forecasts for your coordinates, too.
Warning: the video below prominently features profanity.
Miscellaneous
Food Network's In The Kitchen AR
With this new addition to In The Kitchen, you can build and decorate virtual full-custom desserts like cupcakes and cookies, and then get the recipe to make them in reality. The AR portion of this app looks incredibly fun, but it seems to be more for play than it is for learning a multitude of recipes or practicing any cooking skills - it's the non-AR section of the app that has all the real info.
Major League Baseball's official app is another preexisting interface that's getting an AR makeover. Now instead of taking your eyes off the game to view stats and player info, you can point your camera at the live action and see stats on the screen above the actual players.
Thoughts?
What incredible new AR experiences have you discovered since the release of iOS 11? Let us know in the comments!
Master your iPhone in minutes
iMore offers spot-on advice and guidance from our team of experts, with decades of Apple device experience to lean on. Learn more with iMore!
Tory Foulk is a writer at Mobile Nations. She lives at the intersection of technology and sorcery and enjoys radio, bees, and houses in small towns. When she isn't working on articles, you'll likely find her listening to her favorite podcasts in a carefully curated blanket nest. You can follow her on Twitter at @tsfoulk.