Best astronomy apps for iPhone: Stargaze like a pro!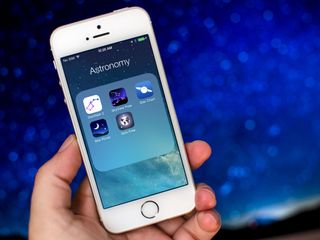 Searching for the best iPhone apps apps to help you explore and learn about the night sky? There are lots of astronomy apps in the App Store and while all of them can tell you about different stars, some of them go far beyond. From beautifully designed animations to information not only on stars, but planets and satellites too, there's a lot to discover right over your head. Many star gazing apps can even use augmented reality to show you exactly what you're looking at merely by pointing your iPhone. These are the astronomy apps for iPhone we think are currently the best available!
Star Walk 2
You can always trust iMore. Our team of Apple experts have years of experience testing all kinds of tech and gadgets, so you can be sure our recommendations and criticisms are accurate and helpful. Find out more about how we test.
Star Walk 2 has some of the most beautiful and breathtaking animations and 3D renders you're going to find in an astronomy app. Just point your iPhone towards the sky in any direction to see information on what you're looking at. To go along with it, Star Walk 2 also features a great soundtrack complete with sound effects. Every single star shown on your screen now has coordinates so you can easily view a constellation from any vantage point. The now and later feature in Star Walk 2 lets you see not only what the sky looks like now, but how it will look like at a later period in time, whether that's tonight or several months from now.
For one of the most visually pleasing stargazing experiences available on the App Store, look no further than Star Walk 2.
Star Chart
Star Chart functions in the same fashion as Star Walk 2 and can also use augmented reality. If you want to view what people on the complete opposite end of the Earth are seeing, just point your iPhone at the ground. Star Chart can depict all visible stars in the sky in both the northern and southern hemispheres with a database of over 120,000 stars and 88 constellations. Time Shift lets you view future and past skies. Not only can you point your iPhone at the sky, you can also use gestures anytime you'd like. For additional in-app purchases, Star Chart also provides great information on comets and meteor showers.
If you're looking for great information on comets, meteor showers, and satellites and don't mind paying a little more via IAP, Star Chart is a great choice.
See also:
Star Rover
Star Rover takes on the atmosphere around you and also uses augmented reality to let you explore the sky around you. Much like the others, Star Rover features 120,000 starts and 88 constellations. Tap on any planetary body in order to learn more information about it. If you want to see what the sky looks like over another part of the world, you can easily set a manual location whenever you'd like. You can also view moon phase information in just a tap.
For a general overview of the night sky that doesn't come with a hefty price tag or slews of in-app purchases, check out Star Rover.
SkyView Free
Like the others, SkyView implements augmented reality so you can simply point your iPhone at the night sky for information on what's around you. Not only that, SkyView doesn't require a data connection of any kind. The download is a little larger but this means that SkyView is ideal for any activity that may take you outside of service areas. View information on constellations, stars, and jump through to sky views both forward and backwards in time.
If you need an astronomy and stargazing app that doesn't require any kind of data connection, check out SkyView Free.
SkyView Satellite Guide
When looking at the night sky, we can't forget that there are tremendous amounts of satellites in orbit. These can be just as interesting as the stars themselves. SkyView Satellite guide lets you find out where they are, who launched them, and a ton more. Not only that, you can also watch specific satellites and even receive push notifications alerting you when a specific one will be overhead.
If you want to track satellites, look no further than SkyView Satellite guide.
Your favorite astronomy and stargazing apps for iPhone?
If you've used any iPhone apps while stargazing, what are your favorites and why? Be sure to let me know in the comments!
Get the best of iMore in your inbox, every day!
iMore senior editor from 2011 to 2015.
I use starlight which seems to be the same as starwalk. I got it on a day when it was free. As for this article it's great. Especially since I'm studying astro physics. Imore should do this for more college subjects since college started right now. Sent from the iMore App

I like Star Walk and the companion Solar Walk. While they are good apps for the casual stargazer, they are far from the "best." Actually, for a more full featured astronomy program, I would recommend the Sky Safari series of apps. They are definitely more expensive, but have been on sale too. The extra cost also provides much better content and functionality.

I second the nomination of the Sky Safari apps. Gorgeous graphics, TONS of objects and data (especially in the Pro version), excellent functionality.

Sky Guide Sent from the iMore App

GoSkyWatch, GoISSWatch, GoSatWatch.

Ad Astra, its the app that is specifically aimed at amateur astronomers and enthousiasts. Much, much better in the dark compared to the planetarium apps: https://itunes.apple.com/us/app/ad-astra-sky-atlas/id906793809?mt=8&uo=4...

Go to Cosmic Watch. COSMIC WATCH is the worlds first and most advanced interactive 3D astronomical time device in the digital age! https://itunes.apple.com/app/id971231853?mt=8&at=10l3Vy

The American Almanac 2 deserves to be on this list. It's really unique, and has a lot more information that complements the astronomy stuff, like weather and gardening.