Best biking and cycling apps for iPhone: Strava, Cyclemeter, VeloPal, and more!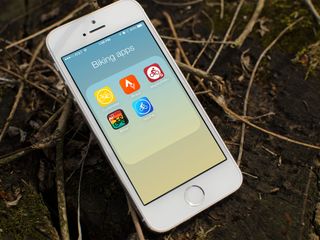 Looking for the best iPhone apps to help you track your rides? Whether you're blazing the trails or training for your next triathlon, you may want an iPhone app that you can take with you to help track your progress. For the most hardcore cyclists, there are even apps that can share your location with loved ones at all times in case something were to happen. Regardless of what you need to track, there are lots of choices available in the App Store. But what cycling and biking apps for the iPhone are the absolute best?
VeloPal
Why you can trust iMore Our expert reviewers spend hours testing and comparing products and services so you can choose the best for you. Find out more about how we test.
VeloPal can track all your cycling data in one place including GPS location, distance, altitude, calories burned, time, speed, and much more. Since VeloPal can work in the background, you can also use your Music app or any other app on your iPhone without worrying about it interrupting your workout. There are all kinds of useful ways to view your data in VeloPal as well including an easy to use calendar view, a detailed activity view, and much more.
If you want the ability to create custom charts for the data you care about most, check out VeloPal.
Map My Ride+
Map My Ride+ is by the same makers of the popular running app, Map My Run. With Map My Run+ you can track calories, distance, and time with audio alerts so you always know right where you are in your workout without having to actually pick up your iPhone to check. Map My Ride+ is also an all-in-one health tracker as well so you can track nutrition to see what you're burning in relation to what you're intaking.
For a cycling app that not only tracks your workouts but your food intake as well, give Map My Ride+ a try.
Cyclemeter
Cyclemeter may very well be one of the most feature complete cycling apps you're going to find, on any platform. Not only can you track every statistic you can possibly thing of, you can customize over 120 audio alerts to let you know exactly where you are during a certain ride. Cyclemeter also lets you share your workouts online as well as notify friends and family of exactly where you are, whether during a race or just for safety reasons. Cyclemeter also has built-in training assistance to help you get ready for any kind of race you may be prepping for. You can also export your data to many different formats including .CSV, .KVL, and more.
For the most feature complete cycling and biking app available to date, you need Cyclemeter.
Strava
Strava can track both running and cycling inside one app. What makes Strava unique from other tracking apps is the community behind it. You can compete against other runners and rides on the leaderboards as well as check out routes that other Strava users around you have already created. If you want, you can share ones you've personally created as well. Strava also works with most ANT+ and Bluetooth LE sensors to collect heart rate and cadence data.
If community is what you're looking for, check out Strava. It's also a great option if you have accessories you want to use, such as heart rate monitors.
iBiker
iBiker supports an incredible amount of third party wearables and accessories that can't be matched by many other fitness apps. All the data you'd expect to find is there including calories, distance, voice feedback, charts, maps, and more. The real pull for iBiker is wearables. Support includes the Jawbone UP, Fitbit, Polar, Adidas, and even the BLE Foot Pod. There is also support for many other third party apps to pull in data such as MyFitnessPal, RunKeeper, and many more.
If you're into wearables and need a cycling app that supports all of them, look no further than iBiker.
Your favorite iPhone apps for cycling?
If you frequently head out on your bike with iPhone in hand, what apps do you never leave home without? Be sure to let me know in the comments!
Get the best of iMore in your inbox, every day!
iMore senior editor from 2011 to 2015.
Runkeeper also let's you track both running and cycling in a really nice interface. It also has settings for hiking, mountain biking, and other sports too.

I use Runkeeper to log my bike commute. I tried a couple others. Runkeeper came out on top. The integration with Pebble, and music playlists sealed the deal.

Be sure to check out [Routie](http://www.routieapp.com), as well. It has Pebble integration, and allows for all activity types without the clutter that Runkeeper has. Music integration isn't part of Routie yet, but you can easily build a playlist in the music app. There's a lot of other goodies that come with Routie, too. I like the photo import feature, so you can import photos into your routes from the lockscreen camera.

There is another on by Runtastic Road Bike Pro (or Free). It tracks the ride with optional/configurable voice alerts during the ride and keeps the stats on the Runtastic website so you have history of all your rides. There are a bunch of other options that can be configured to make this my go to application for riding.

I wish these kind of reviews would go into more detailed comparisons. I've used Runkeeper for some time and I like the fact that it interfaces with my Pebble as my iPhone is often hidden away in a pocket. What I don't like about Runkeeper is that I have to manually start and stop it when, for instance, I come to a red light or other reason for pausing. I suspect some of the competing apps use the GPS to automatically pause. That's the kind of detail I'd like to see in these reviews.

Runkeeper has an auto pause setting.

Also check out Routie in the app store. It has autopause and it works with the Pebble. Also, it's not cluttered like runkeeper - it feels like a native app. Also doesn't pester you for "pro" upgrade.

I use Endomondo. It can track a wide variety (almost 60 types) of fitness categories. For cycling it gives me the time, distance, lap time (in set distance intervals if I want), altitude changes and more. Plus works in conduction with MyFitnessPal. Great app.

I use I smooth run. Awesome app with all the features you could want including auto pause and posting to Social media. It's 4.99 but goes free quite often. Map my ride is also on sale for .99 instead of the 2.99. One thing about Map my ride is even the paid version has in app purchases for what they call their MVP features.

Great article. I don't like to focus so much on the fitness aspect like fat burning and calories etc. What I need is an app that shows me speed, distance and duration and that updates my track to the web in real time. LocaToWeb gives me all that. The real time part makes me feel safer while riding alone far from home, knowing that my wife and friends can just visit http://locatoweb.com to see my track and exact location. In addition the website archives my tracks and within my account I have possibilities like friends alert, embedding, GPX export, adding waypoints etc... It is available for iphone, android and windows phone. Check it out at http://locatoweb.com

All very interesting. I've settled on Cyclemeter because it does everything all the others do, including the ones mentioned by fellow commenters. Because of this fact it has a bit more of a learning curve, but taking the time to configure it for your specific requirements is well worth it once you get everything the way you want it. It's good for running and walking as well, but it excels with bicycling work outs. Mine is paired with the Wahoo Bluetooth Cadence/Speed sensor, and I've recently added the Wahoo RFLKT, which allows me to see all of the Realtime info being displayed on my phone while keeping my phone safely tucked away in my jersey. Not only are all of the many screens in Cyclemeter highly customizable, but the Wahoo RFLKT (which mounts on the handlebars) also has five screens of its own that are completely user-configurable. Cyclemeter's data is uploadable to most all of the common fitness-logging sites including Strava and MyFitnessPal, along with a few lesser-knowns. I was turned onto Cyclemeter last summer when I used it to track my brother's solo ride from central Kansas to Denver Colorado. He was using Cyclemeter with GPS only, and that was being uploaded every 15 minutes or so ... Very cool. If you're a cyclist that wants to micro-manage what data is displayed and logged, where it's stored, and how it's shared, Cyclemeter is a very good option.

I suggest to check "Terra Map" if you more interested in the map and share side than int he fitness part. Here you can download very detailed topomaps with all the trails (hike and bike) and is very easy to import tracks done by others and to share them.

Try this one:
www.kappo.bike
A mobile social game for cyclists!

I use BioLogic Bike Brain, and love it. The Only draw-back is that it has limited compatibility with devices that they don't cell (i.e., my Polar H7 Heart Rate Monitor) so if I want true calcs of my ride, I have to buy their proprietary monitor. Just kinda hacks-me-off a bit. Otherwise I really like it.