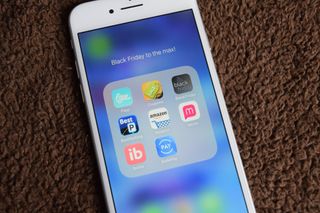 Black Friday isn't a day to "meander" and "stroll" through the mall. You make a plan; you get in; and you get out.
So download the best Black Friday apps to help you smoothly sale the choppy maelstrom-prone waters of one of the biggest shopping day of the year.
Flipp
Black Friday is war! And you need battle plans — in the form of store flyers! But flitting about from store to store or looking at every shop's online flyer can be tiresome and you might miss something.
Flipp compiles all of your local flyers for you. You can then search by store, item, brand, whatever. So if you're curious if that TV you've been eyeing is going on a Black Friday sale, just search it up and you'll find out which store has it.
The Coupons App
With The Coupons App, you get what the name suggests: coupons!
You don't have to go clipping every newspaper you can find; just download the app, and search for the retailer you want. There are some big names, like Forever 21, Walgreens, Kohl's, Dillards, and more.
Black Friday 2017 by Retale
What better way to keep up with Black Friday ads and news than with an app called Black Friday?
You can check out ads, coupons, and local deals. All of the big name retailers' ads are also featured, including Walmart, Best Buy, Target, Menards, Big Lots, and many, many more.
You can also create shopping lists and you'll see the available discounts in real time. The best part of this app is its Black Friday tab where you can see all of your local deals right in one spot. Ads even refresh daily.
For all things Black Friday, get the Black Friday 2017 app by Retale.
BestParking
Black Friday isn't all about shopping. Well it is, but part of that deal is finding a decent parking space, depending on the city you're in.
If all your favorite stores are within walking distance of one another, why not just park once and come back with your haul at the end of the day?
BestParking helps you find the best daily parking so that you can find the spot that works the best for you at the price that works best for your wallet.
Ibotta
You know you'll be spending a ton on Black Friday, so save where you can, or, even better, get money back where you can.
Keep all your receipts and scan them with the Ibotta app; you'll get cash back on everyday purchases, thanks to Ibotta's search for price matches and sales. Once you hit $20, you can cash out securely with PayPal.
Amazon
Need I say more? Amazon has some of the best Black Friday deals around, and if you don't feel like braving retail hell, then curl up with a blankie, cup of hot chocolate, and your iPhone or iPad with the Amazon app.
Search for deals on hundreds of thousands of items from books to Blu-ray to cookware to sports equipment. It's all on Amazon.
Mona
Ever wanted a personal shopper that compares brands and prices on the clothes that you want?
Better yet, ever wanted a digital personal shopper that learns about your likes and dislikes as you use it? The AI-powered Mona is your personal shopping assistant for more than 1,300 brands, and it can help you find the best deals on all your favorites.
Better yet? You don't have to leave the couch and shipping is quick and free.
ShopSavvy
ShopSavvy is you way to find hundreds of reviews and product recommendations for the specific products you're looking for this Black Friday. See a great deal? Scan the barcode and check out reviews to make sure you're not buying garbage just because it's on sale.
You can search through over 400 categories and scan any barcode while you're shopping to compare pricing. Whether you're shopping in store at Best Buy, Target, or Walmart, or online at Amazon or Newegg, ShopSavvy has you covered.
Thrifter
Ok, it's not an app, but it's easily the best way to find the best deals on everything you're looking for this Black Friday. At Thrifter.com, you'll find hundreds of deals, curated from all corners of the internet. There's even a dedicated Black Friday page with all of the hottest deals from the biggest retailers, like Amazon, Best Buy, Walmart, Target, Kohl's, eBay, Lowe's, Costco, and much more.
Follow Thrifter on Twitter to keep up with all of the daily deals, and add Thrifter as a shortcut on your iPhone's Home screen so you can come back to it quickly. Here's how:
Launch Safari and head to Thrifter.com.
Tap the share button on the bottom of your screen. It's the box with the arrow in it.
Tap Add to Home Screen in the bottom row of options (you might have to scroll right to see it).
Name the shortcut and tap Add.
Thrifter will then appear as a Home screen shortcut just like an app.
What gets you through the day?
Do you have a go-to app to see you safely through Black Friday? Let us know in the comments below!
Updated November 2017: We've added the latest Black Friday app by Retale, as well as ShopSavvy to help you find the best deals and recommendations. We've also removed SudoPay, as the service isn't presently available. And we've added Thrifter to the list, despite it not being an app, it is the best way to find all the best deals online!
Mick is a staff writer who's as frugal as they come, so he always does extensive research (much to the exhaustion of his wife) before making a purchase. If it's not worth the price, Mick ain't buying.
Get the best of iMore in in your inbox, every day!
Thank you for signing up to iMore. You will receive a verification email shortly.
There was a problem. Please refresh the page and try again.