Best Buy offers $250 off any Apple Watch model when you buy an iPhone 6s or 6s Plus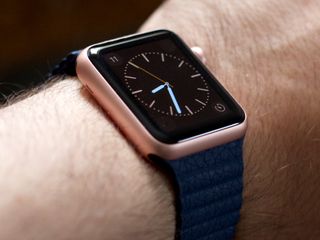 Best Buy is currently running a special offer in the U.S. where people who buy or lease an iPhone 6s or iPhone 6s Plus can get $250 off (opens in new tab) any Apple Watch model. The special bundle offer ends on June 25.
That means you could get a 38mm Apple Watch Sport for as low as $49 with this offer. The deal works if you buy the iPhone 6s or 6s Plus outright, or if you activate it for a two year lease on AT&T, Sprint or Verizon.
See at Best Buy (opens in new tab)
Get the best of iMore in in your inbox, every day!
I have been writing professionally about technology and gaming news for 14 years.
Where is the buying outright part? They all require a plan for a minimum of 2 years. Sent from the iMore App

It's there as an option, but Best Buy charges $50 more than MSRP Sent from the iMore App

That is the point. This is a deal to get you to upgrade and locked into a contract. Doesn't work without that unfortunately. Right from the best buy site "Save $250 on any Apple Watch when you buy or lease and activate iPhone 6s or iPhone 6s Plus with 2-year contract, lease or monthly installment plan for Verizon Wireless, AT&T or Sprint."

Right, but can't you lease or whatever and then pay off right away?...

Yes you can. But buying outright usually means paying for it right then. The lease you still have to wait a month( I believe) before you can pay it off.

So, do I pay for the watch on contract too? Or is it really $250 off? If I get an iPhone on Sprint Easy Pay, and pay $50 extra, do I pay the other $250 for the watch each month to Sprint or what? Just says if I cancel, the rest is due, but not the rest of what.

The rest of the easy pay, the watch is not leased or sold on easy pay unless you buy it from a sprint corporate store Sent from the iMore App

The watch isn't on contract. You buy the phone on a 2 year contract or installment billing or lease and you can buy the watch for $50. Sent from the iMore App

My point is that the article contains misleading information about buying outright - should be edited. Sent from the iMore App

The problem with leasing is you don't own the phone. I can't ever see myself doing that. All my money is lost if I want to upgrade in two years. A waste of money to me. Sent from the iMore App

Perhaps leasing isn't the right world here. Verizon you pay for the phone in 24 equal payments. Then own the phone. If you choose, you can pay off early (such as wanting to switch carriers, or get a new phone and sell your current one) This Best Buy deal isn't as good as it sounds. First off, Best Buy charges $50 more than MSRP for buying a phone from the carrier or Apple direct. For example, the 64 GB 6s is $749 at Verizon and Apple. It is $799 at Best Buy. So while you are getting a discount on an Apple Watch, you are still, net, paying $100 for it. Wait a month to six weeks. The 6s line will start to drop by $100 or so.
Thank you for signing up to iMore. You will receive a verification email shortly.
There was a problem. Please refresh the page and try again.