Best calorie counter and diet apps for iPhone: MyFitnessPal, Lose It!, Lifesum, and more!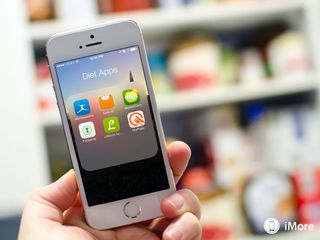 (opens in new tab)
Looking for the best iPhone apps to help you shed a few pounds? Trying to lose weight and stick to a healthy diet can be difficult, but there are lots of calorie counting and diet tracking apps for iPhone that can make sticking to our weight loss goals a lot less painful. From making sure you get the right amount of fats, proteins, and carbohydrates in a day, to tracking the calories you burn while exercising, the only real challenge is in finding the best ones for you! Here are my favorites...
MyFitnessPal
Why you can trust iMore Our expert reviewers spend hours testing and comparing products and services so you can choose the best for you. Find out more about how we test.
MyFitnessPal lets you not only track calories, but track exercise as well. You can add your friends, view their food journals, encourage each other and more. When it comes to adding food, MyFitnessPal has a vast library of foods and there's been only one or two times I've ever found it not able to find a food, leaving me to enter in manually. You can scan bar codes or enter information on your own from the box. MyFitnessPal can track your weight as well as give you estimates of what it thinks you'd weigh if you continued with the eating habits you finished a specific day off with, which is always a good motivator. MyFitnessPal is also supported by lots of other developers and integrates with many other apps.
For an all in one food and exercise tracker with lots of third party support, MyFitnessPal is what you want.
Lose It!
Lose It! is much like MyFitnessPal but offers many more advanced features for premium users. For starters, Lose It! lets you set weight loss goals and gives you a projected target based on how much you want to lose a week, with a maximum of two pounds a week. You can then start logging foods and viewing your stats. The My Day section of Lose it! is a great overview of how your day is progressing. Premium features of Lose It! also give information such as body fat, hydration, sleep cycles, and more.
For a great tracking app with lots of robust data available as an extra add-on, Lose It! is a diet app you don't want to overlook.
Calorie Counter PRO
Calorie Counter PRO not only lets you track foods in a log and set weight loss goals, but compare foods side by side in just a few seconds. One of my favorite features of Calorie Counter PRO is the Daily Analysis section that gives you tips and suggestions based on how you're currently eating today. Perhaps you ate a smaller breakfast than you should, Calorie Counter PRO points that out. Aside from tracking food and weight, Calorie Counter PRO has a vast bank of exercise and workout information you can track as well.
For a calorie tracker that can give you tips, tricks, and pointers along the way, check out Calorie Counter PRO.
Calorie Counter by FatSecret
Calorie Counter by FatSecret combines both a diet and calorie counting log with a recipe community. Aside from tracking food and exercise, you can also check out recipes that FatSecret recommends. Unlike a lot of other tracking apps, Calorie Counter also looks at how many calories you burn just being awake or asleep. From there you can add other activities in place of sleep or regular relaxation time for a more accurate analysis.
If top-notch accuracy is your main concern, Calorie Counter by FatSecret looks at even the littlest details that many tracking apps don't.
Lifesum
Lifesum in its free form is a decent calorie and exercise tracker with a gorgeous interface. The breakdowns of each food when you're adding them also helps you quickly see how many carbs, fats, and proteins you're eating. With a premium membership to Lifesum, you can also link up many third party apps including RunKeeper for easy import of all your workouts and runs. The thing I find most intriguing about Lifesum is how the main menu shows a circular representation of where you should be with calories throughout the day. It's a great visual representation that can keep you from collecting calories for use later, and never using them.
If you want an app that's just as fun to use as it is easy, get Lifesum.
MyPlate by LIVESTRONG
MyPlate by LIVESTRONG lets your track calories and exercise like many of the other apps but also functions as an activity tracker at the same time. Just let the app track what you're doing and calories you burn are automatically logged. If you have an iPhone 5s, MyPlate can use the motion processor for minimal battery drain. On top of being able to track calories by itself, MyPlate has one of the most vast catalogs of foods when it comes to eating out since it pulls much of its data from LIVESTRONG.com.
If you eat out a lot and get frustrated with calculating calories when trying to choose a healthier option, MyPlate by LIVESTRONG has you covered.
Your picks?
These are my favorite apps when it comes to eating healthier and losing weight but I know many of you have taken on this challenge as well. What calorie counting and diet apps have you found useful? Let us know in the comments!
Note: Originally published January 2014. Updated June 2014.
Get the best of iMore in in your inbox, every day!
iMore senior editor from 2011 to 2015.
I really like my fitness pal. This is an awesome app! Sent from the iMore App

There's also an app called 'Fooducate', while not a calorie counter, gives foods that you scan a letter grade. Great for people like me who are clueless about reading nutrition labels :) Wondering if there are any other apps like this? Like many other apps, the developer has declared war on introverts, and practically begs you to set up an account so you can share your stuff with God and everybody else.

I use fooducate often to compare brands. :)

If you are interested in a wider range of nutrients than those that usual appear on food labels on mainly calorie counting apps - I like Chronometer. Sent from the iMore App

Been using MyFitnessPal for a couple of years now. My boss lost nearly 50 pounds in just over a year by diligently tracking every single thing he ate using the app. Of course, he tried to eat cleaner/greener/healthier as well, but he also knew that as long as he finished under the calorie goal every day he would lose weight. It was really an inspiring showcase of commitment and dedication. I'm actually using the app to try and GAIN weight (sorry if that offends anyone, I don't mean to...) and I know with the same dedication, I can see similar results as well! My wife has the MyPLATE app which is nice since it sometimes has foods/brands that MyFitnessPal doesn't so I just copy them over from there!

I have also used MyFitnessPal and Lose It and appreciate their work. However, as a nutritionist and dietitian, I have to say the nutrition information is lacking and to really fine-tune your health you need to know details! There is a new app called HealthWatch 360 I just tried and it has more nutrition info than I've ever seen in an app! The barcode scanner even picks it up for my vitamins and supplements. I have been using it a couple weeks now and the food logging is just as easy as MyFitnessPal and definitely easier than LoseIt. Huge database.

If any of you have not been to #Mobilefit Month over @ Connectedly yet you should really go over and check it out.
If you don't know what it is about, It is a pretty cool Forum and Blog and will help you get in shape if that is your thing. Nottot mention all the cool new gadgets they have over there. I have been spending some time every day and really enjoy it. Check it out, Come over and say Hello!!

http://adf.ly/7010038/android

I am using YAZIO, which is a new app on the market https://www.yazio.com/
I really enjoyed working with YAZIO and it helped me to get to a healthier life. Additionally I lost 20 pounds within two month. The App is so easy to use. I just love it.

I am using INLIVO - Healthy Weight and Lifestyle Manager, which is also a new app and maybe all of the reviewed apps in one. Love it.

MFP nails this category of apps. I'm actually having fun losing weight now that I've changed the goal from 'fill up my belly' to 'eat up to the line'. You learn quickly that feeling hungry is not right. Journaling stops this diet-killing behavior and helps you learn what works for a long term 'live-it'! Having so many food options available on top of an easy recipe importer makes MFP the hands-down choice for journaling.

What If you are not much of a cook? I batch cook to save time, so my menu items need to be easy to make in batches or 1-2 weeks worth of food at a time.

If you have the recipe, MFP can calculate the calories for you. Then just enter the portion and go. If you make the same things often, this is a simple way to go. And if the recipe is online, MFP can read it directly. Pretty cool!

I use Fitatu right now. IMHO the easiest and the fastest calorie counter fot free. Cool app.
Thank you for signing up to iMore. You will receive a verification email shortly.
There was a problem. Please refresh the page and try again.