Best camera apps for iPhone: How to take the best photos possible!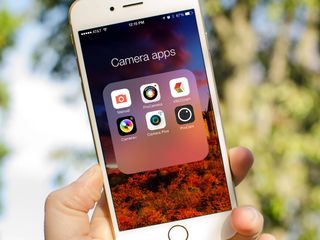 Looking for the best iPhone apps for taking photos on your iPhone? While some people appreciate that the iPhone's Camera app for its simplicity and ease of use, others want as many manual, fine-grained controls as possible. Whether you want to adjust your white balance and shutter speed all on your own, or you just want an all-in-one camera and photo editing app, you've come to the right place. There are lots of camera replacement apps available in the App Store, but which ones are the absolute best?
Manual
Why you can trust iMore Our expert reviewers spend hours testing and comparing products and services so you can choose the best for you. Find out more about how we test.
When iOS 8 came out with support for camera extensions, I immediately fell in love with Manual. Before even taking a photo you can adjust things like shutter speed, ISO, white balance, focus, and exposure compensation. That means you have a live preview of the perfect image before even snapping the photo. Best of all, Manual is dead simple to use which makes it a great go to camera when you need to snap something quickly.
For control that doesn't sacrifice speed, Manual doesn't disappoint.
VSCO Cam
VSCO Cam can let you snap, edit, and share your photos all in one place. You can even import your existing photos and access all your pictures in one place. If you've ever experienced a time when you want to focus on something but it's just too dark so you have to tap somewhere else, this is exactly the kind of problem VSCO Cam solves. No longer do you have to settle for darker but in focus photos or over-exposed and out of focus photos. VSCO Cam's filter and editing options are also some of the best you'll find.
If you're looking for an easy to use camera app that still manages to offer decent control, you want VSCO Cam.
Camera+
Camera+ has a killer camera that not only helps you stabilize images, but has one tap controls for locking things like white balance, exposure, and focus. You can also adjust the exposure compensation for difficult to shoot environments where a focus point is in a darker area. You can also see what ISO and shutter speed you're using at all times. Camera+ really shines when it comes to post-editing tools including highlights, shadows, contrast, and much more. It also supports extensions in the iOS 8 Photos app too for all your edits in one place.
For a camera app that's simple to use but yet as advanced as you'd like it to be, check out Camera+.
ProCamera 8
ProCamera 8 is a beautiful camera replacement app that not only contains awesome post editing tools, but lets you adjust many settings and view live previews before you even shoot an image. The vividHDR feature does amazing things with HDR photography that's in a class of its own. I'm also a fan of the Night Mode Pro Camera 8 offers and have found it to be better than most other camera alternatives.
If you take a lot of HDR or night shots, ProCamera 8 should be your camera app of choice.
ProCam 2
ProCam 2 has a ridiculous feature that includes manual camera controls for iOS 8 devices, full focus and exposure controls, tons of live lenses and filters, TIFF support, and much more. Not only that, ProCam 2 manages to cram all these features into an interface that doesn't crowd the view finder the way other camera apps seem to. And for those that want an all in one editor, ProCam 2 succeeds there too with tons of non-destructive editing options.
For some of the best live camera controls, filters, and lens options available, look no further than ProCam 2.
See also:
Camera Plus
Camera Plus offers three different distinct focus modes which include macro, normal, and far which results in sharper photos in the areas intended to be sharp. There are lots of manual controls to play with but hands down, my favorite feature of Camera Plus is AirSnap, which allows you to use a secondary iOS device as a controller so you can capture images remotely. It may not have as advanced controls as apps such as ProCamera 8, but unique features like AirSnap and focus shift videos will more than make up for it with some folks. And for $1 more you can add a privacy lock to your photos if you'd like.
If you want unique features such as AirSnap, focus shift videos, Camera Plus can add all the versatility you could possibly desire.
Your favorite replacement camera apps for iPhone?
Everyone has different habits when it comes to iPhone photography. Some of us have photos of our children dominating our Photos app while others have skylines and tons of nature photos. All of them are different in their own ways. So if you've found a great alternative camera app that meets your needs, be sure to let me know in the comments what it is and why you like it!
Note: Originally published, May 2014. Updated, November 2014.
Get the best of iMore in your inbox, every day!
iMore senior editor from 2011 to 2015.
I go back and forth with this a LOT but I've settled finally on VSCO Cam. I love the layout and it's dead simple to use. All the others are fine as well as the native one in IOS 7. It really all comes down to personal preference in the end. No Hipstamatic/Oggl? they're both fun alternatives.

I prefer Faded. You can save your actions and reuse them. It's like making your own filters.

I really enjoy ProCam 2. It has a lot of features for both taking pics and video. Also the editing features are amazing and so straight forward. Sent from the iMore App

I use Pure Shot. I found it on the old iPhoneography site.

I have a ton of camera replacement apps. to @gautch, Faded isn't a camera replacement app, but a photo editor/filter app. I have my camera replacement app folder in the dock of my phone labeled "Pro Cams" . In order I have:
Camera+
ProCamera 7
CameraPlus: Capture
645 Pro
PureShot
NightCap Pro
HDR Fusion
TrueHDR
DMD Panorama
ClearCam
Mattebox
ProCam 2
vividHDR
Pro HDR
HDR3
Bracket Mode
Cortex Cam
Camera Genius
Camera Plus Pro And these are the ones that are labled "Pro Cams" when I don't want to use a filtered app like Hipstamatic, Hueless, Huemore, or anything by the developer misskiwi

i always end up using the default camera because it's integrated into the operating system. When i need to get to it quickly i can. I have camera+ but i never use it. no clue why i bought it other than it was my first purchase. it's fine but it just hasn't held my attention. i'm trying vsco cam now but mostly just using the filters. I still tend to take the actual pic with the default.

I'd use other camera apps more if I could set as default :( I only use stock app because of the quick setting from lock screen.

For taking photos, I bounce between Camera+ and Camera.app. For video, you really can't beat Videon. I haven't found another app that has a smoother zoom or stabilization. Very awesome app.

Ally you should try Cortex Camera. Best purchase I have made in app store. It simply takes the best low light pictures.Since it mixes multiple frames into one through an algorithm, u need to be still taking pics and it might appear a bit slow processing the pic. But the end result is simply 'Wow' Sent from the iMore App

I have used the Flickr app a few times when I know that the picture I am taking I want to share.
Normally I just use the default camera app, then go into iPhoto for editing. I have used Camera+ before, but most of the time when I need to take a picture, it is WAY easier to just flick the screen up and shoot than to go into the phone and open the app. If Apple was to ever allow users to change the default camera app, I could see myself changing to Camera+.

ProCamera 7, and prior to that its predecessor, ProCamera, is my favourite for shooting. I like to shoot square format AND edit exposure, saturation, sharpness etc in the lightbox before saving photos to camera roll and then edit with filter apps. I use VSCO Cam a lot for editing but not shooting as it doesn't support square format as an option.

I SWEAR by Camera+, but it currently runs too slow on my "ancient" iPhone 4. Hopefully that won't be the case when I get my new phone in September (August?). Sent from the iMore App

You missed one best camera app, which is my favorite: Splendid Camera FX https://itunes.apple.com/app/id85579362?at=10l3Vy

Pro Cam 2 is best. Thing I like is its getting better!!!

I've got quite a few and honestly like Retrica Pro the best. I don't know what it is about that app that gets me.

I know this is the complete opposite of what everyone wants as far as a camera app but I'm desperately looking for a SIMPLE camera app that will take pics and the resulting pic is stored in kb's and not megs. I am in the body shop business and take pics for supplements. If I have to send an insurance company 20 pics, I don't want each pic to be 3 mg's in size. I was using an app called Snapture. Simple, automatically stored to my camera without me having to click "save to photos" each time and the resulting pics were 60-80kbs in size. Now with iOS 8, the app won't work and have have tried a dozen apps to replace it. The apps either need to have the pics saved after each pic taken (no option in settings to automatically save- very time consuming when you're taking 20-30 pics), are too large in size or overly complicated. Any suggestions? Thanks so much!

I love ProShot. https://itunes.apple.com/us/app/proshot/id924438909?mt=8&at=10l3Vy

Glad to see "pure shot " is being used by other people. I've been using it for a while now for the highest quality shots. But the last update is even better. If you use an SLR camera then this app is for you. PURE SHOT is great. Sent from the iMore App

You know, I really wanna respect personal tastes, but to me all apps except for Camera+ are... shit. They are "okay" at best. To me, Camera+ provides the best tools for general photo editing, Aviary for advanced tools, and Rookie for its filters. I've found anything else that comes close.

+1 for ProShot. Sent from the iMore App

Pureshot, not advertised much but the closest thing to using a DSLR. Developer very supportive too.

i like the camrea apps on Ios more. but the app which comes close on android is Camera MX imho. https://www.imore.com/e?link=https2F2Flinks%2F1...

I like using Ultramask if I want to add an abstract art touch to the photos. It's amazing how many effects one can create with just 17 patterns!

Here you can find iphone apps for photographers and add your favourite ones: http://www.appeers.com/top_app/iPhone/2/Photographer/103 Checkout this brand new community for app lovers.​

Hi, you guys can also check the application named PhotoSplash FX. It is user friendly, plus it has various effects. Do check it out here is the link
​https://itunes.apple.com/es/app/photo-splash-fx-editor-multiple/id482487...

ACDsee has a camera app out for iOS now, and I've gotten it. It's very nice, very performant. Has quite a few IAP, though, which I kinda hate (and they have too many for me to bulk buy, which is what I normally do just to get the paywalls out of the way, but I'm not paying $15-20 collectively for a camera app!).