Best camera apps for iPhone X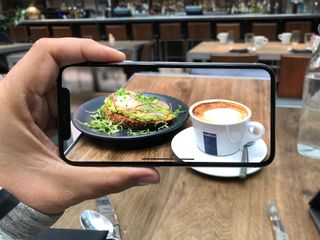 Your iPhone X's camera is unlike any other mobile phone camera on the market: it's a technological marvel front and back that gives DSLRs a run for their money and turns selfies into artistic, high-end portraiture.
If you're looking to get the most use out of your iPhone X's impeccable camera, then it might be worth it to consider buying or downloading a third-party camera app that'll take your iPhone photos from stunning to truly spectacular.
Here are the best camera apps available so far that pair beautifully with the iPhone X.
Halide
Why you can trust iMore Our expert reviewers spend hours testing and comparing products and services so you can choose the best for you. Find out more about how we test.
Potentially one of the most highly-rated and popular camera apps to come out in 2017, Halide is a RAW Manual Camera app that turns your iPhone X into a near-perfect dupe for a DSLR camera.
Halide comes with features like focus peaking and a powerful manual focus, full manual controls including exposure, ISO, and white balance, live histogram for perfect exposure shots, quick-review of each of your shots, intelligent automatic and manual mode, and a beautiful, easy-to-use, gesture-based interface.
Halide will cost you around $5, but to be able to shoot your iPhone X with RAW support, a grid overlay, and so, so much more, the cost of this app is totally, 100% worth it: especially on the X.
Camera+
One common app that pops up over and over again when you're asking people about their favorite third-party options is Camera+, a $3 camera app that improves almost every aspect of the built-in camera your iPhone X has.
Camera+ allows you full control over things like exposure and focus, access to features like stabilizers and timers for different shooting modes, up to 6x digital zoom with advanced processing to provide you with DSLR-level crispness and quality, front-flash camera options, and so, so much more.
Camera+ even has a feature called clarity, which analyses your photos and makes several smart adjustments that automatically enhance details to breathe life into some of your more lackluster snapshots.
This particular app also gives you access to a plethora of other editing, sharing, and shooting options like:
Effects (which were all created by professional photographer Lisa Bettany)
Lightbox (so you can easily skim through and get rid of bad shots)
Sharing
iCloud Lightbox sync
Crops
Borders
Captions
$2.99 - Download Now

(opens in new tab)
Hydra
Hydra is an innovative third-party camera app that allows you to have full control over exposure and lighting depending on whether your lighting conditions are less than desirable, making it an ideal partner and tool to pair with your iPhone X.
The app provides 5 specific capture modes:
HDR
Video-HDR
Lo-light
Zoom
Hi-res
This means that no matter what conditions you're shooting in, Hydra has a shooting setting for you!
Once you're done shooting your images with Hydra, the app features a full photo gallery for easy reviewing access where you can find your picture's metadata and directly link them with your built-in iOS photo albums.
This particular third-party camera app will cost you around $5 to download and start shooting with.
ProCam 5
ProCam 5 is an app to keep your eye on if you're looking for a camera to shoot with via your iPhone X: and there are a number of excellent reasons why (besides being trusted by over 6.5 million users)
ProCam 5 gives you a plethora of shooting modes:
Photo
Night Mode
Burst Mode
Slow Shutter
Portrait Mode
3D Photos
Video
Time Lapse
The $5 app even gives you different photo shutter release options like a self-timer, anti-shake, screen shutter, and interval shots, as well as giving users the options to shoot RAW photos, support TIFF files, adjust aspect ration, and so, so much more.
Once you're done shooting your iPhone X CamPro 5 masterpiece, you can edit and pick from over 60 expertly crafted filters, or choose to shoot through one of 17 lenses that include options like vingette, fisheye, hatched, ripple, etc.
Oh! And recently ProCam 5 has toted that with it's most recent updates, you get iPhone X related optimizations, so if you want a third-party camera app that's truly up-to-date, ProCam 5 has you covered!
VSCO
Keep it simple, keep it modern, and keep it Instagram-worthy with VSCO and your iPhone X will always be shooting the most hip shots in the biz.
With VSCO, not only can you shoot directly from the app, but using the dozens and dozens of filter options available, you can turn your iPhone X's meh photo into an Insta-masterpiece for the masses.
While VSCO itself is a free app, one worthwhile feature to consider is VSCO X:
The app also acts as a social media platform on it's own, meaning that you can directly upload your edits and images to your VSCO account without sharing them across alllllll those other social media platforms.
What's your favorite iPhone X camera app?
Is there a particular camera app that you love using with your iPhone X?
Let us know what it is in the comments below and we'll be sure to download it and check it out!
Cella writes for iMore on social and photography. She's a true crime enthusiast, bestselling horror author, lipstick collector, buzzkill, and Sicilian. Follow her on Twitter and Instagram: @hellorousseau
I love ProCam5. First, my favorite feature is not mentioned above. It has the option to take your photos in a 16:9 format that looks great on my iPads and Apple TV. No huge borders around the sides of the photos. I can also use a date stamp on the photos. Again, if the stock Apple camera app has that feature, I haven't found it. And it also has a wheel, for lack of a better term, that you can slide up and down to change the exposure of the picture. It's much easier to use than the exposure slider in the stock app. The app also has many other options that I have no idea how to use but i am sure an experienced photographer would have fun with these options. Actually, the 16:9 option is seen in the screen shot posted next to the features. It's just not mentioned in the segment. It's my favorite feature of the app.

I have.... ProCam
Camera+
ACDSee Pro
Afterlight 2 I find none of them get much use, because they can't be made default. Camera+ looks dated.
ProCam looks super cluttered and is generally not well designed, IMHO.
ACDSee looks dated, and isn't THAT well supported.
Afterlight 2 cannot remember my image format settings across uses, so I'm probably never going to use it to avoid the hassle. I'm thinking about getting the Lightroom CC subscription and using their mobile app. It Syncs with Adobe and would be usable on my Windows machines. I have heard good things about their camera app on iOS. Since getting my new Windows Laptop, I barely use my iMac, anymore. I need to get sell it while I can still fetch a pretty penny for it. Very surprised Lightroom was left out, but apps like VSCO weren't, lol.

No love for the Lightroom CC mobile camera app?
Thank you for signing up to iMore. You will receive a verification email shortly.
There was a problem. Please refresh the page and try again.