Best Christmas apps of 2022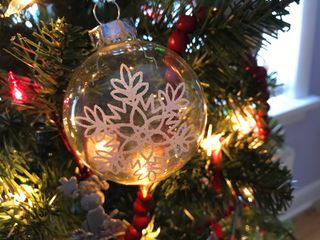 (Image credit: iMore)
Christmastime is fun and bright and a wonderful time to spend with family and friends. But if you need a break or want fun ways to integrate your iPhone or iPad into your festivities, then here are our favorite Christmas apps that we know Yule just love!
How the Grinch Stole Christmas by Dr. Seuss
You can always trust iMore. Our team of Apple experts have years of experience testing all kinds of tech and gadgets, so you can be sure our recommendations and criticisms are accurate and helpful. Find out more about how we test.
The perennial Christmas classic gets the iOS treatment in this stunning app, which is basically a motion comic of the Dr. Seuss book. The pictures are animated, and the narration is lovely. There are sound effects and background music, creating a wonderfully atmospheric experience.
You also have the option to be read to or to read it yourself, and parents can even keep track of their kids' time spent reading. There is even a swipe lock on the parents section so that little ones don't know that they're learning! Totally worth it for $3.99.
Christmas Pics Quiz Game
These types of games are always fun. You get a photo and a jumble of letters below it, and you have to spell out what the picture is to advance. Here's the fun twist: the photo is covered by four squares. You tap the squares to reveal the photo, but the fewer squares you tap, the more coins you get for guess the correct answer.
If you think you can guess the word without revealing any of the photo, then you get the maximum number of coins. This isn't really complicated, but it's some light holiday fun that'll see you through the boring times.
Santa Video Call and Tracker
If you really want your kids to be good this year, this app's best feature isn't in its name. Yes, you can give your kid a video call from Santa and use the app to "track Santa," but the best part is the Naughty or Nice Scanner, which you can set up to always show nice or always show naughty or set it on random. Now, you have to buy the $4.99 full version of the app to get all the extra features, but it's totally worth it, especially since the app was developed using Unity!
For the video calls, you can set up a full child profile, including their name, interests, favorite color, and all sorts of stuff. Then you get to set up the reason for the call, like your kid's been naughty and what they've done to be naughty. Honestly, the more I use this app, the more I'm falling love with the execution. The guy who plays Santa is lovely and warm and nails the part. And you can even record the call to capture your child's reactions.
There's also a Beardifier that puts a beard on photos, an Elfifier, a joke generator, North Pole News, Santa's List, Elfbook (the elf Facebook), and much more. This is an immersive and awesome app that really puts a tech spin on the holiday. I can't recommend it enough; I have no kids and I'm having a ball with it.
Christmas Wallpapers & Backgrounds — Xinmin Wang
What's to say? It's gorgeous wallpapers for your iPhone or iPad that bring a little Christmas cheer to your device.
The app is rather similarly laid out to Zedge, so if you're used to using that, you'll be right at home. There are tons of wallpapers to choose from, so you won't run out during the holidays!
A Charlie Brown Christmas + iMessage Sticker Pack
Everyone's favorite bald kid and his dog can be found on your iPhone or iPad and you can experience all that A Charlie Brown Christmas has to offer. You can play Schroeder's piano, go caroling with the Peanuts choir, fingerpaint, and more.
All the nostalgia and all the feels are tightly wrapped in this cute and heart-warming app that's sure to bring back memories of the first time you watched to cartoon, while creating new ones for this holiday.
There's also an iMessage sticker pack so you can fill your chat windows with all that Schulz goodness.
Toca Hair Salon - Christmas Gift
If you have a little future stylist in the family or are really bored, the Toca Hair Salon - Christmas Gift is actually pretty cute. You get to style either Santa or a Christmas tree (named Topzy) and can do everything from snipping away hair (or branches) with scissors to dyeing with an assortment of colors and adding decorations like presents and Christmas balls.
Christmas Photo Effects - ELF Yourself Santa Booth
Spice up your Christmas selfies with some fun filters, stickers, and digital costumes. This app is great in that you can resize the stickers so that the Santa hats, elf ears, reindeer antlers, beards, and more actually fit the faces in your photos.
Not every sticker is unlocked, but there are still tons to have fun with and combine.
Elf Yourself by Office Depot
Yeah, usually apps made my big box stores are rubbish, but Office Depot's Elf Yourself is actually pretty charming.
You take pictures of people and put their heads on elf bodies and then they dance. If you want to have a good laugh with your family this Christmas, definitely check this app out. It's Jib-Jab-esque.
There's also an iMessage app included, so you can keep the fun going in your conversations.
Christmas Sweeper 3
Got Candy Crush fever but want something a little more Yuletide? Christmas Sweeper 3 has you matching Christmas-related objects, like ornaments and Christmas trees and gingerbread men (oh my!).
There are "hard" modes for each level, though they're not too difficult. This is good, time-wasting fun for the whole family and a great game to play while you're waiting on your wife to come out of the smelly candle store in a mall that's packed, hotter than hell, and loud (not that I'm complaining or anything).
A Call From Santa!
If you have some true believers in your household, then this is the perfect app to keep that love alive. In this technological age, the burden of proof is a heavy one. Why can't I just text my list to santa?
Well, now the little ones can, and they can get a phone call from the Big Man himself, telling them if they're on the naughty or nice list. The text messages are kind of hit and miss, since the responses are preprogrammed, but it should be a fun thrill.
You enter some information, like your kid's age and interests, as well as the reason for the call, and then schedule the phone call and when it rings, you give it to your child and boom, Santa calls.
You can even call Santa's voicemail and have your child record his or her Christmas list and do other fun things.
Angry Birds Seasons
The unending conflict between birds and pigs takes a seasonal twist in Angry Birds Seasons, wherein seasonal events from all over the world affect gameplay and stages. Of course they're doing winter right now (in a sort of viking theme), and of course it's maddening, bird-flinging, pig-pushing-off-of-stuff fun.
What's on your list?
Do you have a favorite Christmas app that you download every year? Let us know in the comments below and Merry Christmas!
Updated December 2017: We've updated our list with this year's best Christmas apps. The real standout is the Santa Video Call app — it's full-featured and fun for all ages!
Master your iPhone in minutes
iMore offers spot-on advice and guidance from our team of experts, with decades of Apple device experience to lean on. Learn more with iMore!
Mick is a staff writer who's as frugal as they come, so he always does extensive research (much to the exhaustion of his wife) before making a purchase. If it's not worth the price, Mick ain't buying.