Best Craigslist apps for iPhone and iPad: How to buy and sell better!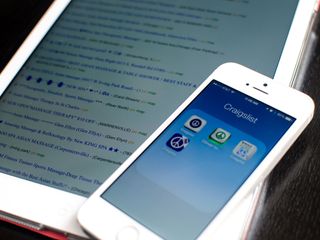 Looking for the best iPhone apps and best iPad apps to help you buy and sell stuff on Craigslist? In may areas of the country Craigslist is one of the most popular places to buy, sell, or trade your stuff. Heck, iPhones, iPads, and iPods are some of the most in-demand items on Craigslist, and as long as you be mindful of scammers, it's a great place to get some quick cash for your stuff. There are quite a few apps available that give you easy access to Craigslist on the go. They can send you notifications, keep you in contact, and help you find just what you're looking for. But what Craigslist apps for iPhone and iPad are the absolute best?
Mokriya
Why you can trust iMore Our expert reviewers spend hours testing and comparing products and services so you can choose the best for you. Find out more about how we test.
Mokriya has the best Craigslist interface available. Everything from how listings appear to how you search for items just makes sense. It's got buttery smooth transitions and lays out images in-ad in a really convenient way, making it easy to flip through them quickly. I really wish Mokriya was available for the iPad because galleries would look great. Mokriya is free for basic features and to browse as often as you want. With a $0.99 in-app purchase (IAP), you can unlock the ability to post things to Craigslist and receive notifications.
Mokriya offers one of the best browsing and posting experiences, as long as you're okay with not having an iPad version.
CSmart
CSmart is a Craigslist app that is fully gesture driven and focuses on letting you experience Craigslist the way you want. You can get automatic search notifications for items you watch most often, group and sort results the way you'd like, and favorite listings for viewing later. An upcoming version of CSmart will also feature the ability to post, which is currently not supported in this version.
For a customizable browsing experience on both iPhone and iPad, CSmart is one of the best.
Daily
Daily is a Craigslist app for both iPhone and iPad that supports both browsing and posting. The interface is reminiscent of searching through the classifieds section of an old fashioned newspaper, which some users may enjoy. If you search for specific items regularly, Daily lets you save them so you can view updated results in just a few taps. If there are ads you aren't interested in, just scribble them out with your finger to dismiss them.
For a newspaper or magazine style browsing experience, be sure to check out Daily.
cPro
cPro is one of the most full featured Craigslist apps you're going to find for iPhone and iPad. Not only that, the grid style gallery is one of the best ways to browse listings with photos quickly and efficiently. cPro also supports notifications for newly matched listings for your favorite types of searches. If you want to search multiple cities and locations at the same time, cPro can do that too. Some features require an in-app purchase of $2.99 to unlock.
If feature set is your number one priority when it comes to browsing and posting to Craigslist, you want cPro.
Your picks for best Craigslist app for iPhone or iPad?
While there are quite a few Craigslist apps available for iPhone and iPad, there aren't a lot of really great ones. It's one category that could use some attention. However, if you frequently use Craigslist from your iPhone or iPad, let us know which apps you use and why! What makes them better than others in your opinion?
Note: Originally published, July 2013. Updated, July 2014.
Get the best of iMore in in your inbox, every day!
iMore senior editor from 2011 to 2015.
Is there something wrong with the imore forums app? All of a sudden it won't even go in anymore I click the app and it crashes out. Sent from the iMore App

I think they all suck, honestly. This is coming from posting ads looking for a new member for our band. For two days, Craigslist by Lifelike can't log in to the account and offers to use the web view. Fail. cPRO+ looks nice, but the posting screen looks like torture. No clue what they were thinking. Smobile I already forget what was wrong with that one. Mokriya I have been using for a long time now, but there are so many basic stupidities in it that have never been fixed that I often just say screw it and wait to use the regular web site. I think this space is wide open for a truly good iPhone app to connect to CL.

Have you tried CraigsAlert? It came out pretty recently and it's the first app that I've used that is actually polished and doesn't crash like the others...

I agree, there is a lot of space for improvement which is why I have not purchased one yet. One on the most important parts of this should have been speed of updating app after Craigslist updates process. Cpro has a few versions and some seem to take months before you can post again. One of them actually doesn't work now because Craigslist changed the standard photo upload process like 3 months ago. I would also like to search all locations by distance. It shouldn't be hard when they are all plotted to a map. Sent from the iMore App

CPRO+ has been great for me. The free version works very well and for a modest price you can upgrade to the full version. Set an alert and it notifies you when an ad is placed with your keywords. The post interface is simple really, I posted an ad in minutes and had inquiries within the hour. The app gets updated with new features occasionally. Save favorites and recall them instantly, add multiple locations to your search, filter out dealers or owners separately, quickly email ads to others, reply to ads fast. I'm enjoying it and I think it's worth the price. Thanks.

One great app that isn't mentioned here is CLMonitor. I've tried a few of the one listed some good some bad but CLMonitor does everything I want it to do and thats monitor craigslist for posting I am interested in. Get all the details and download links here... http://www.craigslistmonitor.co/clmonitor/clmonitor.php

I wish it was an app and I am not sure it would be that good but thecloudman.com works for me. It pushes the add to your email...all of it..reply to, body, images. No need to load an app...just pure push notification.

Daily has always been the most reliable for me. Clean interface, great use of gestures for circling and crossing off items when I'm shopping around and simple enough to post

I just started using CraigsAlert which is awesome because it both gives reliable notifications and is nice to just browse around. I mainly wanted notifications and tried all the other apps and basically none of them actually works!

CPlus for Craigslist is a better one too. CPlus has been dominating on Windows and WP platform. They just released iPhone version which is even better.

Our app page: http://www.yanflex.com

Have you guys seen Reader for Craigslist?
Not just a web wrapper for the site, but a full version of Craigslist for iPhone and iPad. Check it out on our Twitter Account! Curious to hear what you guys think!

And now (8/2015) the app has taken another turn for the worse. The developer has decided to release a "new" version of the app (now $2.99) with the same name, same icon and same basic features. Unfortunately, those of us who paid for an earlier version were automatically "upgraded" to the free version of the new app - losing all premium features. Contact the developer, we are informed previous versions are no longer supported and we have to purchase again. Pretty crappy if you ask me...

Paul, which Craigslist app are you talking about -- you didn't give the app name in your comment.
Thank you for signing up to iMore. You will receive a verification email shortly.
There was a problem. Please refresh the page and try again.