Best credit monitoring and management apps for iPhone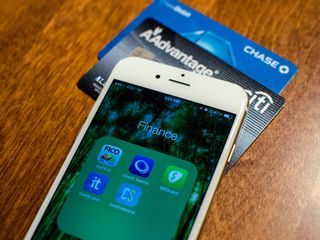 Looking for the best iPhone apps to help you monitor and manage your credit on the go? For many folks, particularly in the United States, your credit score plays a huge role in what financing you're eligible for and what kind of rates you'll get. A bad score can not only result in you paying more interest over the long term, but can even cause you to get declined completely for things like mortgages, cars, and other kinds of loans. That's why it's so important to know where you stand and what you can do to improve, or maintain, a good credit score. These are currently the best iPhone apps that can help you monitor and manage your credit on the go!
Credit Karma
Why you can trust iMore Our expert reviewers spend hours testing and comparing products and services so you can choose the best for you. Find out more about how we test.
Credit Karma is completely free to use and allows you to monitor your TransUnion score as well as see what's affecting it. Not only that, Credit Karma gives you a grade for each section of your score and tells you what you should work on in order to improve your overall score. The only thing to remember is that your score in Credit Karma is free but only updates every 30 days or so.
If you don't need live updates of your credit score and need advice on how to improve your situation, check out Credit Karma.
myFICO
myFICO is a credit monitoring service that's been around for a long time on the web. With the mobile app, you can hook into your myFICO account and monitor your scores across all three bureaus. Just remember that you'll need to subscribe to myFICO in order to view your score. After you've chosen a subscription and logged into the myFICO app, you'll receive live notifications anytime your score fluctuates in one direction or the other. You can even set thresholds if you'd like.
For live credit monitoring from all three bureaus, complete with real time push notifications, look no further than myFICO.
Credit Sesame
Credit Sesame, like Credit Karma, lets you monitor your credit score for free about every 30 days or so. However, Credit Sesame pulls from Experian rather than TransUnion. This means combined, you can get 2 scores for free without having to pay anything additional. Credit Sesame also looks at your overall situation and makes suggestions on how you can improve different aspects of your score, such as debt to income ratio.
For a free analysis that comes paired with a free Experian credit score every 30 days, be sure to give Credit Sesame a try.
Credit.com
Credit.com offers a free credit score through Experian every 30 days or so. One of my favorite features of the Credit.com app is the layout and how simple they make it to understand why certain things affect your score they way they do. You can also view a history of your score and tips on how you can improve your score. Credit.com can give you a reachable goal as well to work towards.
If you want an easy to use credit monitoring app that lets you work towards attainable goals, give Credit.com a shot.
BillGuard
BillGuard may not be a credit monitoring app but managing your finances properly is key to maintaining a good credit history. Not only does BillGuard have amazing spending analytics so you can see where your money is going across all your accounts, you can also be alerted of fraudulent activity in just minutes of it occurring. Just link up all your bank and credit accounts and let BillGuard handle the rest. The best part? It's completely free to use!
For spending analytics and advanced alerts on possible fraudulent activity, nothing beats BillGuard.
Your vote for best credit monitoring apps for iPhone?
If you use an app that you think has helped you manage and monitor your credit score better, be sure to let me know what they are in the comments! And if you use any of the above, be sure to let me know why you chose what you did!
Get the best of iMore in in your inbox, every day!
iMore senior editor from 2011 to 2015.
How secure are these apps? Sent from the iMore App

You forgot quizzle. I believe it now pulls from equifax with a score and report every 6 months.

Sadly, Quizzle does not have an iPhone app.

Credit Karma actually updates your score every week (just not automatically--it won't pull data until you sign in).

Seems credit.com and credit karma pull from the same reporting agency, yet credit.com gets far better reviews. I have been using BillGuard for a while now. Crazy how much I spend a month! Sent from the iMore App

Sorry, credit.com and credit sesame, with credit.com getting a much better review. Sent from the iMore App

If you've signed up for one but not the other, you can stagger them to effectively update your Experian credit score every 15 days. For instance if you have Credit Sesame and it updates around the 1st of every month, wait until the middle of the month to sign up for Credit.com.

I've heard that if you check your credit rating too often, you may lower your rating. Is this true? How do these apps get around that?

My dad is a loan officer so I grew up around a lot of this stuff. I think checking every 30 days is the safe point. The big thing these days is when you start applying for loans and pitting multiple banks or financial institutions against each other and they all hit you at once. This is actually one area where shopping around hurts.

Actually, whenever you "shop around" and your credit is pulled multiple times they usually will get grouped together as one inquiry. This may take a few months to appear this way.

Checking your own score does not lower your credit. Like what was already stated if you apply for loans or something similar and a company checks to see your report/rating then it sings your credit and can lower your score slightly. Usually a point or 2 unless you have a bunch of checks like that then it can lower it more.

Bruce these checks are considered soft hits so they don't actually count against your credit score. Sent from the iMore App

Good to know. Thanks for that.

I use mint.com app.. Awesome app..

Looks like one would need to use a combination of 2 or more apps to get the full picture from the "Trifecta" of all the companies but hey, I'll take it. Thank you Ally! The recent reviews of these, the promotion of Betterment on the iMore show and another review including Acorns has really made me take a harder look at my financial future!
Thank you for signing up to iMore. You will receive a verification email shortly.
There was a problem. Please refresh the page and try again.