Best currency conversion apps for iPhone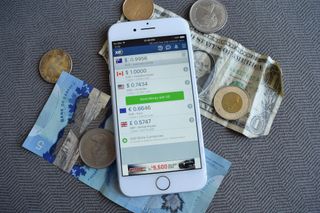 Updated May 2017: Completely rewritten with the best currency conversion apps for 2017.
If you're abroad or simply curious, there are some great currency converter apps that can help you figure things out. Whether you're trying to figure out just how much money to bring on a trip or you're wondering how your dollar stacks up against the rest of the world's currencies, check these apps out.
XE Currency
Why you can trust iMore Our expert reviewers spend hours testing and comparing products and services so you can choose the best for you. Find out more about how we test.
If you've ever googled "so many dollars in British Pounds" or something similar, the first result that popped up was probably XE Currency Converter. Did you know it's also a handy app?
XE Currency lets you search currencies, see trends over time, and compare multiple currencies at once. It's perfect if you're doing a bunch of traveling or keeping an eye on global currencies for business purposes.
Currency
Currency has a great user interface that's colorful and easy to use. You can search multiple currencies and make quick conversions with a calculator-like tool. You can see up-to-date exchange rates for over 150 currencies and countries, and you can add currencies to your list so that you can come back and quickly view them on the fly.
Amount
Amount is a gorgeous app that's not just for currency conversion — it helps with all unit conversions, which makes it perfect for business use, as well as traveling. It's also a light app, taking up only 5.7MB on your iPhone.
You can convert currencies, as well as over 700 units in real time, while creating customized lists so that you can come back and take a quick look at the currencies and units that matter the most to you.
My Currency Converter
My Currency Converter is another simple converter with a great interface that's easy to use and understand. You can look at global currency trends through comparison graphs, and you can convert over 150 supported currencies (even BitCoin, LiteCoin, and DogeCoin). The switch button is a handy way to quickly invert conversions, and exchange rates are automatically updated.
My Currency Converter will even work if you're not connected to the internet, though exchange rates will be approximations based on the last time you were connected.
How do you convert?
Do you have a favorite currency converter app? Sound off in the comments below.
Get the best of iMore in in your inbox, every day!
Mick is a staff writer who's as frugal as they come, so he always does extensive research (much to the exhaustion of his wife) before making a purchase. If it's not worth the price, Mick ain't buying.
Google :D why I should pay for a currency app as I can go to google and type 1 USD to GBP it do the rest with interesting UI

Currency+ is free, works good on both iPhone and iPad so why pay for a currency app?
Note to Editor: You should first review free apps, then if you do not find any that are worthy, start in on the pay apps but frankly, if we can get it free, nobody will pay even 99 cents.

These are the BEST apps, not just apps that do conversion. If you want a lot of features and a decent UI, you'll have to pay for it. Don't fret over $1...it's unbecoming. Sent from the iMore App

Please read the title before making irrelevant comments. BEST apps, not FREE Sent from the iMore App

Seeing as I'm in the retail industry, I don't think I've ever seen more cheapskates than I have with app consumers. Man, some people are straight damn cheap!

I'm using Amount. It's fast and customizable. I can preset only to the units/currencies I normally use and not have to deal or scroll through those I don't need. Google is fine but if I need to view conversion to more than a single currency, it requires scrolling through all the world's currency to get to the ones I need. So the $0.99 is a complete bargain.

I go back and forth between XE and Oanda's Currency app (which is free if I remember correctly) . Oanda's app is simple and straight forward.

Toothing my own horn, but I think it's well worth the 90s it takes to see the video:
http://radianttap.com/banca/

This list misses my favorite currency converter Rates (http://www.ratesapp.co) It has a feature I haven't seen in any of the other currency converter apps. It automatically shows you currencies based on your location. Most of the time I don't even have to care about which exchange rates I want because they are automatically there. Genius! I also like the simple and thoughtful design.

Ally, which one do you use? Sent from the iMore App

Xe.com that's what I use. They have an ios app too. Sent from the iMore App

XE of course... Sent from the iMore App

Big fan of Amount. I use it for conversions beyond money all of the time. Wish it could do subnet calculations, that is the only missing feature I've found (or feature I'm missing).

My free Currency+ app is good for most but if you want unlimited favorites, interactive historical charts and real-time currency alerts, and no ads my paid Currency+ app is also worth a look.

My Rates Browser app is way more feature complete. Automatically updates. You can download +250 currencies of any day since 1/1/2000. Export data using an sqlite database. Plus you also have favorite currencies, historical charts. It is universal and automatically syncs data using iCloud.
In summary gives you current rates but also can get historical data in a useful manner.

I've used several conversion apps till date but I've finally settled with an app called " Convert Any Unit - Units & Currency " developed by Cider Software LLC. Reason: It's just super easy to use and very convenient. It handles multiple unit and not just Ccy conversions and it's the best one stop shop app for the sheer convenience it provides. It also acts as a calculator which is convenient when i want to add / minus / multiply and calculate the final conversion amount. This app has a 'lite' & a paid version.. i'm using the paid version which I don't regret. Sent from the iMore App

Convertible by far, nice UI, simple and complete --> https://itunes.apple.com/us/app/convertible-ultimate-unit/id514233370?mt... Sent from the iMore App

Conversio is new, clean and complete conversion app
https://itunes.apple.com/us/app/conversio/id827586625?ls=1&mt=&at=10l3Vy

I use Vert... appears to be very similar to Amount, going off the pictures. There's even a "Lite" version for you "why pay a dollar" types...

I use iCurrencyPad. It also includes a calculator. Great app. Sent from the iMore App

I use Currency and XE - both excellent

I use Kurrency, beautifully designed.

The Converted is pretty nice –I created it– but it's pretty, pretty nice.
http://ideon.co/theconverted

I'm using the XE app for my iPhone. I'll have to purchase Amount and see what it's all about! I'm sick of my current universal converter as it hasn't updated to match the new iOS 7 UI.

The MoneyShot app on Kickstarter will make the list of "best travel apps" when it is finished in May this year. Go to kickstarter and search for it. It's amazing.
Thanks,

I've been using ChangeMate (http://www.changemateapp.com) for a while now. It's really easy to use and it send me alerts when a currency pair reaches a certain rate which is really convenient as I have accounts in different countries. It comes with a nice widget and it's free ...

I use Convercy, its simple, clean and free. https://itunes.apple.com/us/app/convercy-live-multi-currency-calculator/...
Thank you for signing up to iMore. You will receive a verification email shortly.
There was a problem. Please refresh the page and try again.