Best English dictionary apps for iPhone and iPad: Word Vault, Dictionary.com, Merriam-Webster, and more!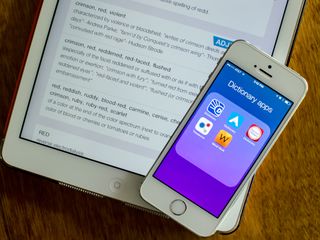 Looking for the best apps to help you look up words, define them, and more? Dictionary apps are a great way to carry millions of words, along with their definitions, right in the palm of your hand. Whether you're working on a paper, come across a word in a book you're reading that you don't know, or something else, everyone needs a dictionary at some point. Luckily the App Store is full of them. But which dictionary apps are the best?
Dictionary.com
Why you can trust iMore Our expert reviewers spend hours testing and comparing products and services so you can choose the best for you. Find out more about how we test.
Dictionary.com for iPhone and iPad is an English dictionary and thesaurus in one that contains over 2,000,000 definitions complete with synonyms and acronyms. There is also a word of the day feature that can keep you up to date with adding new words to your vocabulary on a regular basis. You can also save favorite words for easy reference later and translate words from other languages. One of the best things about Dictionary.com is the ability to buy additional specialized dictionaries if you'd like such as dictionaries that focus on grammar, writing, science, medical, and more.
If you need specialized dictionaries for your field, Dictionary.com is your best bet.
Concise English Dictionary
The Concise English Dictionary and Thesaurus currently has a word database of over 4.9 million. You can hear audio pronunciations of each word in American, British, and Australian English. You also need no internet connection in order to use the Concise English Dictionary app. There are no ads and no in-app purchases to be had, what you see is what you get. My favorite feature of the Concise English Dictionary is its clean interface and unique layout. There is also an advanced version available for iPhone for those that need a more in-depth option.
For a simple dictionary app that has millions of words, zero add ons, and a clean interface, you want the Concise English Dictionary.
See also:
Merriam-Webster Dictionary
The Merriam-Webster Dictionary app features all the same American English definitions found in the collegiate version of the Merriam-Webster dictionary. You also get a favorites section to store your most used words, example sentences, audio pronunciations, and more. The recent history is also a fast and convenient way to access definitions you've looked up in the past.
If you need an American English dictionary from a trusted source, check out the Merriam-Webster Dictionary app.
Visual Dictionary & Thesaurus
Visual Dictionary & Thesaurus takes a completely unique approach to comprehending the English language. Instead of just presenting you with text, Visual Dictionary & Thesaurus shows you a visual representation of how a specific word is connected to others. Currently there are over 190,000 words and 70,000 uses, which all come with sample sentences.
If you want a visual and more unique way of learning and looking up definitions, Visual Dictionary & Thesaurus is a great option.
Word Vault
Word Vault is not only an English dictionary app, but a place for you to keep track of all the words you could possibly want. Look up definitions, attach notes, and more. World Vault also has URL support so you can easily look up words inside other apps and save them. While most words are available without an internet connection, you'll enjoy an expanded dictionary whenever you have are online. Word Vault can also do a daily review of words with you if you'd like by quizzing you on the words you've added.
For a great place to save and look up words that also works with many other third party apps, give Word Vault a try.
Your pick for best English dictionary apps for iPhone and iPad?
If you have an English dictionary app installed on your iPhone or iPad, which one did you go with and why? Be sure to let me know in the comments!
Get the best of iMore in in your inbox, every day!
iMore senior editor from 2011 to 2015.
As well as explains the correct use of punctuation in English, PunctuateHD includes a section on similar and often confused words.

The Free Dictionary from Farlex is one of the most comprehensive I've tried.

Could the author kindly classify them as 'online' & 'offline' ?

Oxford American Dictionary and Thesaurus Sent from the iMore App

To clarify why, it has the most accurate definitions of words that I've seen online or via app. Sent from the iMore App

>Concise English Dictionary
>Free Are you sure about that? I can't seem to find the free version of this dictionary. Also, does anyone know an app that can open Lingvo dictionaries (*.lsd extension) ?

That would be a great article to remind (new) users that there is a built-in dictionary as well from Apple ;)

I've found WordBook to be the best for my needs as a dictionary/thesaurus (and it even has a built-in crossword puzzle helper). The onboard dictionary is extensive and you can link to external web dictionaries as supplements, too. I also recently downloaded Writing Aid (which I believe you had reviewed a while back, Ally) which is a fantastic tool for writers looking for just the right word - and also acts as a pretty good dictionary.

I'm currently using LookUp, its got a neat card based interface and is easy to use also provides extra things like Synonyms, Etymology & Wikipedia content

It's an useful review! I prefer "Merriam-Webster Dictionary".
It's really a good one!!

IT WOULD HAVE BEEN EXTREMELY HELPFUL to include the MB size of each App!!
Thank you for signing up to iMore. You will receive a verification email shortly.
There was a problem. Please refresh the page and try again.