Best expense tracking apps for iPhone: Concur, Expensify, Mileage Log+, and more!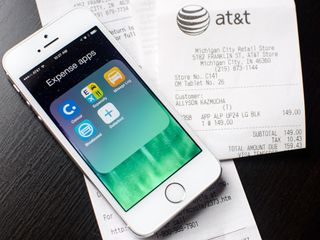 Looking for the best iPhone apps to help you keep track of expenses? Just like budgeting apps it's not one-size-fits-all when it comes to finance app. Luckily you've come to the right place! Whether you just need to track your gas mileage for reimbursement or need a way to create and send detailed expense reports, we've got the App Store apps you need to track your expenses and get your reports where they need to be. So which expense tracking apps are the absolute best?
Concur
You can always trust iMore. Our team of Apple experts have years of experience testing all kinds of tech and gadgets, so you can be sure our recommendations and criticisms are accurate and helpful. Find out more about how we test.
Concur is an expense tracking app for small and medium size businesses that lets you build detailed expense reports in just a few taps. You can track travel, approve travel for other employees, and even see the status on all your expense reports in one place. Concur can also link up with all your credit cards and automatically import all charges. The ability to book hotels and flights inside Concur is also wildly convenient for professionals who are constantly on the move.
If you or your employees are constantly on the move, Concur handles travel expenses with ease.
See also:
Expensify
Expensify lets you track any kind of expense as well as billable time and mileage. The main menu lets you choose what you need to track. Just input all the information, snap a photo of any applicable receipts and you're done. When it comes time to invoice someone or submit an expense report, just add all the relevant items to a new expense report and send it on its way. The nice thing about Expensify is that you can have as many different expense reports as you need simultaneously which makes it a great option for anyone with multiple clients.
If you're a freelancer or contractor looking for a more efficient way to track expenses and billable time for client reimbursement, you need Expensify.
Mileage Log+
Mileage Log+ is by the same makers of Launch Center Pro and focuses strictly on tracking gas mileage. Set up custom categories for your specific needs and start tracking. Mileage Log+ also includes IRS rates for reimbursement. If you travel to the same places for work often, Mileage Log+ can store those under frequent trips so you can add them in just a tap. Sync your data with Dropbox and export it to PDF or CSV. When you're ready to submit a report, just hit the share button and choose your format and it's on its way.
If you're only concerned with mileage reimbursement, Mileage Log+ is what you want.
Shoeboxed
Shoeboxed is an expense tracking app for iPhone that lets you photograph your receipts and file them accordingly. Either label them for reimbursement or as deductible. Shoeboxed then sorts and organizes them by type and who they need to be sent to for reimbursement. If you're a premium subscriber to Shoeboxed you can also receive prepaid envelopes delivered to your door that you can stuff your receipts into. Shoeboxed then files them for you and takes care of the rest.
If you have lots of receipts to keep track of and can't risk losing any of them, you need Shoeboxed.
Dollarbird
Dollarbird isn't a dedicated expense tracker app and doesn't generate expense reports. Instead it focuses on helping you figure out where your money is going so you can quickly cut down on expenses. The thing I love about Dollarbird is the itemized expense view that lets you see exactly what percent of your income is going to what expenses. This makes it easy to pinpoint problem categories and quickly remedy any issues. While Dollarbird could pass as a budget app, it works much better at determining problem expenses in my experience.
If you don't need to generate expense reports but really need to get a handle on cutting down on personal expenses, Dollarbird is for you.
Your favorite expense tracking apps for iPhone?
If you have to track receipts and create expense reports of some kind on a regular basis, do you use any apps on your iPhone to generate and send them? If so, let me know what your favorites are in the comments and why you picked them!
Get the best of iMore in your inbox, every day!
iMore senior editor from 2011 to 2015.
Has to be MoneyWiz for me, does everything I need it to do. Sent from the iMore App

I use Spending by Appcheer - simple & easy. The UI is slightly dated (iOS 6 style - readable) but gets the job done nevertheless.

Sumptus by Wesix just launched a great app! Natural Language Input, great design and easy.

My employer requires me to submit my expenses using the Concur app. Because Concur is requires I don't have experience with other apps but I am generally pleases with how Concur works. I can also book my travel with Concur. Sent from the iMore App

I have been using iXpensivIt since it came out. First on the iPod Touch, then the iPhone. It has improved, and works well for me. They just need an iPad version. In the past I used Splash Money, but it started getting buggy, would not show the correct balance. Gave up on it. Sent from the iMore App

I book my travel through Concur and I love it. Its very convenient and it helps me keep track of all my flights in one place.

Spending paid version Works really good Sent from the iMore App

Let me add my support for iXpensit. Very flexible and the pdf export of receipts is a real time saver. It also labels each receipt with date and category so it is easy to match receipts to entry if needed.

I use Receipt Bank as my most loved solution to track all expenses. I am a freelancer and actually I need a simple way to just take pictures of a receipt or invoice and the rest will be done by receipt bank. They also let you out file whatever format into the designated dropbox folder on your drive and it appears in receipt bank. Great app, great GUI and web.

In our company we use Xpenditure (very popular in Europe) for months now and it really saves me time. Thanks to receipt scanning, expenses are digitalised without any typing. The integrated approval module on expense level makes it possible to do all companies' expenses without a single expense note. Check it out

I like famously simple budget app. It's actually for tracking spending and keeping on budget but is great for tracking just expenses because of its flexibility with setting up your own categories, schedule, and with really simple data entry. Sent from the iMore App

I like famously simple budget app. It's actually for tracking spending and keeping on budget but is great for tracking just expenses because of its flexibility with setting up your own categories, schedule, and with really simple data entry. Sent from the iMore App

Replicon expense reporting software and applications could be another great choice for expense reporting and management. The tool tends to manage all the expense reporting, billing, time management all at one sort of platform.

Spendee is really nice and simple. It has a beautiful UI and is easy to use

This is definitely a useful list. The only issue I have is that many of this app require that you pay a monthly subscription. I personally use Keepek which is in my opinion as good as expensify but at the same time it is 100% free. Absolutely not limitations whatsoever.

How about Foreceipt App in app store? It gives 100 free receipts (transactions) for free each month, which will be enough for most people. it saves all your receipts into Google Drive and syncs crossing all the different devices automatically. Thanks!

Hey Guysss,
I go with Expense Tracker 2.0 toooo. Its the best one on the iphone!
Experience the best of iOS 8 with Expense Tracker 2.0!

I did try out Replicon Expense add-on with the freemium version of their Time Attendance. Android and iOS apps are available as well.

We use Xpenditure in our company. We take a picture of our receipts and it goes straight to the accounting department. It's really user friendly and works on smartphone and desktop. We wouldn't want to change anymore! You can check their site https://xpenditure.com and try a free demo for 14 days

I use Foreceipt app. You could do load our app free from App store foreceipt.com. Foreceipt is the easiest way to manage receipts and track your incomes and daily expenses on Google Drive, directly from your iPhone. It's FREE and SECURE.

I used Expense Daily Free app its really good for day to day expenses.

OK this is a great list, but how do you not have MileIQ or Everlance?! Both of these are top apps. MlieIQ has a beautiful UI, and although they charge per month it's not expensive if your employer pays for it :). Everlance is also amazing and something I just started using becaues it also takes care of receipts and is FREE

I use the Travoy Expense Report app. I travel a lot and to multiple locations in a single trip. The app works great with complex travel. It doesn't cost much.