Best fishing companion apps for iPhone: Knot Guide, My Fishing Forecast, FishTales, and more!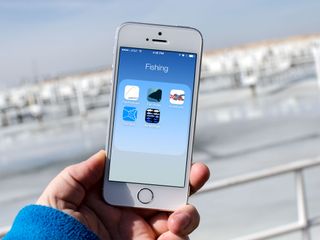 Whether you want to become an expert angler or learn how to better identify different types of fish, loading up a few fishing apps on your iPhone can be the difference between you telling all your friends about the catch of the day... or the one that got away. No matter what you're fishing for, understanding fish behavior is key. From tying a good knot to knowing what lure to use, these are a ton of great apps on the App Store to help you out. But which ones are the very best?
My Fishing Forecast
Why you can trust iMore Our expert reviewers spend hours testing and comparing products and services so you can choose the best for you. Find out more about how we test.
My Fishing Forecast is an easy to use app that lets you know ideal times to fish in certain areas. Just use your current location or type in the location you plan on fishing at. You can then view the forecast over the next few days as well as see a graph depicting the best times of day to head out.
If you want to make sure you're heading out to fish at just the right times, My Fishing Forecast is a must.
Fish Rules
Fish Rules is an extraordinary little app that gives you regulations and rules based on the species of fish you catch. This includes size limits, bag limits, and more. For those just starting off with fishing, be aware that local DNR branches are typically pretty strict with regulations. Fish Rules currently covers areas in Texas, the Carolinas, and Florida.
If you live in an area that Fish Rules supports, it's a must have for anyone that wants to make sure they're abiding by local law.
Knot Guide
Tying knots is a vital part of learning how to fish. From hooking on lures to making sure your actual hook is tied on securely, Knot Guide can help you be sure you don't lose a fish due to a bad knot. The fishing knots section of Knot Guide currently contains over 20 knots you can use, all with awesome photos explaining each step. If you find ones you prefer over others you can favorite them for quick reference later.
If you have issues with lines coming untied or you just want to get better at securing them, Knot Guide is an invaluable tool.
FishTales
FishTales is a diary and journal that allows you to log all your fishing catches as well as everything that's in your tackle box. I've found this useful for making sure I don't get my lures and gear mixed up with someone else's. From there you can rate your catches, photograph them, tag them at locations, and even pair them with what lures you used.
If you want a way to track all your fishing expeditions, FishTales is hands down the best app available.
Ultimate Angler
Ultimate Angler can tell you exactly where you need to position yourself and cast in order to catch certain types of fish. Just choose the fish you're looking for and then give Ultimate Angler details such as water and wind conditions as well as the time of day. Ultimate Angler then gives you information on that fish from what kind of lures work best to what kind of bait. More important, you get casting tips that tell you whether to stay close to shore in shallow water or go deeper.
If you want to know exactly where the fish are and what kind of bait you need to use to catch them, Ultimate Angler is what you want.
Your picks?
iMore senior editor from 2011 to 2015.
And now all I can see is Ally, fishing for great white sharks. Eyes black as coal. Needing a bigger boat!

Great post, Ally. And funny, as just last evening I was talking with and we all agreed to have spring camping fever. Haha!
But a bit cold and wet here, and the mountains are still buried in snow, heaven knows how many yards deep.
But hey, we gotta think about it already, early spring flowers are already here.

Love the Navionics USA/Canada app. Wouldn't launch the boat without it. Also use iSolunar for the moon phase info. Sent from the iMore App

Wow! This is cool for the fishers. I have to share this with my relatives in the rural areas of the state. Sent from the iMore App

FishingScout is my go to app. It's free to download and use, with extra features and perks for premium "Gold" members (subscription service). Users post pics of their catch and share the location, conditions, bait used etc. pretty cool app and very useful even if you don't subscribe to the advanced features. It'll give you an idea what fish are biting where and on what, plus members are often jonesin for a chance to meet up with each other to learn new techniques or fishing styles. I'm planning a trip Thursday or Friday with some of the people on there as a matter of fact! Sent from the iMore App

If you try FishingScout, follow me, CrazyGreg. Sent from the iMore App

Try Stream Craft! Best fishing log app out there!

For my fishing, I use fishnpeche app: https://www.imore.com/e?link=https2F2Flinks%2F1...
Greate app with a lot of features: Marine Forecast, Tides, solunar activity, fiching journal
It deserves to be known
Thank you for signing up to iMore. You will receive a verification email shortly.
There was a problem. Please refresh the page and try again.