Best forum browsing app for iPhone and iPad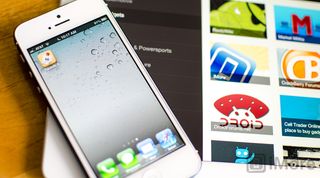 Forums and discussion groups have always been one of the best parts of the web. Even in the early days of USENET, CompuServe, and AOL, they were places for like-minded people to get together, help each other, and talk about the things that mattered to them. Now, as the web has matured and technology has improved, they've gotten even better, and much more mobile. Look no further than our own iMore forums. And just like almost every other category of web service, with the advent of the iPhone and iPad, forums have gone to apps. But which is the best forums app?
We took a look at all the forum apps we could find and Tapatalk 2 for iPhone and Tapatalk HD for iPad by Quoord Systems are the best around when it comes to hooking into forums from any iOS device. Here's why...
User interface & design
You can always trust iMore. Our team of Apple experts have years of experience testing all kinds of tech and gadgets, so you can be sure our recommendations and criticisms are accurate and helpful. Find out more about how we test.
Tapatalk 2 and Tapatalk HD are two separate apps but function in very much the same way. Even so, some of the user interface elements are a little different. Because of that, we'll take a look at both separately.
First we will take a look at Tapatalk 2 for iPhone which is an update to the original Tapatalk app. Upon launching Tapatalk 2 you'll be presented with the Explore section. Here you can browse through a huge collection of forums. If you already know what forum you'd like to add you can simply search for it in the top search bar.
The menu system in Tapatalk 2 is controlled vertically instead of the common horizontal bottom menu. You can slide to the right on any menu bar to return the screen before that. If you're on a top menu tapping the menu button in the top left or sliding to the right will reveal the main menu.
The main menu in Tapatalk 2 consists of four main options; Explore, Accounts, History, and Settings. The Explore tab simply lets you browse through tons of forums that are compatible with Tapatalk as well as search for ones you're already a member of. The next tab down is the Accounts tab. This tab will aggregate all the forums you have connected in one place. At the very top, you'll see your Tapatalk ID info if you're using one. We'll talk more about the function of a Tapatalk and what it does a little later. Tapping on any of the forums listed in the Accounts tab will immediately launch that forum for you.
The History tab does exactly what you'd expect it to do. It'll show you exactly where you've been and give you an easy way to get back there. As far as the Settings tab is concerned, there isn't too much going on but there doesn't need to be. You can edit push notification settings, choose browser settings, and change basic posting and reading setting such as font size, how many posts per page, and a few other options.
As far as actually interacting with forums, you use the same vertical navigation technique you do on the main menus of the forums. Some navigation may be slightly different from forum to forum depending on how that particular community has implemented and developed their forums. For the most part, the user experience seems about the same. From the main Accounts menu, tap on the forum community you'd like to browse. Here you'll get a drop down menu that lets you choose what section you'd like to browse. These options include unread, participated, timeline, subscribed, main forum list, search, people, and messages. Tapping any one of them will launch the corresponding section.
Reading forum posts is pleasant and posting responses is painless. If you know how to respond to text messages or compose a tweet, you'll instantly know how to navigate around Tapatalk 2 on your iPhone.
Now we move on to Tapatalk HD for iPad which is built specifically to take advantage of the larger screen on the iPad. While many of the features stay similar to Tapatalk 2 on the iPhone, there are a few key differences.
Upon launching Tapatalk HD for iPad you'll be taken to the Home menu. Here you'll be able to log in to your Tapatalk account if you have one. On the left you'll see a navigation menu that allows you to browse and explore different forum communities. On the top is a static search bar that you can search for forum communities you already belong to by name. To the right you'll see a list of your forum accounts you have linked with Tapatalk HD. Tapping on any one of them will instantly launch that community's forum boards.
Once you're inside a forum you'll now notice that the menu system switching to a lower navigation setup. While the options may differ slightly from forum to forum, for the most part you'll have tabs for gallery, topics, messages, people, search, and browser. If you have moderation powers, you may also see a moderation tab as well.
Tapping into any one of the sections launches it. While browsing forums you'll be shown sub forums trees that you can dig down through and backtrack as you want. The biggest difference between the iPhone and iPad versions of Tapatalk is the gallery section on the iPad. If the forum supports it, here you'll see a collective gallery of all the images that users are uploading. This is a really nice feature and something I could spend hours going through. It's also an interesting way to find threads you may or may not have discovered otherwise. I've also used it as a good moderating tool. If you don't want nudity or inappropriate images in your forums, it can be hard to weed them out. Tapatalk HD on the iPad makes it simple to view images all in one go.
The current version of Tapatalk HD for iPad also has quite a few moderation tools that aren't present in Tapatalk 2 on the iPhone (yet). The older version of Tapatalk seemed to have more moderation options than the new version so here's to hoping they replace those in an update.
All in all, both Tapatalk 2 and Tapatalk HD are very similar in feature set and interface. If you use one, you can immediately pick the other up and feel right at home.
Forum support
The Tapatalk family of apps supports a wide selection of forum communities and boards. As per the app description, over 40,000 different communities can be added and interacted with via any of the Tapatalk apps.
What really matters is whether or not the forum you use is compatible with Tapatalk. In my experience, almost everything I've searched for inside Tapatalk 2 or Tapatalk HD has popped right up and loaded with no issues. An easy way to tell if the forum you browse supports Tapatalk is to ask before buying. Many users may also notice that forum users' signatures sometimes say they are posting from Tapatalk. If you see that, you know that board is supported.
I found the selection Tapatalk offers and the support for it by communities to be huge. The Explore section of both apps gives you a super easy way to find message boards and communities that interest you. I've even found a few that I probably wouldn't have come across on my own via an actual web browser. In that aspect, it's much better than all the others that just let you hook into what you already know.
Viewing and posting to forum boards
The most important part of a forum app is posting and viewing. Tapatalk 2 and Tapatalk HD for iPad both excel beyond their competitors in this arena. Not only can you post basic messages to boards, you can do so much more.
To compose a message in Tapatalk, you can do one of two things. If you're inside a thread and you'd like to create a general post to that thread, tapping the compose button in the upper right hand corner of either app will bring you to a compose screen. If you want to reply to an existing post, just tap on it and submenu will pop up. From here you can click the reply button.
There are also many other ways you can interact with forum posts. You can like or thank a post if forums support that functionality. You can also share a post via email, text message, Twitter, Facebook, or copy it to the clipboard to share elsewhere. If you moderate a forum, you'll also be able to edit posts by tapping on them and choosing more options.
Editing posts is pretty much the extent of what you can moderate on the new version of Tapatalk 2 for iPhone but Tapatalk HD for iPad takes it even further. Tapping on a post in Tapatalk HD for iPad will bring up a submenu. If you're a moderator to that community you'll see a moderate option. Tapping on it will bring up another submenu with options to edit, delete, move, or unapprove the post. You'll also have the option to ban the user altogether. If you enjoy browsing forums from your iPad but find moderating to be an issue, Tapatalk HD for iPad will solve a lot of those pains.
When creating a new post or thread, outside of the obvious options for making a title and typing text, you have options to upload images and links. As long as your forum supports image uploads, you can upload images directly to the forum. If it doesn't, Tapatalk also offers their own native image upload service and will host the image for you. The older versions of Tapatalk used to charge extra to take advantage of image hosting but both Tapatalk 2 and Tapatalk HD for iPad include this feature at no additional charge.
Overall, Tapatalk provides a much better posting and reading experience than other forum apps such as Forum Runner. Posts are easy to navigate through and manage while posting and contributing is even easier.
Push notifications & syncing
Tapatalk 2 for iPhone offers push notifications that you can turn on and off as you see fit. Currently, you can turn them on and off on a per account basis. Per forum you can also dictate which types of notifications you'd like to receive. Currently the only two options are for private messages and subscribed topics. It'd be nice to see more options for customization in a later update but for the majority of users, this will be enough.
When it comes to Tapatalk HD for iPad, there is no native push. We are hoping this is something they'll bring to iPad soon. It also doesn't make a lot of sense to us that the old universal version of Tapatalk for iPhone and iPad supported push but the updated Tapatalk HD does not. It's a better app in every single way but where notifications are concerned.
As far as syncing goes, Tapatalk does offer Tapatalk ID which essentially lets you create a unique login with their own native service that keeps track of all your forums and communities. What this means is that if you already have Tapatalk configured on your iPhone and decide to buy the iPad version later or have to restore for some reason, you won't have to hunt for all your communities again. They'll automatically be restored as soon as you sign into your Tapatalk ID. Your user name will be stores but you'll have to re-enter the passwords to your forum logins the first time you launch them for security reasons.
Even though Tapatalk HD for iPad doesn't offer push notifications (yet), the notifications within Tapatalk 2 for iPhone are ridiculously fast. Plus, if you really want push notifications on your iPad, the second best option is the original Tapatalk forum app which is a universal binary for both iPhone and iPad. With this version, you will receive push notifications if you choose to. You'll just be compromising a little interface wise since the older version of Tapatalk doesn't have all the bells and whistles that Tapatalk HD for iPad has.
Pricing
Tapatalk 2 for iPhone is currently priced at $3.99 in the App Store and is worth every penny in our opinion. If you're a frequent forum lurker and need the ability to get to posts quickly and reply to them with ease, Tapatalk 2 is where it's at.
The iPad version, Tapatalk HD, will run you $4.99 which may seem steep to some users, especially considering the lack of push. In this case, it really will come down to choice. If you prefer the updated interface of Tapatalk HD (which we do), push is something you'll have to forego (for now). If you really want push, you also have the option of buying the original Tapatalk app that's a universal download for both iPhone and iPad. That'll run you $2.99 and you'll have the option to use it on either device. You'll just have to pay an additional fee for native image upload, but only if you need it.
The bottom line
When apps for iPhone and iPad are concerned, Tapatalk has a lock on the category. Lots of communities support it and most members are aware of it. Tapatalk 2 for iPhone is their best app yet and Tapatalk 2 HD for iPad still beats all the other guys.
If you don't want to purchase two separate apps, you can also spring for the older version of Tapatalk that's a universal binary for both iPhone and iPad at a cheaper price. That's what is so great about Tapatalk's line of products, there's a solution for everyone. And when it comes to great forum apps, look no further than one of Tapatalk's products.
Note: If you just want access to iMore and Mobile Nations, you can get free, dedicated versions of Tapatalk that work just on our sites. - Rene
Get more iMore in your inbox!
Our news, reviews, opinions, and easy to follow guides can turn any iPhone owner into an Apple aficionado
iMore senior editor from 2011 to 2015.