Best Gifts for the Coffee Addict in 2022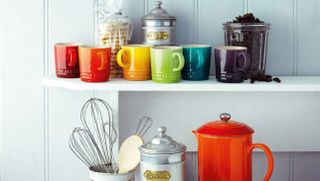 Whether you're buying for a colleague, family member, bae or bestie, if your gift recipient is a coffee addict, then boy, do we have you sorted! We have a caffeine-fuelled collection of great gifts for anyone who really, really enjoys a tasty cup of Joe... From ways to make coffee, to methods to serve coffee, via things to put coffee in, and even just actual coffee, our gift guide is perfect for your coffee-loving giftee.
No ordinary Joe
Our comprehensive coffee collection should have you covered for the caffeine-lover in your life. If they are merely interested in consuming the stuff, do consider our staff pick, the luxury gift pack of single-estate coffees from Grower's Cup (opens in new tab).
If you're looking for an accessory-themed gift, then the scoops from The Urban Element (opens in new tab) and Deluxe Living (opens in new tab) are both incredibly practical and useful tools for real coffee drinkers, as well as making for tidy and affordable presents.
Amy-Mae has been writing about consumer technology since before the iPhone was even a twinkle in Steve Jobs' eye. She started out in magazine publishing with the UK lads' mag 'Boy's Toys' then moved online with startup Pocket-lint.com as the first full-time member of staff, helping grow the site to one of the UK's largest gadget sites. Amy-Mae then moved to Mashable when it only had a staff of around 10 people. After working her way up to a senior role there, Amy-Mae left in 2014 to have her daughter. Since then Amy-Mae has continued to contribute to Mashable and The Daily Dot, keeping up-to-date with the latest consumer technology and social media trends. For iMore.com, Amy-Mae gets to her explore her love of home cooking, concentrating on all things kitchen tech.
Thank you for signing up to iMore. You will receive a verification email shortly.
There was a problem. Please refresh the page and try again.