Best golfing apps for iPhone: Swingbot, Golfshot GPS, Caddio, and more!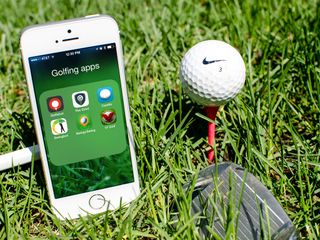 Looking for the best iPhone apps to help you plan and track your golf game? Whether you want to work on your swing or just need a great rangefinder for the next time you're on the course, the App Store has tons of different apps to help inform you about the courses and improve your game. But which golfing apps for iPhone are the absolute best?
Golfshot GPS
Why you can trust iMore Our expert reviewers spend hours testing and comparing products and services so you can choose the best for you. Find out more about how we test.
Golfshot GPS, formerly PGA Tour Caddie, is another rangefinder and score tracking app for golfers. By default you get flyover access to over 500,000 greens for 40,000+ courses. A unique aspect of Golfshot GPS that a lot of other rangefinder apps don't offer is the ability to take photos and notes on specific holes. You can upgrade to a pro membership via an in-app purchase to gain access to even more features such as real time distances to hazards, on the fly club recommendations on a swing by swing basis, and much more. You'll getr a 7 day free trial of Pro to see if an upgrade is worth it to you.
If you want a rangefinder and score tracking app that gives you useful tips and tricks throughout your entire game, be sure to pick up Golfshot GPS before hitting the green.
Golf GPS & Scorecard
Golf GPS & Scorecard by Swing by Swing is exactly what you'd expect it to be. Not only can it help you find ranges close to you, it can track scores, show you the lay of the land, and even link up with Pebble watches in order to let you see distances without even having to pull out your iPhone. It's one of the only trackers that touts the ability to work with every course in the world, so no matter what course you're playing, you can track your averages in one app.
If you want one range finder and scorecard app to rule them all, Golf GPS & Scorecard is one of the best, and the only one with Pebble integration.
Caddio
Caddio is a crowd-sourced golfing app that lets you view and share information about courses. If you're trying out a course for the first time, see what other golfers have to say about certain holes and greens. If you find a water hazard or sand trap other golfers should steer clear of, share the info via Caddio.
If you want insider info on dozens of golf courses from other golfers like yourself, you definitely want Caddio at your disposal.
TheGrint
TheGrint is also a score tracking app for golfers but offers a few in-depth features that may make it a better option for some golfers. Aside from being able to track your entire group's scores, you can also view other Grint member's scores and compete against them live. TheGrint also features a range finding feature but you'll need a pro membership in order to use it. Other pro features include scorecard transcription, pin distances, and more.
If you want to track group scores and compete live with other golfers on the range, TheGrint is a good option as long as you don't mind paying for certain features.
V1 Golf
V1 Golf is a golf swing analysis app that not only lets you record your swings and upload them to be analyzed, you can also view over 50 swings from PGA professionals. There are additional packs available for download via in-app purchase as well. Once you've submitted a swing of your own, it gets analyzed by a V1 instructor so you get real feedback on how to improve your game. V1 Golf also saves your swings so you can go back and compare whenever you'd like.
If you want to improve your swing and need feedback to help along the way, check out V1 Golf.
Swingbot
Swingbot is another golf swing analysis app but focuses more on coaching than just providing feedback and tips. Buy lessons via in-app purchase from Swingbot coaches on how to improve your game. One of the most unique features about Swingbot is that you can sync and pair multiple devices in order to capture your swing from multiple angles. The best part is that analysis is automatic and there isn't any drawing required on your part.
If you're serious about improving your swing and don't mind paying for a little coaching along the way, Swingbot may be worth considering.
Your favorite golfing apps to help you on the green?
If you hit the green on a regular basis with your iPhone in hand, what golfing apps have you found to be the most helpful when it comes to improving your game, tracking scores, and finding new courses? Be sure to let me know in the comments!
Note: Originally published, April 2014. Updated, July 2014.
Get the best of iMore in in your inbox, every day!
iMore senior editor from 2011 to 2015.
Best one I've found so far is Skydroid..nothing fancy but accurate yardages

I use GolfShot GPS. It does cost £20 but for what it does it's a bargain. Compare that with the £100's you can pay for a stand alone golf GPS and it's a steal!! This app will track your shots giving you the distance you hit the ball. You can then use that to create a caddy telling you your club averages. You can note take each hole and the app will automatically email the score card to the people you are playing. Great little app. Sent from the iMore App

I've tried several and it's definitely GolfShotGPS for me as well... Best $29.99 I've ever spent... I compared it to a $400 SkyCaddie before I bought one and it smoked the SkyCaddie in several categories... Sent from the iMore App

Golfshot is the easiest for me to use, and the best-priced by far. Shaved off a few strokes just in my first 3 rounds with it.

I like golf GPS by swing by swing but is annoying sometimes when you're using with pebble as you have to keep waking up and when it doesn't you open to pull out the phone and open the app. I like golfPad GPS. Is simple and has pebble integration. It's my favorite. But it can kill your battery sometimes since it's always awake on your watch. Apparently they fixed the battery issue on the latest update but I haven't tested yet.

I have used golf coach and swing analysis for recording and analyzing my swing. It looks to do a lot of the features swing bot does. I have not used swing bot so i cannot be sure to say they are the same. However golf coach and swing analysis is free! you can record your swing from the side or from behind. You can make notes on the videos once uploaded. There are also videos with tips and training methods to help improve not only your swing but your overall game. If your thinking of getting swing bot this app is worth a look before paying anything.

Thanks Allyson - great review. I used Hole 19 app this summer and was very happy with it. Simple to use, nice design and provides helpful stats of your round. Also, It allows you to keep score for all of your group-very handy. Can't beat the price!

I strongly recommend the All Square iOS mobile app, which allows golfers to share their passion with an international community of golfers. The app lets you explore the diversity of golf courses in the world. If you do not own an iPhone, you can discover www.allsquaregolf.com on the web. All Square app allows to share and compare golf experiences with your network of golfers, discover the variety of golf courses worldwide, exchange travel recommendations and tips on hidden gems with an international community of experienced golfers, notify your friends when you're at the golf course using the check-in feature, create a personalized golf newsfeeds displaying photos, videos and memorable highlights, get notified when friends like and comment on your posts, and much more!
Thank you for signing up to iMore. You will receive a verification email shortly.
There was a problem. Please refresh the page and try again.