Best iMessage apps and sticker packs for iOS 10 — so far!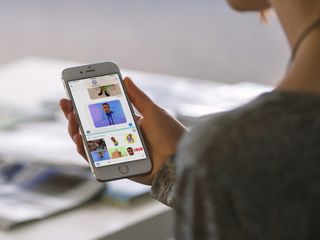 If you've visited the new App Store for iMessage, you know just how overwhelming it can be. It seems like everyone has launched a sticker pack or an iMessage app! So which ones should you try? After loading up on dozens of stickers and apps from the App Store for iMessage, these are the ones we're loving so far!
iMessage Apps
You can always trust iMore. Our team of Apple experts have years of experience testing all kinds of tech and gadgets, so you can be sure our recommendations and criticisms are accurate and helpful. Find out more about how we test.
Up first: iMessage Apps! iMessage Apps are typically app extensions — miniature apps that live within your iMessage conversations. They're most awesome and most helpful when they provide you with information and content you need for a conversation (think photos, maps, documents) or let you play games within your iMessage group conversations.
… I'm tempted to just let the GIFs speak for themselves. JibJab — best known for its ridiculous (read: hilarious) video e-cards — has introduced the ultimate trolling machine in the form of an iMessage App. JibJab's takes a photo of your face and superimposes it onto its huge library of hilarious animations. You can use the iMessage App to access JibJab's library, search for animations (reaction GIFs), or just scroll through the hilarious animations for a laugh.
JibJab - Free - Download Now
Payment company Square has an iMessage App for sending and receiving payments. It offers a super-simple way to send money to people in your iMessage conversations. Best part: You can gift wrap the money when you send it. The person receiving the funds won't see how much money you sent until they tap to unwrap! It's a fun little detail that makes paying your friend for the ride she gave you a little more delightful.
If you and your friends and family are looking for an easy way to share costs or you just need a quick way to send someone a payment, check out Square Cash!
Square Cash - Free - Download Now
No one — and I mean no one — wants to be the member of the group to choose dinner. With Polls With Friends, next time your pal asks your group chat where you're all meeting for dinner, just send a poll and have everyone vote!
The app lets you create three polls for free. For $0.99 a year, you can create unlimited polls to help your friends make decisions!
Polls With Friends - Free (with in-app purchases) - Download Now
Scanbot's iMessage App is doggone awesome. As soon as you launch the app, it opens a camera view and starts looking for a document.
If you've ever had a co-worker, a friend, a spouse — whomever — ask you for a receipt, or a form, or a document in an iMessage conversation, you know how handy an app like this could be: Open, scan, send — it's pretty nifty!
Scanbot - Free (with in-app purchases) - Download Now
Momento is a photo-sharing iMessage App that uses a "smart detection algorithm" to scan your photos and put together GIFs of your best moments. It's quickly become one of my favorite iMessage Apps, because it quickly turned old, static memories into live moments.
Whether you're looking for a little nostalgia or just want to send a billion GIFs to your friends of your selfie poses, Momento is a fun app — it's well worth two bucks.
Momento - $1.99 - Download Now
Rock-Paper-Scissors is exactly what it sounds like, and that's what makes it so awesome! You can play a game of Rock, Paper, Scissors with a friend right within the Messages app.
Rock-Paper-Scissors was one of the first iMessage Apps I downloaded when the store launched. It's an excellent example of the collaborative, interactive opportunities available to iMessage Apps. If you're looking for a quick boredom buster, challenge a friend to a game of Rock-Paper-Scissors! Heck, why not pair it with Polls With Friends for a full-on decision-making app suite?
Rock-Paper-Scissors - $0.99 - Download Now
Stickers
If you're running iOS 10 and you haven't been bombarded by stickers yet, you might want to check and see if you're actually running iOS 10. I kid, I kid. But seriously — stickers are easily one of the most popular features on iOS 10 (at least while they're still new). There are so many sticker packs in the App Store for iMessage. These are the packs we can't stop using!
We should be up-front about this: Grammar Snob is a Sticker Pack you download if you want to lose friends. Well, unless your friends are just as snobbish about grammar —in that case, this is the perfect Sticker Pack for you!
In all honesty — with the right audience on the other end of the iMessage conversation — this Sticker Pack is a whole lot of fun!
Grammar Snob - $0.99 - Download Now
Pokémon Go is so last month! We've moved on to Pokémon stickers, people!
These retro stickers will take you back to a simpler time — a time when you were holding a Game Boy Color in your hand instead of an iPhone. The Pokémon Company packed in a few throwbacks, but (for the most part) these stickers can serve as conversation reactions!
Pokémon Pixel Art - $1.99 - Download Now
You're not a serious Sticker Pack enthusiast until you've downloaded imoji.
imoji lets you make your own Stickers from images in your photo library or ones you snap with the in-app camera. Once you've got your image, you just trace around it with your finger, make a few adjustments to the mask, and BOOM! Custom Sticker Pack!
I've made an embarrassing amount of embarrassing faces for embarrassing stickers. You should definitely do the same!
imoji - Free - Download Now
The Iconfactory is pumping out Sticker Packs nonstop! Our favorite Pack happens to be "Sunshine Smilies Stickers," because the stickers most closely resemble iOS emoji.
Next time you go to send an emoji reaction, consider sticking a Sunshine Smilies Sticker instead! Pro tip: These stickers are great for trolling your friends. Next time they send an angry/awkward/grimacing emoji, smack one of these over the top of it! It's like they were never angry in the first place.
Sunshine Smilies Stickers - Free - Download Now
Do you do tech support for your family? These stickers are perfect for you!
Between the flashing arrows, magnifying glasses, targets, and pointing hands, there's no way your Uncle Pete will have trouble finding that button you're telling him to press.
Here's to hoping the developer behind PointOut makes a full-on iMessage App so we can take care of tech support without leaving the Messages app!
PointOut - Free (with in-app purchases) - Download Now
Stupendously stunning Sticker Pack, Batman! If you'd prefer to talk in onomatopoeia, Comic Talk is right up your alley!
The Sticker Pack is filled with colorful halftone "Gulps," "Pows," "Booms," and "Crashes." You can practically create your own comic book with it!
Next time your partner sends you a message asking you to pick up some milk from the store, stick a "POOF!" on it to let 'em know you've already forgotten their request (but, uh, don't do that).
Comic Talk - $0.99 - Download Now
Find yourself telling youngsters to get off your lawn?
Have you been helped across the street in the last year?
Have you ever complained about "walking uphill both ways to school"?
Well, the Retro Emoji Sticker Pack is for you! These newfangled emoji are just too complicated — let's turn the clock back a few years to when we used a series of punctuation marks to express our feelings. With Retro Emoji, you can return to the era of the emoticon!
Retro Emoji - $0.99 - Download Now
Whether you find yourself rolling your eyes at "Dad Jokes" or experiencing fits of uncontrollable laughter at the first mention of poultry crossing a thoroughfare, you deserve to have the joy that is Pun Pals Sticker Pack in your life.
Not only are there ridiculously silly food jokes like, "Let's Ketchup soon," and "Butter late than never," but many of the stickers in this pack have tiny little adorable faces.
Even the must jaded millennial should be able to find joy in these smiling food puns. They're really berry good.
Pun Pals Sticker Pack - $0.99 - Download Now
The Stamp Pack is an impressive catalog of common phrases and reactions.
If you need a Sticker Stamp Pack that'll do it all, you've found it. Even better, the developer continues to release updates with added phrases and reactions, so you'll have plenty to choose from! These stickers look especially great on photos and screenshots, so keep that in mind next time you need to react to a funny photo from a friend.
It's worth nothing your friends aren't likely to grant you points for uniqueness (all the stickers are red stamps), but at least you'll be the most fluent Sticker Packer in the group message!
Stamp Pack - $1.99 - Download Now
Your favorites?
Did any of the iMessage Apps and Sticker Packs we featured pique your interest? Do you have apps and packs you think we should check out? Gimme a shout!
Master your iPhone in minutes
iMore offers spot-on advice and guidance from our team of experts, with decades of Apple device experience to lean on. Learn more with iMore!
Mikah Sargent is Senior Editor at Mobile Nations. When he's not bothering his chihuahuas, Mikah spends entirely too much time and money on HomeKit products. You can follow him on Twitter at @mikahsargent if you're so inclined.