Best iOS 7 apps for iPhone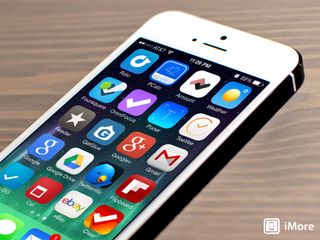 Whether you're new to the iPhone or you've just upgraded your existing one to iOS 7, one of the first things you'll want to do is load up on apps that show it off. Luckily there are lots of apps that are already updated to support the new interface. We've been keeping track of all the app updates we've seen come through and here are some of our absolute favorite apps when it comes to showing off the brand new look and feel of iOS 7!
Tweetbot 3
Why you can trust iMore Our expert reviewers spend hours testing and comparing products and services so you can choose the best for you. Find out more about how we test.
Tweetbot has long been a favorite among iOS users when it comes to Twitter clients and for good reason; it's feature packed to the brim and has always had a user interface to die for. Tweetbot 3 may be an all new purchase but it's a completely new app that's just as refined and feature packed as the last version. If you like the look and feel of iOS 7 and want a Twitter client to match it, you won't be disappointed.
Fantastical 2
Not only is Fantastical 2 one of the best calendar apps for iOS, it's one of the most beautiful too. The first version of Fantastical fit with the look and feel of iOS well enough but Fantastical 2 takes it to a whole new level. Not only that, it combines Calendars and Reminders for the first time ever. Not to mention it's a much more elegant solution than the Apple native apps in our opinion.
MyFitnessPal
If tracking calories and workouts is your thing, MyFitnessPal not only does it will, it does it for free. The overall interface hadn't been updated in quite a long time so when I saw a new update come through, I was shell shocked when I opened the app, but in a good way. Menus are easier to read and navigate and the fonts and menus have been updated to look better on iOS 7. If you're looking for a weight loss or workout companion, check out MyFitnessPal if you haven't already.
Launch Center Pro
Launch Center Pro by Contrast (previously App Cubby) is the app to have if you want easy access and shortcuts to all your stuff in less than two taps. With customizable menus and actions, your iPhone is yours to command. We've loved past versions and the iOS 7 ready version is no exception. With flattened menus, a new icon, and updated graphics, there's a lot to like.
Mileage Log+
Mileage Log+, which is also by Contrast apps, is a gorgeous mileage tracker made specifically for iOS 7. Those that have used Trip Cubby should be familiar with many of the features as it's pretty much an update to it. Additional features now include automatic route estimation, gorgeous maps, color coding, and more. If Apple made a mileage tracker app, it may very well look just like Mileage Log+.
$9.99 - [Download Now[(https://itunes.apple.com/app/id723129092?at=10l3Vy&ct=d_im)
Foursquare
Foursquare is everyone's favorite check-in service and it's already been updated with support for iOS 7. From the menu bars to the updated keyboard stylings, Foursquare has decked out the existing interface with elements that make it flow much better with iOS 7. Even the icon's received an overhaul as well. If you're an avid Foursquare user, you'll definitely want to pick up the update.
Reeder 2
When Google Reader bit the dust, the original Reeder app did little but update to add support for Feedly. Saying Reeder 2 was worth the wait is an understatement. With a completely new icon, interface, font set, and more, it's a gorgeous update that nails what apps running on iOS 7 should look like. If you need an app to access RSS feeds from, Reeder is one of the best around. Note Reeder 2 is currently only available for iPhone. An updated Mac version will come later.
PCalc
One of the most used apps on all our iPhones is a calculator. Whether it's figuring out a tip or doing schoolwork, a calculator is a staple for almost any device we use nowadays. PCalc has been updated for iOS 7 and features tons of new themes along with some updates to current features as well.
Rdio
Rdio hasn't technically been updated for iOS 7 but it still looks great. It's actually been one of my favorite apps when it comes to design for a long time now. Everything from the transparency of the menus to how the entire interface just flows so great together. Oh and did I mention it's pretty much one of the best streaming apps ever too?
Perfect Weather
Weather apps are something most of us, if not all of us, have on our iPhones. While the native Weather app for iPhone is updated in iOS 7, it lacks a lot of the information some of us want such as radar maps and more information on current conditions. If you want a happy medium between great interface and feature set, Perfect Weather is it.
Amount
Conversion apps can help us convert all kinds of things from distance to currencies to virtually anything else. Amount combines pretty much every kind of conversion you'd want to perform into one easy to use and beautiful app. It's also been updated for iOS 7 and looks amazing. It's also one of our favorite currency conversion apps as well.
Omnifocus 2
If you're an Omnifocus user or you're in the market for a new task management app, Omnifocus 2 is now available and the entire design was built around iOS 7 and better usability. I recently [reviewed Omnifocus 2](and came away quite impressed with the improvements not only in terms with design but with the overall user friendliness compared to past versions. If you don't currently have a workflow for task apps, make sure to check it out. Omnifocus for Mac was one of our favorite todo apps for OS X as well.
TeeVee 2
TeeVee 2 is an amazing little app that tells you in just a quick glance when your favorite shows are on. You can view episode summaries, descriptions of different shows, and even receive alerts for upcoming shows if you choose. While TeeVee 2 hasn't specifically been updated for iOS 7 yet, it works great already and the interface just fits right in. It's beautifully designed and in some ways reminds me of the clean look and feel of Rdio. And that's a good thing.
GetGlue
GetGlue received an update a little while ago that made it one of the first apps to start the trend of making flat icons to match iOS 7. The entire app has received the same treatment. It ditches all the gradients and textured menus in favor of a much simpler interface. Not only that, the update brings with it much better informational pages on tv shows and movies that make it even easier to join in on the conversation and view all the information you could want on a particular title.
Calendars 5
Calendars 5 by Readdle is one of my favorite alternative calendars apps because it supports natural language input. Just tell it what you want to add to your calendar and it can do all the heavy lifting for you. It can also bundle reminders into one app as an all in one solution. The Calendars 5 update was designed with iOS 7 in mind and is hands down one of the best apps Readdle has ever released. If you're looking for an alternative calendar app, Calendars 5 should be towards the very top of your list.
Google+, Google Maps, Gmail, etc..
The official Google apps have yet to be officially updated for iOS 7 but most work just fine and look great. Many people have pointed out in the past that Google has managed to nail the iOS 7 interface and design before even Apple did. Their native iPhone apps are a testament to this theory as pretty much all of them look like they belong on iOS 7. Don't believe me? Try any one of them for yourself and see what you think.
Google+, Free - [Download Now](https://itunes.apple.com/us/app/google?at=10l3Vy&ct=UUimUdUnU20488 /id447119634?at=10l3Vy&ct=d_im)
Google Search, Free - Download Now

(opens in new tab)

Google Maps, Free - Download Now

(opens in new tab)

Gmail, Free - Download Now

(opens in new tab)

Google Drive, Free - Download Now

(opens in new tab)
Twitterrific 5
Twitterrific has been updated to version 5.5 and brings with it an even sleeker interface that shifts the focus completely to your timeline. A few months back, Twitterrific 5 launched with a completely re-designed interface that was already very iOS 7 like. The new version refines a lot of the interface as well as adding new features such as support for Safari Reading List bookmarks, more gesture support, the ability to open links in Chrome, and more.
Cal
Cal is an alternative calendar app that adds depth and life to scheduling meetings and events. You can link Cal with your Facebook in order to import friends and other information. It pulls from your native iOS Contacts as well. If the native Calendar app under iOS 7 is a little too flat and plain for you, Cal has a look and feel that still belongs but still manages to not be as boring.
Any.DO
Any.DO is by the same makers of Cal and also looks right at home on iOS 7. The two apps can work hand in hand quite nicely too so if you'd like a task manager to bundle with Cal, there's no better choice than Any.DO. Luckily, the layout is just as great and also looks like it was made for iOS 7.
Clear
Clear is one of the best minimal task apps available for iPhone. With its gorgeous gesture driven interface, it doesn't get any more bare bones or simple than Clear. Pinch to close lists, swipe down to add items, and switch between many gradient color themes. It's great for shopping lists any any other simple kinds of task lists. It already fit into iOS 7 but with the new update, it's even more refined with update typography and more.
Screens 3
Screens is one of our favorite VNC clients and when it comes to screen sharing, it doesn't get much better. Screens 3 has just been released as a completely new app and it brings with it an all new interface that's made to compliment the new design in iOS 7. If you've used Screens in the past, you are already aware of how simple the setup process and actual use is. If you want a plug and play screen sharing option, it's one of the best options out there. And it just got even better.
eBay
If you have an eBay account and regularly sell or buy items, you'll be pleased to know that eBay has already been updated with iOS 7 compatibility. Not only that, the entire interface has been updated to match the look and feel of iOS 7. More gestures have also been adding including swipe to search. Improvements have also been made to finding favorite buyer and seller profiles.
Flipboard
Flipboard has been a long time favorite when it comes to reading news on the iPhone and iPad. It's been updated with support for iOS 7 including a cool parallax feature that brings awesome visual features for magazine covers. Using the parallax feature, magazines literally come to life. It's a great example of what developers can do with the depth of iOS 7.
Pixter
Pixter Scanner was updated a while back specifically to update the interface to be more iOS 7 like. It was actually one of the very first apps I saw that actually updated the interface to match. Not only that, Pixter is a great OCR (optical character recognition) app that works great for scanning and translating or storing large blocks of text. If it sounds like a type of app you'd need, look no further than Pixter.
Apple Store app
The Apple Store app has been updated with a completely redesigned icon and all new layout inside the app to match the overall look and feel of iOS 7. If you haven't ever used the Apple Store app before, it isn't just a great way to browse and buy Apple products straight from your iPhone, you can also book Genius Bar appointments, check store locations and hours, and more.
Shazam & Shazam Encore
Shazam lets you tag any song you hear on tv or the radio in just seconds. From there you can access the iTunes Store to buy music in just one tap. You can also view recommendations and share your tags with friends. The new iOS 7 update makes the user interface of Shazam even better.
OpenTable
OpenTable for iPhone make sit easy to book dinner reservations at thousands of restaurants in just a few taps. It also ties in with Siri which makes finding information, directions, hours, and reviews on a restaurant simple. the OpenTable 6.0 update has made the interface match that of the rest of iOS 7 as well as making searching even easier.
Finish
Finish is a super popular task management app for iPhone and one that's had one of the best interfaces for quite a while now. It has now been completely redone and is built specifically for iOS 7. With new features such as AirDrop support and repeating tasks, it's better than ever.
Evernote
Evernote is one of the most popular note taking apps and is supported by tons of apps and developers across the world. The newest update is a complete rework with not only iOS 7 support but a great new interface that makes searching and accessing your notes even easier than ever.
Byword
Byword supports Markdown and plain text editing from both iPhone and iPad. Their universal app has just been updated with support for iOS 7. It includes an updated interface that loses the linen textures and adds new menus and a much cleaner interface. It also adds Markdown syntax highlighting, better navigation, and support for AirDrop.
Mailbox
The popular alternative mail client Mailbox has also just been updated with support for iOS 7 that they're boasting is lighter, cleaner, and faster. Some menu items look to having been re-arranged in order to make getting to commonly used items even faster. If you're a Gmail user and you aren't happy with the default Mail app, check out Mailbox.
Your favorite iOS 7 ready apps?
Have you stumbled across any iPhone apps that look especially great on iOS 7? We'll be adding to this list as we find more but as always, make sure you share the apps you think stand out on iOS 7 in the comments below!