Best iPad Air keyboard cases: For professionals on the go!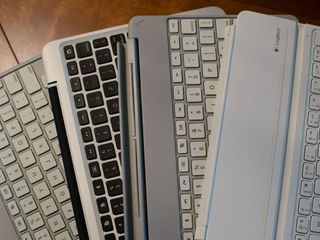 The iPad Air is thin, light, and ultra portable. This makes it a perfect productivity tool while on the go. Pair it with a great keyboard case and you may be surprised how much work you can get done without ever touching a desktop computer. Many App Store apps support Bluetooth keyboard shortcuts which makes it easier than ever to fly through our emails, calendars, task lists, and much more. We've taken a look at some of the most popular keyboard cases available for iPad Air and narrowed our recommendations down to just a few, and we're confident that no matter how you need to use your iPad Air on the go, one of these keyboard cases will be a perfect fit!
In order for a keyboard case or cover to be considered in this roundup, I had certain requirements that I felt must be met. If a case did not meet any one of these, I quickly ruled them out. If you select one of the cases I recommend below, you can be certain that all of the following criteria are completely met, if not exceeded.
At least 2 months of usage on one charge, averaging around 2 hours per day
Standard keyboard layouts that don't altar the placement of commonly used keys
Spacious keyboard layouts that isn't challenging to adapt to — zero learning curve
No issues pairing via Bluetooth quickly, and no dropped connections while in use
Wake from sleep functionality when the case or cover is opened and closed
Made for iPad controls — Home button, Siri, lock and unlock functionality, international keyboards, and media controls
ZAGGKeys Cover for iPad Air
Why you can trust iMore Our expert reviewers spend hours testing and comparing products and services so you can choose the best for you. Find out more about how we test.
The ZAGGKeys Cover may be slim and easy to slip into almost any bag you may own, but don't be fooled. It's made out of high quality aluminum that feels substantial in your hands. This case comes in both black and white so you can match it to your iPad Air. The hinge has a silicon type rubber on the inside so no damage is done to your iPad Air when sliding it in the cover and back out. You also have a 135º viewing angle thanks to the design of the hinge. If illuminated keyboards are your thing, Zagg makes some of the best ones around. Not only can you control the brightness of the keys, you can also change the color. If you're ready to use your iPad in tablet mode, you can pull your iPad out and place it in the reverse direction for protection on the back side, or simply leave it out until you're ready to use the ZAGGKeys Cover again.
If you prefer cover style cases over folios and insist on illuminated keys, the ZAGGKeys Cover definitely won't disappoint.
Between $65 and $99 - Buy Now

(opens in new tab)
Logitech Ultrathin Keyboard Cover for iPad Air
Logitech has always offered a great keyboard layout in a small amount of space without sacrificing any functionality or ergonomics. The Ultrathin Keyboard Cover by Logitech has been a favorite of mine while traveling for years. If I'm packing light, this case adds almost no weight at all but gives me the flexibility I need to write on the go. Since the Ultrathin Keyboard Cover snaps on just like a Smart Cover, it's dead simple to put on and take right back off. When I want to use my iPad Air in tablet mode, I can quickly remove the case without prying at edges or exerting a lot of effort. The only downside I could find to the Ultrathin Keyboard Cover by Logitech is the absence of illuminated keys.
If thin, light, and ultra-portable are your number one concerns, the Logitech Ultrathin Keyboard Cover is your best bet.
Between $69.99 and $99 - Buy Now

(opens in new tab)
ClamCase Pro for iPad Air
The ClamCase is the most expensive option on this list but it's by far the most versatile. Not only does it have a keyboard that rivals that on a full size MacBook, it offers three different usage scenarios. The first and most obvious is keyboard mode. Once your iPad Air is snapped in place, just start typing. The ClamCase Pro offers great viewing angles and dedicated media keys for one-touch access to all your music. The hinge on the ClamCase is what sets it apart. Bend it backwards and you have a touchscreen mode that allows you to easily prop your iPad Air upright so you can view media, follow recipes in the kitchen, and anything else you can imagine. Lastly, continue folding up the ClamCase and you have tablet mode. In this position the keyboard on the ClamCase deactivates so you don't accidentally press keys while using the iPad in your hands. And when you want to remove it, just press firmly on the top of the case and your iPad Air can be lifted right out.
For a keyboard case that you never had to remove unless you want to, ClamCase Pro is the most versatile option money can buy.
ZAGGKeys Folio for iPad Air
Much like it's sibling, the ZAGGKeys Cover, the Folio version offers the same great keyboard layout and illuminated keyboard with changeable colors. The main difference here is that the ZAGGKeys Folio offers complete 360º protection for your iPad Air. Made from a light polycarbonate and faux leather, the ZAGGKeys Folio doesn't feel cheap in your hands. The faux leather material actually adds a nice grip so your iPad Air doesn't accidentally slip out of your grasp. Not only that, it wipes down nicely and doesn't seem to accumulate too much dirt over time, even if you opt for the white model, which is what I've been using for several months.
If you want complete protection for your iPad Air combined with one of the best illuminated keyboards available, look no further than the ZAGGKeys Folio for iPad Air.
Between $63.99 and $99 - Buy Now

(opens in new tab)
Your vote for best keyboard case or cover for iPad Air?
If you use a keyboard case or cover with your iPad Air on a regular basis, which one did you pick and why? Be sure to let me know in the comments! And of course, if you pick up any of the cases above, be sure to come back and let us know what you think of it!
Get the best of iMore in your inbox, every day!
iMore senior editor from 2011 to 2015.
My employer gave me an iPad for work (finally, it took only two years) but they did not want to get me a case. Long story short. I bought the "ZAGGKeys Folio for iPad Air". Have been using it for about a week and like it so far.

I had a Zagg...twice. I couldn't get it to stop repeating letters. I'd be typing away and kept having to go back and delete letters. I sent the first one back, and then sent the 2nd one back. Moved to a Belkin hard case/keyboard and have been happy as a clam.

Best iPad keyboard: The MacBook Air

Haha, true!
11" MacBook Air, 128Gb = $899
Wi-Fi only iPad Air, 128Gb = $799 + keyboard $99 = $898. Sent from the iMore App

If you want an iPad I'd assume you want iOS apps, which don't run on OS X :p
Same goes for the touch screen Sent from my Galaxy S4 running SlimKat 4.4.4

I guess it depends on the "professional". But it seems like for most a MacBook Air would be the better choice. ಠ益ಠ

It's a joke. It's my way of saying that the iPad is a limited "productivity tool". Sent from the iMore App

Great review. Nice to see a video review where the author doesn't try to be a pretend movie star. The problem I have with keyboard cases in general is that some of us older people are actually great touch typists and there hasn't been a keyboard case made yet for an iPad of any description that is full-sized, and therefore allows for touch typing. These are almost exclusively for "two-finger peckers," and "sloppy" slow typists (no offence to those similarly disabled). I have also yet to see an iPad keyboard case that is thinner when coupled with the iPad, than a good light laptop would be (like the MacBook Air). Especially if you are using an iPad in a folio, or mostly non-detachable case, you are kind of "doing it wrong" in that you probably would be better off with a laptop. I can't for the life of me think why anyone buys an iPad, just to put it in a thick keyboard case that they never take it out of. Like Ally, I find that if I'm doing anything serious on the iPad, I prefer to use it "naked" and even the Apple cover, which is the only thing I use, gets in the way.

I bought the ZAGGKeys Folio based on your reviews last year. I love the keyboard. I swore I was only going to buy one case for the Air (I have three for my iPad 3) and I wanted it to be the one with the best features. It was close between the Logitech and ZAGG, but the backlit keys was the deciding factor. Thanks for the great reviews on iMore, Ally.

How would you rate the feel of the keys when typing?
-
I had the ClamCase for my iPad3, and typing was pretty bad. The keys were not spaced, and some of them, like SHIFT, I had to press down very hard for it to work. I liked the positions from the ClamCase, but I basically couldn't use the keyboard. Not worth the $150 for the iPad3. Also, the hinge would allow the top half to flop back when past 45 degrees. I could not type on my lap. It looked like the CC Pro for the Air had a "stopping point" at 45d. Or am I mistaken?
-
My wife has the ZAGG Folio for her iPad Mini, I tried typing with it, it was better than the ClamCase:iPad3. Even though it was a smaller keyboard for the mini. She barely uses it though bc it doesn't fold all the way back, so for landscape mode you have to remove the iPad. She also can't pull up control center from the bottom of the screen due the how the edge of the screen is below the keyboard. Did you experience this with the ZAGG Folio (full back cover) for iPad Air?
-
Thanks for the review! Sent from the iMore App

I bought the Zagg Keys Cover in white, to match my white iPad Air. The reason is that after I'd looked into keyboards, this was one on my short list, and iMore had a keyboard for iPad review, I think that one by Ally also, and the Zagg Keys Cover was a top contender then too. So i bought one, and couldn't be happier. I highly recommend it.
Unable to comment on the others as I've not used them. Sent from the iMore App

I had the Logitech Ultrathin Cover first (the alternatives were not available here at that time), but two things were bugging me about it: 1. Only one angle, 2. no backlit keys. So, after reading your and other reviews about the Zagg cover, I bought it for my iPad Air. Considering both are priced identically (here at least), the Zagg is a steal. Multiple angles, great backlit keyboard and personally I have less problems typing on it. Now, if only Apple would make iOS a bit more useful for keyboard users writing in multiple languages (there is no way I know of to choose the spellchecking language independently from the keyboard layout, means I e.g. can't get English corrections when using a German keyboard)... I would be another step closer to good things :)

Zagg Rugged Folio. Because sometimes you just don't need the keyboard. The magnetic hinge allows you to remove the iPad with removing the entire case. Sent from the iMore App

I have tried all of the above keyboards with the exception of the clam keyboard case and I wouldn't try that because it is way too expensive. I really liked the Zagg cases but they are way too top heavy. The typing experience is the best that I have found. I loved the Logitech and almost kept it. I even used the Apple bluetooth keyboard with a tablet stand. That was a fine alternative. But in the end I decided that it was best to just use the software keyboard. It had taken a while to get used to typing on it with accuracy, but I have been able to go a good job and now I prefer it. And I don't have to worry about the battery on my iPad draining, taking the iPad in and out of the case, or charging the keyboard. And I can type just about anywhere when I use the software keyboard. The autocorrect also makes typing quick and painless.

can we get full photos? these photos look like 1:1 for instagram, it doesnt show the whole keyboard and I want to see the differences betwen the zaggs and the clam keyboards.

Hey, looks like iMore gets an affiliate fee as an Amazon associate if anyone buys from the supplied link. Shouldn't that be disclosed somewhere? And by "somewhere", I mean other than some buried TOS or the like.?

Next round you need to through in the Zagg Rugged Folio. Awesome keyboard. Sent from the iMore App

In all seriousness, though, this is really a great overview. I have been considering a keyboard case, not only for the ease of typing, but because traditional covers seen to look worn after a while. I know the reviewer put many hours into thoroughly testing all these products.

My ZAGGKeys Cover arrived today. It's very nice, but takes a bit of getting used to - my brain thinks I need a trackpad before I remember I can touch the screen. Control Center was a bit challenging, but after some practice I can get it to appear with a consistent flick action. It's well made and comfortable to use. Feels solid. Amazingly, it fits comfortably into my Joli sleeve with the iPad still attached. Since Office arrived, I've been using my iPad a lot for day to day work, so hopefully this keyboard will improve the experience. Time will tell. Sent from the iMore App

ipad keyword is one of the most popular in world.it also not too much of cost .iam using this .i prefer my friends to buy.thank you.http://www.idevicegadget.com/10012

My father gifted me i phone on my 18th birthday and i was very happy to get this but he didn't give a keyboard so,i bought that from my favourite site-https://www.youtube.com/watch?v=A79K8GaNh-g.It always gives me a lot of discount.you should too buy it from this site.

Update: I knew that they would eventually slash these prices on iPad keyboards. If you haven't heard of DON DEAL WIZARD to get discounts from Amazon, just google it. They have a yellow widget on their homepage that will show the top discounts for any product on Amazon all in one place. It's the best thing since sliced bread.