Best iPhone and iPad apps of September 2014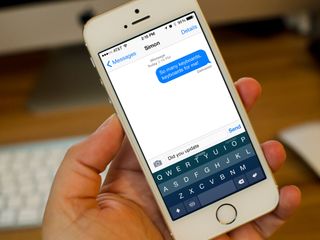 Summer is slowly drifting away, but the iPhone and iPad apps are still coming out with full force. The launch of the iPhone 6 and iPhone 6 Plus, and particularly the release of iOS 8 have kicked off whole new types of apps to dig into. Though this round-up is only for new releases over the last month, there were a metric ton of updates to optimize for larger screens, tap into HealthKit, provide new Today widgets, and add TouchID features.
Here are our top ten new iPhone and iPad apps for September, but as always, we're eager to hear your favorites in the comments.
Goat Simulator
Why you can trust iMore Our expert reviewers spend hours testing and comparing products and services so you can choose the best for you. Find out more about how we test.
Goat Simulator bridges the gap between man and beast in ways never imagined possible. From the lifelike licking of other creatures and objects to ragdoll physics that cause models to spaz and clip randomly, it's no wonder you quickly lose yourself in goatness and, eventually, a profound identity crisis.
Play Goat Simulator. It will change your fundamental assumptions of humanity and goats.
Anomaly Defenders
Anomaly Defenders brings to a close what is arguably the best tower defense series on Android. Mankind has finally pushed the alien menace back to their homeworld, and now players are tasked with repelling the counter-invasion. Like usual, you need to upgrade towers, expand research to improve their efficacy, and make split-second decisions based on how attacks change and environmental effects. The graphics are still gorgeous, and a rich campaign to chew through.
Strategy fans will have a ton of fun with Anomaly Defenders. If you're looking for more, Anomaly Korea (opens in new tab), Anomaly Warzone (opens in new tab), and Anomaly 2 (opens in new tab) are fantastic predecessors.
Valiant Hearts
Valiant Hearts is a puzzle game by Ubisoft set in World War 1. Inside you'll find a heartwrenching story about soldiers on the front line of The Great War and their faithful hound Walt. Valiant Hearts boasts a gritty graphic novel art style and a varied mix of gameplay types. The earlier release on PC and console enjoyed a great reception, and the mobile adaptation has shaped up really nicely.
Spider-Man Unlimited
Spider-Man Unlimited is an endless runner featuring Marvel's famous web-slinger. Players have to chase down members of the nefarious Sinister Six while swiping to avoid incoming obstacles, take down goons, and gather power-ups. Over time, you gather up other Spider-Men from parallel universes, each with their own signature looks and in-game bonuses. An energy mechanic is in place, limiting how many runs you can make in one sitting, plus in-app purchases are available for accelerated progress.
Comic fans will definitely appreciate the snappy one-liners and wide variety of characters in Spider-Man Unlimited.
Turbo Dismount
The creators of classic flash games Stair Dismount and Truck Dismount have continued their legacy with a new title called Turbo Dismount. As before, you attach a hapless crash test dummy to various vehicle types and launch them off ramps, over cliffs, and into explosives to cause as much bodily harm and destruction as possible. Every run meticulously scores the damage done and quickly resets so you can reposition obstacles, and alter steering and speed. New levels, vehicles, and obstacles can be nabbed through in-app purchases.
SwiftKey
A lot of custom keyboards for iOS came out this month, and SwiftKey is among our favorite. It includes adaptive learning for predictions, gesture control, and has proven reliability. Cloud backup ensures your language habits carry over between devices, and hones the predictions to a nearly creepy level. SwiftKey is multilingual, so no need to hop between languages.
Sqwiggle
Sqwiggle is a promising collaboration tool for remote workers. In addition the usual suite of chat options, Sqwiggle's signature feature is on-demand video chat. Snapshots of participants are taken at regular intervals from the webcam and shown in the presence monitor, so others know if that person is around, and if anyone wants to talk, they just have to click on the name, and they're instantly in a video call - there's no dialling or answering to worry about. Multiple users can be included in a conversation.
If you're having trouble staying connected with your colleagues daily in a seamlessly way, Sqwiggle will probably be able to help you out.
Ask Me Anything
Reddit unveiled an official app for their high-profile AMA stories this month. Now when celebrities do Ask Me Anything sessions on the social link-sharing site, anyone with the app can keep tabs on the latest questions, upvote and downvote community submissions, and drop a few questions of their own. You can browse through the archive of previous AMAs based on categories or search for specific individuals to flip through their crowdsourced interviews.
Anyone who spends any time on Reddit should grab the new Ask Me Anything app.
MailTime
MailTime is a clever re-imagining of mobile e-mail. Messages have extraneous information, like date and time, parsed out, leaving threads displayed as instant messaging conversations. New recipients can be cc'ed into the conversation and assigned tasks with smart tags. Since the app is all about keeping e-mail conversations pithy, it will alert you if your message is too long, since it means folks aren't likely to read it.
If you're in lengthy e-mail threads every day, MailTime will make your life easier.
Manual
Manual offers just what the name implies: manual camera settings. In this case, you can adjust shutter, ISO, white balance, focus, and exposure compensation. Swipe up or down on any control to change it or hold down to turn it to auto. As you change any of these settings, you can also see what aperture your iPhone is going to pair it with, which can be useful for certain settings. After taking an image, you can see in-app all information on what settings were used in just a tap.
For a beautifully designed manual control camera app that's powerful and straight forward, be sure to check out Manual.
Your favorite new iPhone and iPad apps from September?
That's all we've dug up, but let us know which apps you've been happy to download over the last four weeks, especially anything with fresh iOS 8 optimizations.
Editor-at-very-large at Mobile Nations, gamer, giant.
First things I download when/if I get an iOS device: Swiftkey, Goat Simulator. That should be good. :P

Your on iMore and don't have a iOS device? You at least have a Mac, right?

One can't be on imore without owning an ios product?

It is a little weird isnt it? Sent from the iMore App

I do not see why it is weird. If I was planning on buying an iOS device, which alluded to in my original comment why would I not come here first to help research for my purchase? iMore is not some club with members only jackets, I can come and go as I please. Full disclosure I work on a MacPro, and just bought a Macbook Air, but that is beside the point.

"I can come and go as I please." I suppose so, it just seemed a little odd at first. A lot of Apple fans are of the iOS side of things, and don't have Macs.

Oh man, was Swiftkey a disappointment. I wanted the "Swiftkey Flow" swype-like feature. That feature worked fine on Android, but is utterly useless in the iOS version. It presented one, AND ONLY ONE, word as you swiped it out. And if that word wasn't the one you wanted, which was roughly half the time, too bad for you. The last straw for me was when I almost threw my phone in disgust after the fourth time Swiftkey absolutely insisted I wanted the word "Kirwan" as I was trying to type the word "lien" - no matter how slowly, carefully, and deliberately I moved my thumb over the keys. Which, of course, defeats the purpose of having a swype-like feature in the first place.

I agree... if you are used to the Android version of Swiftkey, the iOS version is a total disappointment. It needs a huge update to take it where it should be. Only two Themes... come on! And where is the ability to have the numerals on the top row so you don't have to switch back and forth. As of right now... you might as well stick to the native keyboard.

Simon: MailTime is a gmail-only email app.

Plunder Pirates. Anyone?? Sent from the iMore App
Thank you for signing up to iMore. You will receive a verification email shortly.
There was a problem. Please refresh the page and try again.