Best iPhone and iPad apps of the week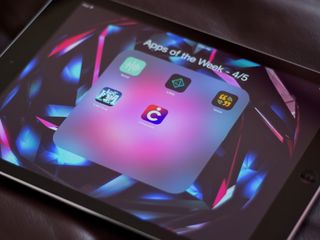 Boy howdy, it's been awhile since we've done a round-up of the best iPhone and iPad apps of the week, eh? In our ongoing mission to bring you the latest and greatest of the App Store, we've rounded up these five apps that have been released in the last 7 days. This week we've got a lot of creative apps for making something to share with the world, but also a few to help you zone out and disconnect. Dive in and be sure to let us know about your favorite iOS app releases this week in the comments!
Last Inua
Why you can trust iMore Our expert reviewers spend hours testing and comparing products and services so you can choose the best for you. Find out more about how we test.
Last Inua is a beautifully-rendered side-scrolling game that takes place in the arctic. Players must guide an inuit father and son through a series of harsh challenges in an effort to save their land from an ancient, supernatural threat. Players swap control between the father, Ataataq, and son, Hiko, to work through puzzles set on a gorgeous wintry backdrop. Particular attention has been paid to the narrative and animation. Pick up Last Inua for a polished platformer with a lot of heart.
Adobe Voice
Adobe Voice is a great new way of building presentations. Users record small snippets of them speaking, and the app dynamically suggests graphics to go with it. These graphics include a ton of icons and photos bundled with the app, or you can import your own. A soundtrack can be included, along with plenty of animated transitions. The main goal of Adobe Voice is to be able to create these personal, polished presentations in as little time as possible. If you regularly tell stories, either for business or pleasure, try out Adobe Voice.
Noisli
Noisli is a great ambient noise app that lets you turn up, down, and mix different types of ambient noise. Whether you just need something to stay concentrated on work, or you're trying to get to sleep, you can get some fine audio help. To get an idea of what's available, you can check out the website here, but the bonus of the app is that the sounds are available offline, can be set on a timer with a fade out. The interface is elegant and easy to use, and keeps running when the screen is locked. I'd love to see an alarm option here, but it's great as is. Snatch this useful, simple app while it still has its half-off launch promotion.
Cinamatic
Cinamatic brings filters and fresh editing options to microvideos shared on Vine, Instagram, and elsewhere. Shoot, splice, add transitions, and share your final creations right from the app, using many of the filters you're familiar with from Instamatic. If you're looking to get really crazy, additional filters can be added through in-app purchases. If you post videos to Vine and Instagram at least once a week, Cinamatic is definitely worth a gander.
Litely
Litely is a new photography app with a set of rich, retro-inspired filters. There are 9 presets available out of the box, with another 36 available through in-app purchases. Of course, there are also the usual set of editing tools for sharpness and exposure, all within a very finger-friendly interface so you can slap together beautiful Instagram shots in record time. Mobile photogs should check out Litely for a polished experience with plenty of options.
Your favorite iPhone and iPad apps this week?
Refresh (opens in new tab), Beamly (opens in new tab), and Knotch (opens in new tab) also got some respectable updates this week. Do you guys think we should be highlighting updates here too, or just the stuff that's brand-spanking new? What other iOS apps were released this week that you're really digging on?
Get the best of iMore in your inbox, every day!
Editor-at-very-large at Mobile Nations, gamer, giant.
Downloaded Litely, used it for about 10 minutes, deleted. It reminded me too much of VSCO Cam and it's execution wasn't nearly as good. Other apps like Afterlight also use the VSCO-like filters, but offer other features to make up for it. It seems like Litely just took a few filters, added some weird "rotating wheel selection" thing and called it a new app. Even the store to purchase new filters is similar to VSCO Cam. Sorry, not to sound like such a VSCO fanboy (even though I swear by it) but just seems like no other app can compete in it's category. Sent from the iMore App

Simon's write-ups on iMore ? :D