Best iPhone and iPad apps of the week: Goat Simulator, SwiftKey, and more!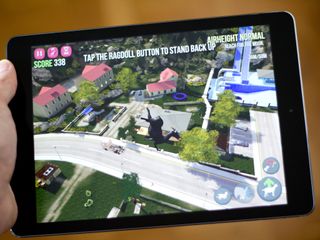 Between the rollout of iOS 8 and the launch of the iPhone 6 and iPhone 6 Plus, it's been a busy, busy week. Amid all the chaos, a bunch of great new apps and games hit the App Store, and we're going to line up the best of the bunch for you.
Huerons
You can always trust iMore. Our team of Apple experts have years of experience testing all kinds of tech and gadgets, so you can be sure our recommendations and criticisms are accurate and helpful. Find out more about how we test.
Huerons is a light and simple puzzle game about merging dots on a grid. Tap an empty slot to pull in dots from all adjacent tiles, and make sure everything gets merged in as few taps as possible. Things get tricky once special tiles get introduced which can move your tiles around, force a final merge point, and chameleons which keep changing color.
Huerons is a stylish little game with over 100 levels to chew through.
Rapture
Rapture is a tongue-in-cheek strategy game about conquering the world before the End of Days arrives. Players are the guiding hand of a god that must ensure their chosen people spread far and wide. Build a faithful cohort, advance their technology, and unleash holy wrath by way of destructive miracles.
Rapture is a fast, fun, and oh-so-slightly cyncical dose of strategy.
Light in the Dark
Light in the Dark is an imaginative little puzzle game about reflecting different colors of lights so that totems can find their lost kids in an Egyptian tomb. The color-mixing elements are a bit like Watercolors, but mixes in Cut The Rope cuteness. There are 60 stages with more on the way, each with three stars to earn from each.
Grab Light in the Dark for a fresh, youthful head-scratcher.
Beach Buggy Racing
Beach Buggy Racing is an upgrade on the hugely popular Beach Buggy Blitz, and has bumped up the graphics in several departments. You're now riding much faster with more competitors, power-ups, and big, winding stages. Instead of driving endlessly, you know have set courses you're trying to earn three stars on. Over time, you upgrade your ride with currency won from matches or in-app purchases. An energy bar limits how much you can play at once, so make sure to make every run count.
Beach Buggy Racing is a great update on what was already a graphically impressive title.
Goat Simulator
Goat Simulator bridges the gap between man and beast in ways never imagined possible. From the lifelike licking of other creatures and objects to ragdoll physics that cause models to spaz and clip randomly, it's no wonder you quickly lose yourself in goatness and, eventually, a profound identity crisis.
Play Goat Simulator. It will change your fundamental assumptions of humanity and goats.
Transmit
Transmit offers all the tools a webmaster on the move needs. With it, you can remotely access FTP, SFTP, webDAV, and Amazon S3 servers. You can move files to and from your device through the system-wide share menu, rename folders, and set permissions. You can also sync up saved servers and credentials with Coda 2.5.
If you have anything to do with running a website, Transmit for iOS will be really helpful, especially when things go wrong and you're not by the computer.
SwiftKey
A lot of custom keyboards for iOS came out this week, and SwiftKey is among our favorite. It includes adaptive learning for predictions, gesture control, and proven reliability. SwiftKey is multilingual, so no need to hop between languages.
Getty Images Stream
Getty Images Stream is a new way to flip through a catalog of millions of images on your iPhone or iPad. Images are fully searchable based on category or tags, can be marked as favorite, and embedded on external sites. You can get alerts for specific terms if you want to keep tabs on a particular subject.
Anyone who works regularly with stock photos or are just in the market for some better pictures for their blog will find Getty Images Stream handy.
AJ+
AJ+ is a new app from Al Jazeera that packages current events into short videos, polls, and lively debates. Different types of cards present issues in new ways, including quizzes and resources for extra information. The user interface is very sharp, and the range of topics is broad enough to keep just about everybody interested.
Anyone looking to mix up the usual way they take in the news may want to give AJ+ a shot.
Buddy Check
Absolute released an awfully responsible app this week called Buddy Check. It sets up a small network of devices so users can keep tabs on one another at bustling parties. Points are awarded for checking in with friends at regular intervals, and if you're wondering where one of your friends are, you can zoom in on their GPS coordinates. Once the night of revelry is over with, you can leave the group, and others can keep on going.
Grab Buddy Check if you've got a group of friends that you want to keep safe while having a night on the town.
Master your iPhone in minutes
iMore offers spot-on advice and guidance from our team of experts, with decades of Apple device experience to lean on. Learn more with iMore!
Editor-at-very-large at Mobile Nations, gamer, giant.