Best iPhone and iPad apps of the week: Kimd, Hellraid, Sonic Jump Fever, and more!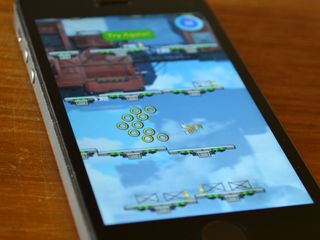 Once again we've gathered together the best iPhone apps and best iPad apps and games released this week! We'll regularly dig up the best, freshest social, music, photography and productivity apps for iOS, not to mention action games, shooter games, puzzle games, and anything in between. Come on and dig in to see our favorite releases over the last seven days!
Magic 2015
You can always trust iMore. Our team of Apple experts have years of experience testing all kinds of tech and gadgets, so you can be sure our recommendations and criticisms are accurate and helpful. Find out more about how we test.
The 2015 edition of Magic: Duels of the Planeswalkers launched this week. The biggest addition to this iteration of the classic fantasy card game is that now you can custom build your decks card-for-card. Previously, you would be given a core deck and would unlock additional cards to swap in through gameplay. As usual, players put on their robe and wizard's hat in the role of an elementally-attuned planeswalker. They duel one-on-one against other interdimensional mages by summoning powerful allies, hurling spells, and wielding ancient artifacts. Five colors of spells represent different elements, each with their own play style and themes. Magic 2015 spans five planes, each with their own series of challenges, and of course online multiplayer. You can sample gameplay for free, and upgrade to the full game for $1.99, with additional purchases available for early access to other planes and getting extra cards.
Magic is a highly polished card game that has stoof the test of time, and its latest version doesn't disappoint.
Hellraid: The Escape
Hellraid: The Escape is a dark first-person puzzle game. Players have to work their way through the labrynthine underworld to escape an eternity of torment. Mind-bending defenses will confound your jailbreak, and even once you get through a door, there are frightening demons on the loose whose sole purpose in existence is to make sure you don't go anywhere. Hellraid: The Escape enjoys top-notch graphics, AirPlay support for the big screen, and absolutely zero in-app purchases.
Hellraid is a dark delve that will test your wits.
Beyond Gravity
Beyond Gravity is an imaginative cross between platformer and physics game. Players have to guide a hapless astronaut to survival by leaping between planets in zero gravity and grabbing spare parts for his busted ship without falling into the endless void of space or getting smashed by a stray asteroid. Stages are generated procedurally, so it's never the same play-through twice. Though things get tricky as you make it longer, there are lots of power-ups available to purchase, but no fast-tracking through in-app purchases.
Beyond Gravity's colorful cut-out art style is bound to charm most players, and the classic-yet-fresh gameplay provides a solid challenge.
Sonic Jump Fever
Sonic Jump Fever is a straightforward endless jumping game with everyone's favorite bright blue hedgehog. Players keep leaping up platforms as high as possible, trying to snag rings, bash nasty robots on the way, while also not falling off the edge of the screen. As you play, you earn enough coins for upgrades both practical and cosmetic. Many of the other Sonic heroes are here, such as Tails and Knuckles, plus you'll find all of the familiar, original sound effects tickling your nostalgia bone. As you might expect, in-app purchases are available for those that want to fast-track their progress with unlockables and power-ups.
Sonic Jump Fever is a fun, fast, and simple title bound to be appreciated by old-school Sega gamers.
The Wolf Among Us
The fifth episode and season finale of The Wolf Among Us was launched this week. It's made by Telltale, the same folks behind The Walking Dead. The Wolf Among Us puts players in control of Bigby, a sheriff with a temper problem who also happens to be a wolf. The game takes place in Fabletown, and as you might expect, there are plenty of characters that come from some childhood story, but they're a little more… adult than you might remember. These guys have to use magic to disguise themselves and not disturb the citizens of New York, though that's not always easy. The game's first episode kicks off with an encounter with the Wolf's well-known adversary from Little Red Riding Hood, the Woodsman. It's up to you how you handle every situation, and every decision has lasting effects on the rest of the story.
Be sure to snag the whole season of The Wolf Among Us if you're in the mood for a dramatic, gritty, and mature game with a strong story.
Syde
Syde is an interesting new social networking app that helps strangers collaborate on making unique pictures. Users post half an image, either on the left or right side. Then others can provide the second half. If you see a joint image you like, you can provide your own alternative Syde and post that. The app is free, but for $0.99, you can remove the Syde watermark, making it ideal for sharing out to other networks. Pictures can be marked as favorites, sent privately, commented on, liked, and you can add friends when you meet someone particularly imaginative. The user interface is very sharp to boot.
If you're looking for a new twist on your social photo sharing, Syde will definitely provide you with some unexpected surprises.
Kimd
Kimd is a simple but useful camera app built specifically for taking photos or pictures at concerts. The functionality of shooting doesn't change much, but there's one thing it aims to fix: reducing brightness of the screen when you're shooting. This ensures that everyone around you isn't distracted by your display as you try and get the perfect shot. Images can be bookmarked for easy access later or uploaded directly to Instagram, but the real feature here is a little bit of consideration for your fellow music-lovers.
If you intend on going to a lot of shows this summer, grab Kimd.
give.
Give is a promising new way of making donations to charities. It hosts a full catalog of registered charities, allows users to search for those in their area or addressing particular issues. Categories range arts, education, technology, animals, the environment, health, community, religious, and much more. Give supports tax deductible donations via MasterCard, Visa, or American Express directly through the app once your payment information is punched in. Users can dive into detailed information about each charity, and share them out through e-mail, Twitter, and Facebook when you really want to spread the word. A highly visible featured section will keep you up to date on new and timely causes to support.
If you've got just a little too much love to give, this app will certainly help you out.
IMPC pro
IMPC pro is a fantastic new app for those that are serious about making music. There are over 1400 samples to play around with, as well as the ability to record your own samples locally. You can feed in up to 64 tracks, each with their owngain fader, 3-band equalizer, mute, solo, panning and effects applied. You can easily export your final creations, or upload them directly to SoundCloud, Facebook, Twitter, or Tumblr.
IMPC pro is a heavy-duty music that is bound to suit the needs of any musician that wants to start cranking out content on their iPad.
Savr
Savr is neat new grocery list app that dynamically pulls in coupons from over 65,000 American stores. These include Target, Kroger, Albertsons, Trader Joe's, Whole Foods, Walgreens, Winn Dixie, Fresh and Easy, Piggly Wiggly, Fred Meyer, Food 4 Less, Publix, Pavilions, Giant, and Aldi. Deals can pop up for specific things you need to buy, or broad categories, or brands that you prefer. You can pick favorite nearby stores if you like, but Savr will always be on the look-out for other deals in your neighborhood.
Penny pinchers will want to give Savr a shot.
Your favorite iPhone and iPad apps from this week?
A lot happens in the iOS App Store in a week, so feel free to leave a comment with your favorite recent release on iPhone and iPad! We're always looking for more, so don't be shy to drop us a line when you find something exciting!
Master your iPhone in minutes
iMore offers spot-on advice and guidance from our team of experts, with decades of Apple device experience to lean on. Learn more with iMore!
Editor-at-very-large at Mobile Nations, gamer, giant.