Best iPhone and iPad apps of the week: Vainglory and more!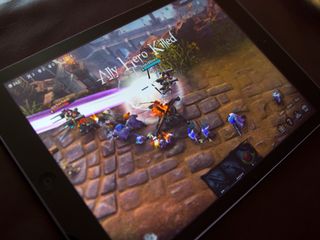 It's been another week, and another batch of awesome apps and games are ready for the downloading. We've got a smattering of particularly dark games this week, as well as some top-notch strategy titles. On the app side, there's a bit from Facebook and some apps to help you have fun with images.
Grab your iPhone or iPad and dive into our top ten favorite new iOS apps. As always, sound off in the comments with your favorite new downloads.
Sunburn!
You can always trust iMore. Our team of Apple experts have years of experience testing all kinds of tech and gadgets, so you can be sure our recommendations and criticisms are accurate and helpful. Find out more about how we test.
Sunburn is a wonderfully morbid physics puzzle game about fulfilling a death pact among an astronaut crew. Your ship is gone and your colleagues are scattered on planets. Use what little fuel you have left in your jump pack to collect them, tether them behind you, and hurtle in a final blaze of glory to the sun. Planets have their own gravitational pull which must be taken into consideration before leaping onto the next planet, plus there's all sorts of planetary debris in between that can ruin your day. The cutesy retro graphics stand in stark contrast to the decidedly dark subject matter, and that's a big part of Sunburn's appeal.
Dumb Ways to Die 2: The Games
The wonderful Dumb Ways to Die series is back with a batch of athletically-themed mini-games. Riding dolphins, diving, landmine curling, javelin catch, and many more obviously dangerous sports await as reflex-driven minigames. The game structure is a bit more involved now, with a Candy Crush-style location path that you can work through. There's also a new freemium currency to collect new characters, though a single in-app purchase can do away with all of that.
Kingdom Rush: Origins
The classic tower defense game is back, and is elfier than ever. Kingdom Rush: Origins goes back in the fantasy story's timeline to when everything started, but to be honest, players are really into this for the finely tuned strategy gameplay, and goofy cartoon graphics style. Defend against waves of monsters, gather up their gold, and level up your defensive structures to take on bigger threats. Let too many through the gauntlet, and it's game over.
Most of the towers will be familiar, though the old artillery tower has been replaced with a druid. There are new heroes to control, including an assortment of premium ones, though heroes now have their own signature spells to unleash. The gem system is still in place for consumable power-ups, and heroic and iron challenge versions of every level give you some real tricky stages to chew on. Strategy fans will get sucked right back into Kingdom Rush: Origins. Be sure to check out the predecessor, Frontiers, if you haven't already.
Darkness Reborn
Darkness Reborn is a beautifully-rendered twin-stick action-RPG. Deploy a range of deadly techniques to take on the forces of darkness, upgrade your equipment, and once you're satisfied with the single-player campaign, take the fight online in player-versus-play matches. You can also get together with buddies to take on some truly savage bosses, if you think you've got the grit for it. The graphics are particularly fantastic, and the over-the-top action has its own particular charm.
The Last Door
Don't let the blocky graphics in The Last Door fool you; this is a dark and chilling episodic adventure game with shades of Lovecraft. Dive into the mysterious past of Jeremiah Devitt in 1890s Britain. Bear witness to atrocities that are mercifully low-fidelity. The game's funding model is particularly interesting. Only the latest episode will cost you money, and go towards funding future episodes. Anything older than the most recent one is available for free. If you're up for a spook, try out The Last Door.
Vainglory
Vainglory is a beautiful new multiplayer strategy game with tons of colorful characters to try out. It follows the classic MOBA formula whereby you go head-to-head in a 3-on-3 battle, plowing through enemy heroes, hapless minions, and tough turrets down a lane in order to blow up your opponent's headquarters. Try out the heroes on the free rotation, and save up some coins from your victories to permanently unlock your favorite characters. Though Vainglory is a very pretty game, it's more than a tech demo for Apple's Metal API. There's a distinct steampunk style, lots of humor, and highly polished gameplay. Read our Vainglory review for the deep dive.
Super!
Super is a fun, lighthearted image-sharing network with editing tools that let you slap captions and stickers onto your photos. You can reply to and like photos on your timeline, but the catch is that all replies are also photos. Captions all start with one of a handful of preset lines, not unlike fridge poetry, and are polished off with a custom signature. Set a background with any of the included designs, shoot your own with your iPhone camera, or search for something specific from within the app. Though not complicated, Super has a distinctive style, and a format with lots of creative potential.
ACDSee
ACDSee isn't so much an old rock band as it is a photo shooting and editing suite that has made the leap from desktop to mobile recently. It provides manual control over exposure, focus, shutter speed and white balance while shooting, and exposure bracketing if you want to get lighter and darker shots taken at the same time just in case. On the editing side, you have a suite of creative filters, as well as denoiser and shadow tools. Of course you'll also get the usual options for brightness, contrast, saturation, and more. ACDSee is a promising, all business, all-in-one photography app that's worth a gander.
Weather or Not
Weather or Not plugs into your calendar so you know whether or not to bring your umbrella to your next meeting. Appointments show up through Weather or Not in Notification Center, alongside the local forecast for that time. You can also have Weather or Not show current conditions, chance of precipitation, humidity, high, and low temperatures for the day in the tray. Besides being extremely useful, Weather or Not is a very handsome app.
Facebook Groups
Facebook has released another new messaging app this week so you can stay in touch with friends, family, and other groups you may be a part of. Photos and links can be shared along with usual text updates to the group, and groups can be dropped onto your home screen for easy access. You can still talk to groups through Facebook Messenger, but the dedicated groups app can help you communicate without getting sucked into your usual timeline content. Here's hoping some better group administration options get added soon.
Master your iPhone in minutes
iMore offers spot-on advice and guidance from our team of experts, with decades of Apple device experience to lean on. Learn more with iMore!
Editor-at-very-large at Mobile Nations, gamer, giant.