Best iPhone and iPad apps of the week: XCOM Enemy Within and more!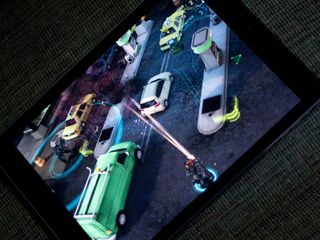 It's another Saturday, which means we're rounding up the very best games and best apps for iPhone and iPad that have been released in the last week. There are some really great apps for kids this go-around, as well as games for the adults, whether they're hardcore or casual players.
We're always eager to hear what you guys have installed, so be sure to hit up the comments with your favorite new apps. With that, let's dig into our top ten new iOS apps that were released in the last seven days.
Zengrams
Why you can trust iMore Our expert reviewers spend hours testing and comparing products and services so you can choose the best for you. Find out more about how we test.
Zengrams is a fun, simple puzzle game about overlapping colors and shapes. Take the pieces provided and get them all to fit in the target areas provided. There are 70 levels all told, with no hints or in-app purchases to lean on. Dig in and work through the early stages with relative easy, but the later stages are fiendishly difficult.
Sumico
Sumico is a number puzzle game that involves carefully lining up simple math equations to hit target numbers. Draw a path through your numbers and string together combos with gold tiles for the big points. Sumico is a really refreshing twist on the classic match-3 mechanic, and offers a really unique type of challenge.
Candy Crush Soda Saga
Candy Crush Soda Saga is the continuation of the obnoxiously popular puzzle game that everybody loves to hate. Match up like-colored candies to have them explode in colorful ways, nag your friends for extra lives on Facebook, and see how far down the treacherous path of stages you can make it before hitting a brick wall and succumbing to the pressure of in-app purchases. New in this version is a Soda level which fills in the background as you eliminate new tile types.
Golfinity
Golfinity is a light and minimalist putting game that will test your finesse. Work your way through an obscene number of gradually more difficult courses with all sorts of mindbending obstacles. For the time being there are no ads or in-app purchases. If you're into this kind of style, be sure to try out Wonderputt (opens in new tab) too.
XCOM: Enemy Within
XCOM: Enemy Within expands on the classic strategy game with cool stuff like cybernetics and genetic enhancements. Engage in tense turn-based battles with aliens, upgrade your headquarters, and cross your fingers that your experienced troops make it through the next mission alive. This series has stood the test of time, and definitely merits the premium pricetag.
Homes
Homes is a fun app for kids to learn about how people live around the world. Every kind of dwelling is described with clear labels, and allows users to go inside, decorate, and explore. Homes modeled after those you'd see in the United States, Mongolia, Yemen, and Guatemala are all featured in colorful and engaging ways.
Dash API
Dash is a quick and helpful reference tool for programmers to dig up just about any kind of API documentation you could possibly need. JavaScript, Swift, jQuery, C++, Ruby, HTML, CSS, and plenty more are accessible through a simple and searchable database.
Toca Nature
Toca Nature is a simulator that lets kids grow trees, raise hills, and check out wildlife with their tiny little fingers. Collect food for animals and feed it to them if you like, or build a lake for beavers to swim through. Toca Nature does the rest of the fine Toca series justice, and is a pleasant playground for any child to enjoy.
Wildcard Browser
Wildcard is an imaginative new take on the web browser. It offers simple, pared-down web content, a card interface format perfect for the iPhone, and a smart search engine that delivers results fast. The latest trends and major content categories are front and center so you can find out about stuff you didn't even know you wanted to search for.
Groupon Getaways
Groupon Getaways brings the famed discount service to the travel industry. Find hotels and flights with massive discounts for limited time, and book them right from the app. Search for target destinations, or find a deal nearby. You can search by theme too, if you've got a rough idea of what you want to do for your next trip.
Get the best of iMore in your inbox, every day!
Editor-at-very-large at Mobile Nations, gamer, giant.