Best iPhone app equivalents to Microsoft Office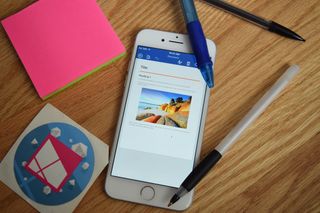 If your work is document-heavy or you're a student who constantly needs to be able to view and edit your work, then you'll need a top-notch word processor and maybe even a spreadsheet maker and a place to store it all.
If you're used to the Microsoft Office suite of apps, then check these out for your iPhone.
iWork: Pages, Keynote, Numbers
Why you can trust iMore Our expert reviewers spend hours testing and comparing products and services so you can choose the best for you. Find out more about how we test.
The iWork suite of apps comes free and baked-in as of iOS 10 and features Pages, Numbers, and Keynote. There's your word processor, your spreadsheet maker, and presentation app, respectively.
You can view and edit documents in each app, thanks to iCloud, and, as of iOS 10, you can actually collaborate with other users on live documents, so you can all edit and read in real time.
If you're used to Office, this may take some getting used to, but all the basic tools are there and you'll be able to view all of your documents on all of your devices.
Microsoft Office apps: Word, Excel, PowerPoint
If you love Microsoft Office, then just get the real thing on your iPhone. Word, Excel, PowerPoint, and the rest of the Office suite is available for iPhone. All the tools are baked in and everything is formatted perfectly for your mobile screen.
You can pretty much do everything on your iPhone that you can do on a computer, including complex formulas, writing full papers, creating slideshows, and more, with images, music, and the works.
If you're used to Microsoft Office and love the apps that come along with it, then there's no reason not to have them on your iPhone as well. Keep in mind that you need a Microsoft ID to sync things across devices. You can also upgrade to Office 365 right in the apps, for a subscription fee.
Word (free, subscriptions) - Download now

(opens in new tab)

Excel (free, subscriptions) - Download now

(opens in new tab)

PowerPoint (free, subscriptions) - Download now

(opens in new tab)
OneDrive
OneDrive is Microsoft's cloud storage service. If you don't necessarily need to view and edit documents or you want a place to store everything at once, OneDrive is a great spot to do it. You get 5GB of storage for free, and after that you have to pay $2 per month and up for 50GB to 5TB.
In OneDrive, you can view documents and have limited editing powers. You can also store photos, videos, and other files, and you can share it all. If you like to keep things in the Microsoft family, then definitely check out OneDrive.
OfficeSuite
Not to be confused with the Microsoft Office suite, OfficeSuite is billed as the "complete mobile office". It's fully compatible with all Microsoft file formats and even supports .RTF, .TXT, .LOG, .CSV and more.
You can create and edit your own documents, spreadsheets, presentations, and PDFs, and by upgrading to premium, you can get a ton of new fonts, password-protect your files, export to other file formats, edit PDFs, and more.
If you're looking for a total alternative to Microsoft Office or just an app that can work in tandem with it, then check it out.
Polaris Office
Polaris Office is for viewing and editing documents, PDFs, presentations, and spreadsheets, and is fully compatible with all Microsoft file formats. You can sync things across all of your devices, and Polaris even adds some creative flourishes, like the ability to handwrite and draw. You can also insert photos and videos straight from your iPhone.
In-app purchases are available for removing ads and premium features. If you're making your way through Office alternatives, Polaris is a great one to try.
Documents 6
Documents is an app for just that. You can read, view, listen to, and annotate all types of documents, including PDFs. Documents is all about convenience, so you can search through files, even PDFs. Developer Readdle Inc. bills it as the "Finder for iOS you've always wanted".
You can connect all of your cloud services to Documents, including iCloud, and you can set up two-way sync in specific folders so that files automatically upload. The nice part about Documents is that it's completely free — no in-app purchases to upgrade to premium or any of that stuff.
Google Docs, Sheets, Slides, Drive
If you're at all into Google's ecosystem and happen to love your Google Drive storage, then using Google Docs, Sheets, and Slides (if you have to) is a no-brainer. Though Docs isn't as robust as Microsoft Word, it's still a great word processor that lets you add photos, tables, and much more. Sheets is likewise not as robust as Excel, but you can still create spreadsheets based on complex formulas, and the best part is that it's super easy to sync things across all of your devices, since it's instant. You can log into a web browser or use the corresponding app wherever you go.
Slides does fall short of PowerPoint or Keynote, but it'll work in a pinch if you need to whip up a presentation.
These apps are free and you get 15GB of free storage in your Google Drive, where you can store just about anything you want.
If you're looking for an Office alternative along with one of (if not *the) best iCloud alternatives around, then Google's apps are a great solution.
Your favorites?
Do you have a favorite Office-style app for iPhone? Sound off in the comments below and let us know why it works for you.
Get the best of iMore in in your inbox, every day!
Mick is a staff writer who's as frugal as they come, so he always does extensive research (much to the exhaustion of his wife) before making a purchase. If it's not worth the price, Mick ain't buying.
Was a big Office/G Suite user but finally made the switch over to the iWork Suite. It's the only fully free option that offers a full, intuitive experience across the various platforms. There is a definite learning period with Numbers if you are coming over from Excel, but once you have it down I find it to be a lot easier. The templates in Pages and Numbers allow you to make a professional looking document in minutes!

Which you use on Mobile is a direct result of which you use on the desktop - unless you ONLY use Mobile devices. No one needs a tutorial or explanation to figure this out. Polaris and OfficeSuite are non-factor. Both of those are Freemium with subscriptions that cost too much to not make Office 365 a no-brainer when you factor in the superior desktop applications and value-adds in the subscription (like the OneDrive storage). Never mind the fact that iWork and Google Drive is free to use with full feature set (and iWork has legit Desktop Apps on macOS). If you only use the Word Processor in a fairly basic manner, then all of these work. Just choose which one that aligns with the Account you use most often. Unless you're creating Legal Documents, trying to write whole books in a Word Processor, or working with other unorthodox workflows (like blogging directly from Word, etc.), it won't matter which you use. So use the cheapest, most free option you can get your hands on. Your resume or letter won't depend on your Word Processor's ability to built complex Tables of Contents, Bibliographies, Indexes, do Citations, or edit Equations. You probably don't need any of that, anyways, especially if you spend a large amount of your time editing on a smartphone or Mobile OS tablet (Android, iOS). Same for spreadsheets. If all you want to do is a budget, then use your Numbers template and go to work... Fill in the blanks. If you want to do Periodization spreadsheets for sports training, then Numbers - particularly on Mobile - isn't going to deliver. Microsoft Excel or Corel Quattro Pro (and perhaps LibreOffice Calc) would be far more fitting, in that situation, with their desktop applications... No mobile Spreadsheets are going to work for this, because none of them (not even Excel Mobile) have the feature set to get it done. Same for the Word Processor stuff I named earlier (except *maybe* equation editing). The Mobile versions are a decent cut below the desktop versions. Unless your needs are very light, the mobile versions aren't going to work. They are supplements to "proper desktop software," not replacements or legitimate stand-ins for them. This is the problem with the iPad, at least for me. Apple can make this thing feel like a macOS machine, but it is still hampered by the end-user software on it. iWork still doesn't allow me to do on an iPad what I can do with Word, Excel, or PowerPoint on a Windows Laptop or Tablet.
Thank you for signing up to iMore. You will receive a verification email shortly.
There was a problem. Please refresh the page and try again.