Best iPhone apps to follow the English Premier League: BBC Sport, ESPN FC, BT Sport and more!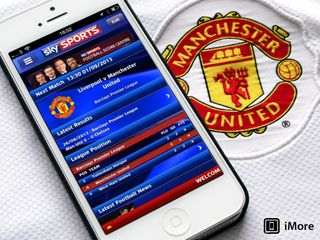 August in the UK means one thing for football fans; the return of the Premier League season. Not just in the UK either, the appeal of the Premier League stretches far and wide, with a healthy following in the U.S, Asia and even as far afield as Australia. While live, televised games are few and far between on UK TV, with an iPhone in our pockets we can follow all the action as it happens, wherever we are. Here's a selection of the best, though bear in mind region restrictions may apply.
Sky Sports Football Score Centre
Why you can trust iMore Our expert reviewers spend hours testing and comparing products and services so you can choose the best for you. Find out more about how we test.
Sky TV has long held something of a monopoly on televised Premier League games, but they do at least put their access to good use including some good mobile apps. Sky Sports Football Score Centre strips out all those other sports and just focuses on what you want; Football. It covers all domestic leagues down to the Conference as well as a smattering of other European divisions too. It allows you to set up push notifications for your favorite teams, and even has a pub finder to locate a local beer dispensing establishment that is showing live football on Sky Sports. One for all the football fans.
ESPN FC
ESPN FC is another good all-rounder, with a simple layout, and everything you want to follow the Premier League and a whole host of other leagues besides. It isn't the best designed ESPN app at all, but it has everything where it counts. Videos, podcasts, push notifications are all here. But no pub finder in this one.
BBC Sport
The BBC Sport app for iPhone is one of my absolute must haves, not just for football though it is a fantastic choice for that. All the BBC online content is available through the app, including live text commentary, video highlights and interviews, "as it stands" tables as matches are being played, news and a lot more besides.
The BBC may not cover the Premier League live on TV, but they do an incredible job of covering it online and through their mobile app. As it's the BBC, region restrictions come into play, but if you can get it, do.
NBC Sports Live Extra
Confession time; I haven't used this app, nor will I ever. Not because I don't want to, but because NBC is the rights holder to coverage of the Premier League in the United States. So, if you're an American fan of our wonderful Premier League football, the NBC Sports Live Extra app is one to have. Video on demand, live events, push notifications, all are there to help you get the best out of your football experience. Definitely one for the American fans.
BT Sport
BT Sport is the newest player in the Premier League football space, having just launched in time for the new season. The pay-TV channel has snapped up the rights to show a live game from England's top division every week, and a companion iPhone app has come with it. For subscribers, the app allows you to watch live and on demand content broadcast by the channel – including European football and other sports – though you do need to be a subscriber. For Premier League matches the BT Sport app can also act as a second screen experience to go with the game you're watching on your TV.
One thing to note; I get BT Sport through Virgin Media, and as yet I've not worked out if or how I can use this app, since you need a BT ID. If there is a way, hit me up in the comments and let me know. But if you're a subscriber, there's no reason not to get this app to expand your experience.
Your picks
So, those are some of our picks, but what about yours. If you've got a great app to help you get your Premier League fix, particularly outside of the UK, drop a line in the comments and let us know what you're using!
Get the best of iMore in in your inbox, every day!
"While live, televised games are few and far between,....." .........?! Sky have 116 live PL games this season, & with BT, it's nigh-on 200 ..... & that's just in the UK. If you live in other parts of Europe, the US, Middle/Far East & Australia there's a good chance (dependant upon your TV/sports package) that you'll get the choice of pretty much any game being played - When I lived in Australia I could pick any game to watch on a Saturday & even use multi-screen to watch them all at the same time - just from a basic sports TV package.

Still only get to watch two on a Saturday, maybe. One on a Sunday. Out of how many games? If your team plays at 3pm on a Saturday (which is most of them, most of the time) you're out of luck if you live in the UK.

To keep track of scores/updates/tables etc. I've always been a fan of the Barclays Football app, works well for my needs (even though it has a low rating in the appstore), I recently also tried out EPL Live 2013/2014 - seemed decent but the Barclays app did what I wanted so I am sticking with that for now.

ESPN FC(:
is the best app to follow every league
In the world :D Sent from the iMore App

I prefer LiveScore, it's simple, fast and bang up to date as soon as a goal is scored.

I follow BPL and other major football/soccer tournaments and I tried many applications including the sky, BBC and espn fc on my iPad and iPhone and I have come to the conclusion that here in the USA, THE FOOTBALL APP is the only app that do the job..

I do enjoy The Football App on iPad.

For news I use direc links from twitter accounts (NBCSpos, ESPNFC, RotoWorld, etc). I use the NBCLive Extra app a lot on the iPad and iPhone. I've even watched 3 different games at once (TV, iPad, iPhone). IT.WAS.AWESOOOOOME!
Now if I can just gett my fantasy teams into shape. I think this will be a Wildcard week in the official game to reshuffle my line-up.

Another vote for The Football App, especially in the US.

"Soccer Scores Pro - FotMob" is my app to track scores in Soccer world

Thanks for the nice overview of the sports apps. I have been using most of them, but since December last year I am using only FlashScore Livescore app. Its the best one so far in terms of sports results and sports coverage in general (offers 26 sports...).
Thank you for signing up to iMore. You will receive a verification email shortly.
There was a problem. Please refresh the page and try again.