Best iPhone apps for realtors: Scanner Pro, 1Password, Listings+, and more!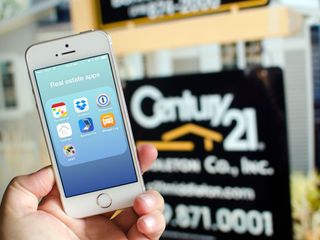 Looking for the best iPhone apps to help you sell more homes? If you're a realtor or a broker, your iPhone in an invaluable tool that can not only help keep you organized, but help you do your job better. Everything from apps that help you track activity on your listed properties to ones that make client management and communication easier than ever are available in the App Store. Sometimes the sheer amount of choices can be overwhelming. So which iPhone apps are the absolute best ones that no realtor should live without?
Dropbox
Why you can trust iMore Our expert reviewers spend hours testing and comparing products and services so you can choose the best for you. Find out more about how we test.
Dropbox is a useful tool for pretty much every profession and real estate is absolutely no exception. Ever had an email fail because a contract or listing agreement couldn't send due to the file being too large? Dropbox completely solves this problem by allowing you to simply share a link to your client's folder or individual files. They click it and download what they need, simple as that. It's also a great way to keep all your files in the cloud where you can access them from any device, anywhere.
If you need a file management system that's accessible anywhere along with a way to send large files to clients, Dropbox is a necessity.
Scanner Pro
Scanner Pro is one of the best document scanning apps available in the App Store. It works amazingly well with all Readdle's other file management products as well, including PDF Expert and Documents 5. Simply snap a photo of a signed document with your iPhone and send it away. Scanner Pro really does make it that simple, and with the amount of paperwork realtors have to deal with, it'll be one of the best app purchases you'll ever make.
If you frequently need to scan and send signed documents, ditch the office printer and get on board with Scanner Pro. You'll be glad you did.
eKEY
If you use Supra lockboxes and own an iPhone, get an eKEY. Once you buy the attachment you'll never have to worry about updating codes before you leave the office. With the eKEY app your iPhone can do it for you on the fly. Supra offers many different kinds of attachments to choose from including ones that plug into your iPhone or one that stays on your key ring and pairs with the eKEY app via Bluetooth. Regardless which one you pick, the eKEY app will make your life a lot easier.
Lockboxes are a pain, make your life a lot easier with the Super eKEY and companion eKEY app.
For more information on Supra and the attachments available, you can visit the Supra eKey website.
Fantastical 2
While the default Calendar app for iPhone and iPad does what it needs to, entering appointments and showings can still be a daunting task. The thing about Fantastical 2 is that is supports natural language input. Realtors spend a lot of time on the phone and need to enter appointments, showings, and closings into their calendars quickly. Fantastical can do just that. Instead of having to fill out all the nitty gritty details line by line, just tell Fantastical by voice or by typing what you want. For example, just say "Showing with Bob at noon tomorrow." and Fantastical will do the rest for you. If you have separate calendars set up, you can even take it one step further and tell Fantastical something like "Showing with Bob at noon tomorrow. Calendar Century 21." and Fantastical will do all the heavy lifting for you.
If you depend on a calendar to manage your appointments, showings, and listings, ditch the built-in Calendar app and grab Fantastical. You won't regret it.
See also:
1Password
Any realtor knows that are are tons of passwords that come with the job. MLS logins, Zip Form passwords, and many more. Forgetting a password is a headache and can set you back, or worse, cause an inconvenience for your clients when you can't access information they need to know. 1Password can remember all your passwords and logins as well as generate new, strong ones for you. Every type of account you can think of is supported with the ability to create any custom ones you'd like. 1Password has support for not only iOS but Mac and PC as well.
If you have a lot of passwords to keep track of, 1Password is a must-have.
See also:
Mileage Log+
Mileage Log+ is one of the best mileage tracking apps for anyone, and that includes realtors. Whether you're driving to a showing or a listing appointment, it's all tax deductible so keeping track of miles is essential. Enter where you're leaving from and where you're going and Mileage Log+ can automatically calculate distances. When it comes time for taxes, just export all your mileage and hand it over to your accountant.
Tracking mileage is essential for any busy realtor, and for that there's none other than Mileage Log+.
Listings+
Listings+ was created by the spouse of a realtor who was looking for a better way to track activity on a property, and the results were amazing. With Listings+ you can add all the properties in that you currently have listed and then add activities to them such as inquiries, showings, and more. While you can always look at the MLS for information about your listings, you can also stick it all into Listings+ for easy reference in just a few taps including MLS number, tax assessments, and much more. You can track up to 3 properties at a time for free. If you need more, Listings+ offers very reasonable monthly subscriptions to accommodate whatever listing volume you may have.
To keep a better handle on activity around your listed properties, you've got to give Listings+ a try.
Your favorite apps for realtors and brokers?
Are you a realtor or a broker? What apps do you depend on each and every day to keep your buyers and sellers happy? Be sure to let me know in the comments!
Special thanks to @HeatherMelnyk of Century 21 Middleton for helping with this roundup!
Note: Originally published, May 2013. Updated, June 2014.
Get the best of iMore in in your inbox, every day!
iMore senior editor from 2011 to 2015.
Great article! I can't go a day without Dropbox. Just a note about the eKey adapter for IOS devices: It has a 30 pin connector, so anyone with an iPhone 5 will need to get an adapter for the Lightning port. I also use iAnnotate PDF a lot on my iPad. It's great for marking up contracts on the go. It can pull docs out of Dropbox and other cloud services.

They actually have a wireless Key FOB available for the 5 and other devices now. No need to plug in. There is a link to it in the article ;) Sent from the iMore App

Allyson - excellent article. Are you a Realtor? I'd add:
Evernote - my real estate biz is paperless and mobile
There are several scanning apps - pick one that has integrated with Dropbox and Evernote. DocScan Pro is my current favorite.
Realtor.com - in case your MLS doesn't yet have a mobile MLS app. You need to see what your clients are looking at.
Passwords - don't overlook Roboform. It has full integration with PCs and Mcs and stays in sync

I am not. My girlfriend is. She helped w/ the article. Sent from the iMore App

Allyson You should consider becoming a realtor. Come to Texas! Be glad to help you get started.

Great article Allyson. Check Boca Video, a free app that was designed with real estate professionals in mind. It allows you to instantly turn your photos into a professional looking video, on the fly. No more wasting time downloading, organizing, editing, at the end of the day. http://www.getboca.com/

Thanks for the article Allyson. Love the layout and great photos! I have recently developed an application to help my real estate agent wife track inquiries, showings and her listed properties. The app is called Listings+. It is available on the iPhone right now and we are working on an Android version. My wife swears by it and our other clients love it too! Check it out at http://www.listingsplusapp.com

Awesome app, added it in :)

BTY, Realtor is a registered trademark and should always be capitalized.

Nice article Allyson! Supra eKEY works to access properties when out of cell service, too.

A very useful list. As an agent, one useful App I would suggest is Property Listing App for Facebook.
This App creates a listing for your home within a facebook page. It's really easy to use. https://apps.facebook.com/sellmyhousefast/

These are all really helpful. Another app I'm aware of is "Business Messenger." I increased my sales close rate by 22% using this app. It's a texting app but the number appears as your office line. Free to download. It lets us stay synched across tablet, smartphone and computer. Check out Bzm.gr or bit.ly/1qVQWYq.
Thank you for signing up to iMore. You will receive a verification email shortly.
There was a problem. Please refresh the page and try again.