Best journaling apps for iPhone and iPad: Day One, Momento, Askt, and more!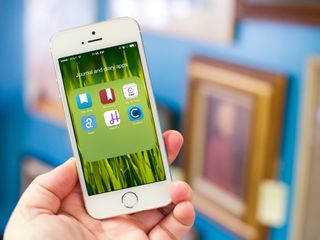 Looking for the best iPhone apps or best iPad apps to journal with? There's something beautiful, almost magically analog about a crumpled old note pad, a key-locked journal, a well worn moleskin, and the ink and graphite that fill their pages. For centuries that's how we recorded our most intimate dreams, our most personal desires, our greatest works, and our most important memories. It's how we've gotten things out of our heads and onto paper so I brains could relax, let go, and move on. But paper doesn't sync. It doesn't back up. It can't be shared over digital networks. It copies and pastes in only the most mechanical definition of the term. And while an iPad or iPhone won't ever replace a real-world diary for those of us who kept them since childhood, they are and will increasingly become the journals of choice for the future. But which journaling apps are the very best?
Day One
Why you can trust iMore Our expert reviewers spend hours testing and comparing products and services so you can choose the best for you. Find out more about how we test.
Aside from the great interface, Day One supports tags, markdown, photo upload, and more. The main view of Day One also makes it incredibly easily see a quick count of total timeline items, tags, photos, and more. Day One supports iCloud sync, the ability to passcode protect your entries, and export them to PDF. You can also embed media and write in Markdown, if you prefer. A universal app, it supports both iPhone and iPad. There is also a Mac app available, completing the Day One ecosystem
If you're looking for an ecosystem that lets you write no matter what device you're on, get Day One.
See also:
Momento
Momento is an iPhone-only journaling app that intertwines your own personal thoughts with what's going on on your social networks, including Facebook, Twitter, Foursquare, and Instagram. Momento brings all your posts, both within the app and from your social networks, and combines them together in hopes of providing you with a more complete snapshot of your day. Both what you write and any social posts that mention you get imported, and you can export everything via iTunes file as well.
If you are active on social networks, Momento is a great way to not only track your own thoughts, but your social activity too.
My Wonderful Days
My Wonderful Days lets you chronicle each and every day by writing down your thoughts, attaching photos, and describing your mood. You can also select up to two stickers for each day that describe your mood and how you felt. There's also a calendar view that's very nicely done. Tap on any day to view your entries or check out the summary view below it for important information.
If your aim isn't to write long entires, but short and sweet ones that help you keep track of your days, My Wonderful Days is perfect.
Askt
Askt is a new kind of journal app that focuses on helping you get to know yourself rather than letting you write about random thoughts. Each day you'll be presented with a different question to answer about yourself. Askt can then track your answers and let you compare them year after year to see how you've grown emotionally. You can even go back and answer missed questions if you forget to write some days. Askt also has a passcode feature so you know that no one else can read your responses without your knowledge.
If you need a little help writing about yourself, Askt is a creative and inspiring way to get it.
Heyday
Heyday is a photo journaling app that can import all the photos you take on your iPhone and create a media rich journal out of them. You can then go back and add thoughts and descriptions to photos and memories. You can even tag your Facebook friends in Heyday posts they're a part of. If you find a photo or memory you'd like to add more photos to, just select them and group them all together.
For a visual journal that requires very little effort on your part, you want Heyday.
Collect
Collect is another photo journal app like Heyday but doesn't focus on journaling everything, just the important moments. Manually choose to import photos from Dropbox, Flickr, or your Camera Roll. From there you can add tags, descriptions, albums, and notes about photos. Better yet, Collect optionally lets you create collages that are print ready along with video slideshows (requires in-app purchases). You can make Collect as simple or as robust as you want by adding only one photo per day or multiples each day.
If you want a photo journal but want more control than apps like Heyday offer, be sure to check out Collect.
Your picks for best journal apps for iPhone and iPad?
These are our favorites when it comes to capturing thoughts and recording memories right on your iPhone and iPad but as always, we'd love to hear your thoughts both on the above apps and any other apps you've come across that you find to be great for journaling!
Get the best of iMore in in your inbox, every day!
iMore senior editor from 2011 to 2015.
I have been a Day One user for about a year now and love that it syncs with DropBox. I find myself writing about how my day went everynight at 9pm when the reminder alert goes off. Sometimes it's a brief entry, while other times it's a long one depending how eventful my day has been. I occasionally go back and read older entries just to see what state of mind I was in 5 months ago versus where I'm at menatlly today. Overall it's a pretty kool app that has found a permanent place on my iphone....

I agree, I fell in love with Day One when it first came out. Got the versions for Mac, iPad

Ally, you forgot to add that Day One also has an app for the Mac (sold in the Mac App Store) that synchronizes with the mobile versions. This is to me its greatest value - being able to make entries on my computer and my iOS devices and keep them in sync!

Day One supports zero encryption and stores your data in an easily accessible and even easier to read XML text file. When I asked them last year when encryption would be supported, they replied with January. Of this year. So if you are looking to use one of these as an actual diary to store private thoughts, Day One doesn't do that.

I've been reading this a lot and has stopped me from trying it out. So even if you sync it with Dropbox there's still a file somewhere outside of Dropbox that people can easily access?

I think this is a spurious complaint of someone who is basically paranoid. Just because it doesn't support encryption, doesn't mean it's insecure. All you need do is the same thing you would do with a physical paper journal (which also doesn't support encryption). Just don't let anyone pick up your phone or your iPad and rifle through it. Sure it would be nice to support encryption, but to say that the product is something you shouldn't store private thoughts on as a result is a huge over-reaction.

I totally agree. My only concern, and this is a very tiny one, is when a company promotes their app as a password secured app, then they have this blinding error in the code. It's a big red flag for me and I wonder why they would even promote it as secure in the first place. Most journal apps I've tried out don't offer password protection at all.

I use iCloud sync. Set up my daughter's iPod, wife's iphone, my iPad, etc on the same account so Find My iPhone can locate them. So I put Day One on the iPad, fire it up, and my journal loads automatically. No password, because the app itself is what is protected, not the journal. So if my wife or daughter install Day One, guess whose journal they have access to?
I just turned off synchronization and hope I don't damage or lose my phone.

From what I'm gathering, iCloud and Dropbox are only backups, those aren't where the original files are being stored. But I understand what you mean, having it pop up on other hardware that others have access in no bueno. Maybe don't give them access to Day One and give them each a different journal app? I'm using Narrato and it doesn't have sync yet so that might be a good one for your daughter is she tweets a lot. It has the option of pulling in tweets and pics taken into the days journal and there is no Mac app for it yet. It also can't be PW protected if you need to do a little parental snooping.

It's sync, not backup. :-) It automatically opened on the iPad when Day One was installed and iCloud was enabled.

Sorry, I meant to say, it's ALSO a backup/sync. But the main file isn't stored there. You have to turn sync on and it creates a second file in iCloud or Dropbox that will sync to the cloud.

Right. That's why I have iCloud OFF. The "second copy" can be viewed on other devices sharing the same iCloud login.

I'm not paranoid. I just want my private writings to remain that. Private. You've obviously never had your phone, tablet, or computer stolen. Or let others use your computer. I'm less worried about someone rifling around my computer looking for this than someone using my computer to access the internet and accidentally launching it. The bottom line is if you don't care about your private thoughts, pictures, and such being encrypted fine. Many people do. I'm just pointing out that this program stores it's info in a text document. Another way of stating this is "Would you want to write your diary/journal in Word?" Let the buyer decide.

I know this wasn't directed at me but thought I'd chime in. Yes, I would use a Word doc as a journal, I did for over a decade. Only reason I'm looking into making a change is to make it easier to journal from where ever I am. Word docs offer amazing security, you can give a file two different passwords; one for read permissions, and one for write permissions. A Word doc is a great idea if you're worried about security. You can upload it to Dropbox and it will demand the passwords on whatever device you try to read it from. Only issue is, you can't add to it from an iOS device yet :(

Then use basic system security - give each user their own login and don"t give other users access to your files. On iOS , use a pin to control access to the app.

If you do a Google search for the phrase "my friend read my journal", there are about 30,000 hits, and the stories aren't happy ones. Journal companies specifically use words like "private" and "secure" because there is an actual need. Many people who are arguably not particularly paranoid want to write freely in their journals without presenting friends and family with too much temptation. I've been using the iPhone version of Day One for a while, and I installed it on my Mac yesterday as well. After installation I did a quick search to find the app, and I got two hits -- one, the app itself, and two, a folder called Journal_dayone. Curious, I clicked on the folder, and it had only one subfolder, clearly labeled "entries". Inside that folder, in plain text, was everything I'd ever written in my iPhone Day One journal. Waaaay too easy to access. And it turns out, it wasn't only there because I installed the Mac app, it was there because I use iCloud backup with Day One, so those entries have been sitting there waiting to be clicked by a curious friend or family member since day one, so to speak. If I did have a paper journal, I wouldn't leave it on the coffee table. But I don't want to be that protective of my laptop. If there's a secure journaling app, there's nothing else on my Mac that I need to hide, and I can feel free to take it to work and use it with friends and family with no concern that my innermost thoughts would become public. I wouldn't take my paper journal to work, either. Having a password on Day One with the entries right there in plain text is like putting a lock on a safe that's completely open in the back. Just on principle I wouldn't write something in that journal that I don't want to share with all the people I let touch my computer.

I'm trying out Narrato. Pretty solid so far but I wonder where they are storing the data. Their lack of info about their servers is something that makes me keep searching for a better one. See Allyson, I can be nice. But now I'm going to go over to the other thread and trash talk a bit more :P

Day One can't be beat. Enter a journal entry on the iPhone, iPad, AND the Mac desktop. Can't beat it.

I use Gratitude365 for a simple journal entry that allows a photo memory also per day!

Another great journaling app is "Askt"... Just came out, super simple to use!

Day One is great I write in it daily as well as a selfie Sent from the iMore App

Nice post. I've had Day One for a couple years now and like it.
I was unaware of a few of the other options mentioned. Although I don't plan to use them, it's nice to know about their abilities. Sent from the iMore App

Day One since day one. Lol.

I use Day One almost every day. The Dropbox sync, iPad support, and contextual information it records plus the it's ease of use can't really be beat. Sent from the iMore App

I use and like day one. Have tried momento but the Day One's iPadac support can't be beaten (unless you only have an iPhone). I also agree that narrato is missing from this list. Sent from the iMore App

I've been using Day One for a while now and I love it! I add an entry almost every day, depending on how my day went Sent from the iMore App

I've used Day One since the first day of January 2013, and reallyi dig the integration for all of my iDevices, including my MBP. While I don't journal every day, using it has at least made me far more consistent than conventional journaling, where you have to have the physical version on you and can easily miss on-the-fly moments. Mobile devices are perfect for capturing any moment, since most of us tend to have our phones on us at (almost) all times. Day One is tremendous. I also use Momento too, solely for the social network capture and integration, sycing with Facebook, Twitter, my blog, and the Moves app. I wish that Day One allowed for such a feature, but nay.

Allyson, thanks for the detailed comparison. Job well done. And this subject is getting more and more relevant each day, with NEW apps appearing all over the place, every day! There's a tool I helped develop that rates over 100 journaling apps based on your preferences. You and your readers may want to try it out: www [dot] BestJournalApp [dot] com. Best regards, and thanks again for your thoughtful research.

(This review is for the Mac version of the app, not the iOS version) This app has some great features. BUT it has equally great problems. First and foremost is the idea that I would have to BUY this application in order to discover it's not what I thought it would be. A Free Trial is not only de facto behavior for a mac program of this type, it's simply respectful of your intended audience. Which is why it is de facto in the first place. But. On to its shortcomings: It lets you import ONE PHOTO per entry. And it imports it at a preset resolution, and embeds it not where YOU want it, but where the programmers have decided it belongs: at the top of the entry. That's it. Want to import a screen shot? That's a photo––One per entry, ma'am. How about a Scapple diagram or a screen shot or a pdf or a pie chart or ...? Just one, sir. Per entry. Kindly remove that header photo there, will you? So we can import your diagram? Want access to your font panel? Not on Day One's watch. Nine fonts, their choice. Bold or italics? Sure, but not with conventional keyboard options. Gotta use MARKDOWN. Drag in an email thread? Lose all your formatting. Reformat using MARKDOWN. (That's always a time saver, huh?) Bring in a PDF for clarity? HEY! that's a photo, sir. One per entry! Change font color, point size, typeface? No way, buddy. What do you think this is–– a Mac?
Day One may be lots of good things, but a creative format for journaling what's going on in your day? NOT. And Bloom Built's pompous policy of NO FREE TRIAL, justified by the disingenuous, "It's not our fault that we have to take your TEN BUCKS just to try the program...it's a policy of Apple's App Store" line is simply corporate greed writ small, by sixteen smarmy programmers smirking all the way to the bank. I'll stay with Circus Ponies Notebook. ​ BTW: You want a really great new twist on a mac writing program? Try Scapple.

Askt have just been updated to version 3.0. We added premium features of PDF export and photo-entry + a lot of new stuff for everyone:
- faster with local cache
- new, slimmer UI
- optional reminders
- account management (change password etc.) Take it for a spin and let us now what we can improve: https://itunes.apple.com/us/app/askt-free-journal-diary-daily/id78125235...

We are taking a bit of a different approach with our new app called 'ymportant', out since last week. We would love to get some feedback about what you like and what you don't, here or directly in the app.
ymportant provides a quick and easy way to remember all the things a user may not want to publish, but also not to forget. Not only magical moments, but also recurring occurrences like a visit to the gym. ymportant involves only little typing, saves the user from scrolling through their photo library by providing direct access to related pictures, and generates sharable visual summaries called 'ympy strips'. ymportant allows touch-based filtering and can automatically provide averages or sums where appropriate (for example for a price total).
https://itunes.apple.com/us/app/ymportant-life-journal-diary/id795626338...
Thank you for trying it out!

I was a happy DayOne user until 2 days ago, when all my entries for 18 months were deleted. I followed the instructions to restore, no dice. So I contacted support. Apparently there is a known issue with iCloud that means that if your data is lost, it's lost forever. Poof! 18 months down the toilet. It is not stored in the backups made by Apple when you sync your device because (according to DayOne) Apple doesn't back up third-party app data that is synced to iCloud. Okay, fine, I would have just switched away from iCloud syncing and moved on, mourning my loss, except for the attitude of the DayOne support staff. Their response to my loss was "oops, sorry, but it's not our fault, go complain to Apple, here's a link." Um, no. If you write a journaling application, and there's an issue with the backup/syncing your responsibility is to LET YOUR CUSTOMERS KNOW so they can make an informed choice BEFORE all their data is destroyed. Don't tell the already upset customer that it's not your fault and point them at some other company -- even if that is true - they are YOUR customers not that other company's. I do like the interface and style of DayOne, but if they are going to play fast and loose with my entries, then I'm going to play fast and loose with the delete button. There are other apps out there.

STAY AWAY from Day One app. You will lose your precious memories because the developers have chosen to focus on the interface and not security of my data. Just lost 2 years of my notes because these idiots in the sync process.

Hi guys, we just added an Audio Recording function to our journal/ to-do lists/diary app, Daily Notes. So now, you can record conferences, meetings, lectures aside from being able to take notes, organize notes, attach photos, PDFs and more. Hope you guys would try it out, it's for both the iPhone & iPad so it's a pretty sweet deal to have. You can check the link below for more details. https://itunes.apple.com/app/daily-notes-note-taking-diary/id364739177?m...

Let me also introduce you to Instary (http://www.instary.com). Instary is an instant diary app with a very easy and fun to use user interface. It helps you save, organise and also share all your everyday memories with friends and family - without the hassle of writing a normal diary. It's safe and it really takes away the pain of classic journaling.
https://itunes.apple.com/hu/app/instary/id952808099?mt=8&at=10l3Vy

I have developed a new IOS diary app named BETTER DIARY for iPhone. I think it have a awesome photo feature.
The app is for iPhone and was relased on March 6 this year. https://itunes.apple.com/WebObjects/MZStore.woa/wa/viewSoftware?id=97230... Or the homepage for BetterDiary
http://www.minibase.org Regards Morten Steenberg

I liked DayOne and used it for a long time, until the pitfalls became more obvious. First of all, users have been asking for simple wifi sync between devices for years now and the company hasn't offered that. DropBox has Condoleezza Rice on its Board - you can draw your own conclusions as to the security of people's information on DropBox since her appointment. The last thing I would ever put on DropBox are my most personal thoughts. iCloud has issues regarding data integrity as a number of people have unfortunately found out the hard way. Bottom line: if you use American servers to store your personal data, by law, it can be read by those with clearance to do so. WiFi sync would only involve your own home network, and DayOne should really embrace the benefits of that. Beyond all this however, your journal is stored as a **plain text document**, despite you having a passcode to access that text file though DayOne. You can open the same file with any basic text editor. So, what's the point of a DayOne passcode is your computer or phone is stolen while the apps or desktop are still accessible (or are hacked, guessed, etc). DayOne might have a lot of eye candy and supports multiple devices, but is it really protected? Unfortunately, no. Better alternatives exist with software you already have (if on a Mac) like FileVault for one, and then use an encrypted disk image (with Disk Utility) and store the text files (or any other files) inside of it. This doesn't address having a journaling app on your phone but at least it's secure.

If you really care about privacy (and you should with your most private thoughts in a journal), then you need encryption. Monkkee is a web-based journal (with mobile) that is free and uses client-side encryption. http://monkkee.com

After reading the comments, I am stuck. Is there a journaling app for the iPad that is encrypted and has the desired features? It sounds like DayOne is a no-go because of the lack of encryption. Where do I go from here? Thanks to any/all who respond. Ronda

Hi, thank you for the nice wrap up! Great article. I started using Scribbly for journaling and it really helps tracking the progress. The app asks you questions on a regular basis, and so its easy to stay structured and to start to write. I like it. Thanks again for the article :) (Page of the app - http://scribbly.me)

I have been using Day One for the last few years but have always been frustrated by two thing:
- The lack of encryption (The first time I realized that the data was not encrypted I was appalled)
- Lack of a web based user interface (I am Windows user and would prefer most of the time to use a keyboard). Every now and then I look for something better but can't find anything. I just found this on Day One's web site though: http://dayoneapp.com/sync/ Apparently item #1 has been addressed (to some degree) and item #2 will be addressed at some point in the future. Yay!

From past 2 years, I have been using a Roadlike (https://www.roadlike.com/) - a travel diary that i use on my iPhone. Just thought this may be of relevance to people here. Roadlike is a simple & personal app. The best part is that it works even without internet / offline. Think about all the times we try to check-in somewhere and find that we don't have an internet connection. We miss out on being able to capture events and check-in. Roadlike allows me to document my travels & check in even when I am in offline mode (due to bad internet connection while travelling to remote areas or traveling internationally). It allows me to capture moments & check in at places without internet (offline) with exact locations tagged to it, few photos or a short video and small notes. And when i get back home, all my offline moments & check-ins get uploaded and the app reflects the exact addresses of places i checked in and took photos or a video or wrote a note. It is surprising to see how they show the exact addresses of the places i was at even when my internet was off. It is a neat app that creates a trail of all the places i had visited & moments i had during my travels.

From past 2 years, I have been using a Roadlike (https://www.roadlike.com/) - a travel diary that i use on my iPhone. Just thought this may be of relevance to people here. Roadlike is a simple & personal app. The best part is that it works even without internet / offline. Think about all the times we try to check-in somewhere and find that we don't have an internet connection. We miss out on being able to capture events and check-in. Roadlike allows me to document my travels & check in even when I am in offline mode (due to bad internet connection while travelling to remote areas or traveling internationally). It allows me to capture moments & check in at places without internet (offline) with exact locations tagged to it, few photos or a short video and small notes. And when i get back home, all my offline moments & check-ins get uploaded and the app reflects the exact addresses of places i checked in and took photos or a video or wrote a note. It is surprising to see how they show the exact addresses of the places i was at even when my internet was off. It is a neat app that creates a trail of all the places i had visited & moments i had during my travels.

Check out SkyJournal app http://skyjournal.net. It is great for journaling events, travel, projects, and collections.

Check out GraffieDiary. Your data is primarily saved locally to your device and periodically backed up to iCloud so you shouldn't run into sync issues -https://itunes.apple.com/WebObjects/MZStore.woa/wa/viewSoftware?id=11516...
Thank you for signing up to iMore. You will receive a verification email shortly.
There was a problem. Please refresh the page and try again.